Patrick Stinnett, former city council member, has been named the Florissant Veteran of the Year. He will be in the forefront riding in the annual city's Veteran's Day Parade on Sunday, Nov. 8 through Florissant. He will honored with a ceremony after the parade at a reception at the James J. Eagan Center.
Read more on Patrick Stinnett is Florissant 2015 Veteran of the Year…
A Boomer's Journal
By Tom Anselm
Did you ever have one of those moments when you wish you would have spoken up about something, but didn't, and later thought of all the great things you could have said? Well, I recently had one of those interesting encounters, and the good thing is, I didn't regret what I didn't say.
Read more on Close Encounters Of The Oddest Kind…
Story and Photos By Erica R. Van Buren
The 80-degree temperature was just what the doctor ordered to kick off this year's Fall Festival in Old Town Florissant on Sunday, Oct. 11. Crowds of community residents as well as non-residents came out with their families—including their four-legged family members—to enjoy the festivities. The fun started at 11 a.m., allowing enough time for the sun to come out and brighten up as well as warm up the day, a welcome change to the low temperatures over the last few days.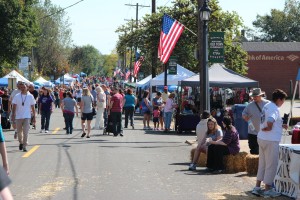 Read more on Perfect Weather, Usual Big Crowd At Florissant Old Town Fall Festival…
Hazelwood Allows  Army Corps to Dig up
St. Cin Park Basketball Court
As part of the on-going investigation being conducted by the U.S. Army Corps of Engineers' Formerly Utilized Sites Remedial Action Program (FUSRAP) regarding Coldwater Creek radiation contamination in St. Cin Park, the City of Hazelwood has been notified that contamination has been found under the basketball court.
Read more on Radiation Contamination Found…
Florissant Okays Catering Business That
Originally Sought to Have Teen Center
                      By Carol Arnett
The Florissant City Council had two public hearings scheduled for its meeting last week, but postponed one. The postponed hearing was about rezoning some properties from one business/commercial zoning class to another.
By Randy Gardner
Who would have ever thought that the Rams would be 2-2, four games into the year? What amazes me the most is that the two wins are against divisional foes that are powerhouses. That being Seattle and the Arizona Cardinals.
Read more on Are Fans Getting Aboard The Rams Bandwagon After Beating 2 Good Teams in '15?…
« Previous Entries