Northern Lights Parade Returns To Ferguson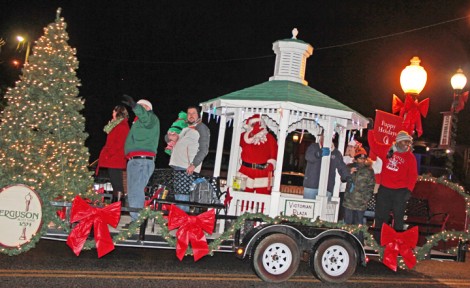 After postponing the annual Northern Lights Parade last year along S. Florissant Road in Ferguson, the parade was back in full holiday mode Sunday. A
Read more on Rain stops just in time for parade Sunday…
Mexican Restaurant Hearing
Postponed; Hearing For Day
Care Plan Move is Continued
By Carol Arnett
The Florissant City Council once again postponed a public hearing regarding a request for a special use permit to Amigo Food, doing business as Rubio's Fresh Mexican Grill to allow for the restaurant and grocery store for property located at 758 S. New Florissant Rd. The hearing has been postponed before.
Read more on Florissant City Council…
The Ferguson Twilight Christmas House Tour will be held on Dec. 6 from 3-7 p.m. This very popular Christmas event brings holiday visitors from all parts of Missouri and Illinois to view a nice selection of exceptional homes decked out for Christmas.
Read more on Twilight Christmas House Tour is Dec. 6…
Ferguson kicks off the holiday season with a festive market for shopping and Lighted Parade each year the Sunday after Thanksgiving. This year the parade and market will be held Nov. 29 from 2 to 7 p.m. at Victorial Plaza.
Read more on Ferguson Holds Northern Lights Parade And Holiday Festivities Sunday, Nov. 29…
By Jim Wieners  
High School Boys Basketball opens the 2015-16 season with tournaments and shootouts, some of which begins this Thanksgiving week, which also closes the Football season with State Championship games.
Read more on Tourneys Tip Off Boys Basketball…
By Jim Wieners
While there were no Missouri State High School Activities Association trophies or medals for North St. Louis County high schools Hazelwood Central and Hazelwood West each won two Suburban XII (12) Conference North Division titles.
Read more on Hazelwoods Central, West Each Win 2 Fall Conference Titles…
« Previous Entries