County Health Dept. Joins With Federal
Researchers to Evaluate Coldwater Creek
The Saint Louis County Department of Public Health (DPH) and the federal Agency for Toxic Substances and Disease Registry (ATSDR) in Atlanta, Georgia, have joined together to evaluate potential exposures to contamination in and around Coldwater Creek.
Read more on Partnership to Assess Contamination of Creek…
When is a Concussion Not Really A Concussion? Only in the Press Box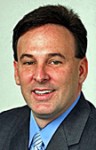 What amazes me the most in life is that the simpler the job, the more difficult someone can make it. For example, there is now a person on the sidelines or press box of every NFL football game and their only job is to look for someone who might get hit and have a concussion. That is their only job.
Read more on Randy Gardner column…
The Hazelwood Police Department will again be conducting numerous high-visibility sobriety checkpoints during the upcoming holiday season. The first checkpoint is scheduled for the weekend of Nov. 27th and the checkpoints will be supplemented with saturation patrols.
Read more on Hazelwood Police to Step Up Drunk Driving Enforcement…
Enjoy 'Christmas with Santa,' Shopping and Tree Lighting
The annual "Old Town Florissant Christmas with Santa" will be held Saturday, Dec. 5 beginning at 2 p.m. with seasonal music in the Council Chambers at City Hall. The day will conclude at 5 p.m. with the annual tree lighting by Mayor Schneider.
Read more on Old Town Christmas Dec. 5…
Ferguson Holds Northern Lights Parade and Holiday Festivities Sunday, Nov. 29
Ferguson kicks off the holiday season with a festive market for shopping and Lighted Parade each year the Sunday after Thanksgiving. This year the parade and market will be held Nov. 29 from 2 to 7 p.m. at Victorial Plaza.
Read more on Ferguson Gets Ready for the Holidays…
Bryant Peppers was honored at the Northwest Chamber of Commerce membership meeting on Nov. 12. He is a senior and has attended North County Christian School since fifth grade. He maintains a 3.86 GPA, is on the Principal's List, is a member of the National Honor Society and serves on the senior class fundraising committee.
Read more on Bryant Peppers Named NCCS Student of the Month…
« Previous Entries