New Aquatic Center at North County Rec Complex Open
The new $5 million aquatics center opened Memorial Day weekend at the North County Recreation Center at Veterans Park located off Redman Road. A sparse crowd was evident when these photos were taken on Memorial Day—perhaps because the weather was not real hot or a lot of folks weren't aware that it was open. A giant tubular water slide and a lazy river are the major components at the aquatic center, which was built on the site of the Olymphic size swimming pool that occupied the site since the late 1970s.                        Pat Lindsey photos
Read more on Water Park Opens at North County Recreation Complex…
The USDA's Summer Food Service Program (SFSP) will sponsor free breakfast and lunch for children age 18 and younger at seven sites in the Ferguson-Florissant School District this summer. The SFSP is designed to help children receive needed nutrition even when they are out of school. Meals are also available to persons with disabilities over age 18 who participate in school programs for the mentally or physically disabled.
Read more on Summer Meal Program Offered in Ferguson-Florissant School District…
The Experts Got It Wrong
For the Dining Divas in May
By Lisa Kampeter
Sometimes I rely on the recommendations of actual experts in the food world to provide restaurant suggestions for the Dining Divas. This month, I relied on a top 100 list to find a new-to-us Mexican restaurant.
Read more on Dining Divas Cinco de Mayo…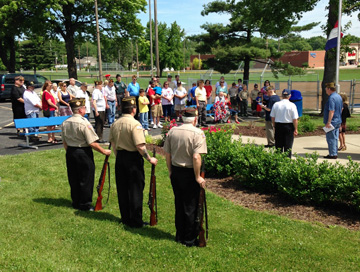 The annual Memorial Day Ceremony was held at the Vietnam Veterans Memorial Obelisk at the entrance to Koch Park on Memorial Day at 11 a.m. and was well attended.Mayor Tom  Schneider and Council members Tim Jones, Jeff Caputa, Keith Schildroth Jackie Pagano and Tommy Siam joined members of the VFW, Vietnam Veterans of America, Korean War Veterans, and American Legion were on hand to pay tribute to all who have been willing to go in harms way in military service to preserve and protect our beloved Nation.
Read more on Florissant Memorial Day event…
   On Friday, May 15, the Florissant Police Department investigated a motor vehicle crash at the intersection of Washington Street and St. Ferdinand Street. The non-injury accident involved Owen Tross who was intoxicated and driving a vehicle with a revoked driver's license.
Tross, age 61 years, has 12 DWIs prior to this incident. Warrants for Tross were issued Saturday, May 16, by the St. Louis County Prosecuting Attorney's Office on one count of Felony DWI and one count of Felony Driving Revoked.
Read more on Warrants Issued for Chronic DWI Offender…
The first of several high-visibility sobriety checkpoints to be conducted by the Hazelwood Police Department this summer is scheduled for the weekend of May 22. In addition, saturation patrols will supplement these checkpoints. Funding for the effort is supplied by a grant from the Missouri Department of Transportation's Highway Safety Division.
Read more on Hazelwood Police Conduct Sobriety Checkpoints in May…
« Previous Entries