100th Birthday Celebrated at The Pillars of North County
Birtha Doss recently celebrated her 100th birthday on Aug. 14 at the Pillars of North County Nursing and Rehabilitation Center. She has been living at the Pillars of North County for the last four years.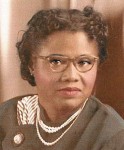 Birtha Doss
The celebration was presented by the Metropolitan Baptist Church where Doss was an usher for many years. Birtha said she has been a member of this church "For as long as I can remember".
She never knew her parents, who died when she was very young. She was taken in by the Green family and grew up with their children. She attended school through the tenth grade, and married Theodore Doss at age 16.
Doss worked for Angelica Uniform Corporation, and said she enjoyed quilting, sewing, and cooking.
Doss has one daughter, Debrah Holley, and is a grandmother and great-grandmother.
Social Bookmarking
Comments
You must be logged in to post a comment.