Art McCoy Named Ferguson-Florissant School District Superintendent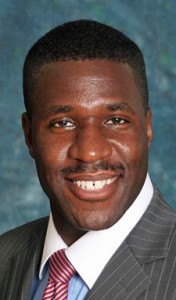 The Ferguson-Florissant Board of Education announced Wednesday, Dec. 8 that Dr. Art J. McCoy has been selected as the district's next superintendent.
That announcement marks the first time an African-American will serve as superintendent of the Ferguson-Florissant School District.
He will replace current Supt. Jeffrey Spiegel, who will retire at the end of this school year. Spiegel will served 35 years with Ferguson-Florissant, including seven years as superintendent.
McCoy, 33, joined the district in 2008 as Assistant Superintendent of Secondary Education, the position he currently holds. His previous experience includes administrative positions in the Rockwood, Pattonville and St. Charles school districts. He began his career as a teacher in the Rockwood School District.
McCoy earned a doctorate in education and a master's in education administration from the University of Missouri – St. Louis. He earned a bachelor's degree in math education at Harris-Stowe State College.
McCoy will begin serving as Ferguson-Florissant superintendent on July 1, 2011.
Social Bookmarking
Comments
You must be logged in to post a comment.