Best Local Book Reads and Buys for the Holidays
Best Local Book Reads and Buys for the Holidays
Staff written by The Independent News
If you've ever taught in a school, worked in a school or gone to a school, there's a local  book gift idea for you this holiday season. And if you remember "The Cheater", Starlight Ballroom, St. Jerome's CYC dances, Jackson Park nights in Berkeley, Circle Steak-n-Shake, North Shore pool, Suburban Bowling Lanes, and Bonnie Boys in Glasgow Village, have we got two more great books for your gift giving pleasure. And your own! Four North County kids seem to have grown up to write these books.
You're Never Too Old for Space Camp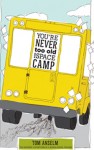 Tom Anselm, a retired teacher and current columnist for this paper, has written the story of Joe Akers, remarkably also a retired teacher, who loves golf and his family. "It's fictional, of course," says Anselm, "but it's based on the fun and frenzy and foolishness that I have run across in my 30 years plus in the education business."
   You're Never Too Old for Space Camp is mostly the no-holds-barred story of relationships that develop in schools as told through the eyes of the classroom teachers, administrators and student. There is something in the book for all of us to relate to. Tom was raised in Bellefontaine Neighbors, and continues to live "north of I-70."
My Side of the Bandstand
Nancy Wegner, a Ferguson native, has collaborated with rock and roll legend Bob Kuban to tell the story of how a kid from the north side rose to national prominence with his Bob Kuban and the In-Men's hit song "The Cheater" in 1966. We see the behind-the-scenes events that shaped that moment, and brought the little drummer boy from sitting in with Chuck Berry at the Club Imperial, to church Teen-Towns, to playing for Dick Clark on the national TV show "American Bandstand" . The guarantee of My Side of the Bandstand is that you will be amazed at some of the stories and people you run across in this very candid autobiography of the young man who lived what many of his time could only dream.
Let's Go Cruizin' Again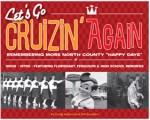 And the two kids from Our Lady of Good Counsel parish have done it again! After the success of their first book about growing up in North County, Bill Kasalko and Craig Kaintz have created Let's Go Cruizin' Again. Filled with more pictures and stories of living in the 1950s through the 1970s as pre-Baby Boomers and Baby Boomers alike, they chronicle the places we hung out and the actions we pursued in those formative years. This one concentrates on the Ferguson and Florissant area.
The two authors, who grew up on the same street, but didn't really become friends until working together some 30 years later, give us yet another great taste of years gone by.
These books can best be obtained at the following sites: You're Never Too Old for Space Camp; Tom Anselm,Booklocker,www.booklocker.com/books/3923.html. My Side of the Bandstand; Bob Kuban with Nancy K. Wegner, http://bobkuban.com/epic/epic.swf Let's Go Cruizin' Again; Craig Kaintz and Bill Kasalko, Virginia Publishing, www.CruizinNorthCounty.com.
Lemp: The Haunting History
The dramatic and tragic story of St. Louis' notorious Lemp Brewery and family, by Stephen P. Walker. The intriguing Lemp saga has everything: suicides, court battles, and even Lemp ghosts.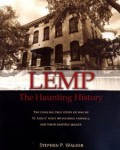 Walker published the book in 1989. There are 120 pages with history and photos of Lemp ancestors. The book covers more of the family history and the brewing industry than dwelling primarily on the hauntings, with the exception of the "Lavendar Lady."
Excerpted from the Introduction of Lemp: The Haunting History: The Lemps are best remembered for their untimely deaths, but the story of their lives is even more remarkable: accounts of lofty success, immense wealth, and elite social status, offset by more than one family's share of pain and heartache, bitterness and broken dreams. During their brief and stormy days, the Lemps built one of America's earliest and largest brewing empires, one with a rich and colorful history that deserves to be brought to light
Game of My Life
And of course, you can rarely go wrong with a book about anything to do with the St. Louis Cardinals.  There are plenty of previously published books out there on the team and players and with a World Series victory this year, there are new one.  One new one, written by Matthew Leach, is called Game of My Life and features individual chapters on various Cardinal players who had special moments in their careers in St. Louis.
The book goes back as far as Mike Shannon, but includes many players from the past two decades such as the late Bob Forsch, Jim Edmonds, Tommy Herr, Adam Wainwright, Scott Rolen and Chris Carpenter.  The last chapter is timely.  It's on David Freeze and his amazing October. Sports Publishing: www.skyhorsepublishing.com.
Happy reading for the holidays!
Social Bookmarking
Comments
You must be logged in to post a comment.