Black Jack City Clerk Karen Robinson Installed as Treasurer of State-wide Organization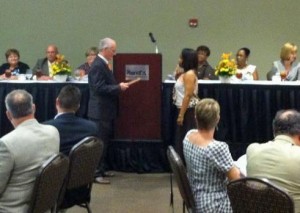 Black Jack Mayor Norm McCourt swears in City Clerk Karen Robinson as treasurer for the Missouri City Clerks and Finance Of?cers Association (Eastern Division). The association named Robinson as its Treasurer for 2012/13. Robinson will move up each year, becoming president of the association in four years. She stated, "I am excited about the new venture as it is a big responsibility and I look forward to the challenge." Robinson has been the City Clerk for the City of Black Jack for over 10 years.
Social Bookmarking
Comments
You must be logged in to post a comment.