BlackJack / Spanish Lake
« Previous Entries
Read more on What Will New Owners Bring to St. Louis Outlet Mall?…
The Hazelwood Police Department will again be conducting numerous high-visibility sobriety checkpoints during the upcoming holiday season. The first checkpoint is scheduled for the weekend of Nov. 27th and the checkpoints will be supplemented with saturation patrols.
Read more on Hazelwood Police to Step Up Drunk Driving Enforcement…
Bryant Peppers was honored at the Northwest Chamber of Commerce membership meeting on Nov. 12. He is a senior and has attended North County Christian School since fifth grade. He maintains a 3.86 GPA, is on the Principal's List, is a member of the National Honor Society and serves on the senior class fundraising committee.
Read more on Bryant Peppers Named NCCS Student of the Month…
The Greater North County Chamber of Commerce will present its 'Nite of Stars' Holiday Gala Friday, Dec. 4, from 7 to 11 p.m. at the Atrium at Christian Hospital. This popular gathering has sold out over the past several years and seating is limited.
Read more on Chamber's 'Nite of Stars' Holiday Gala Shines Dec. 4…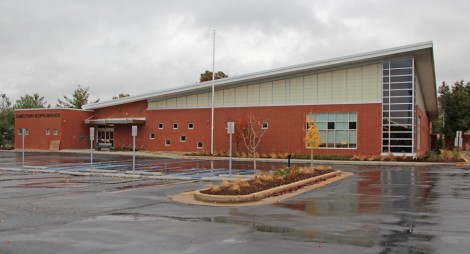 The newly renovated Jamestown Bluffs Branch of the St. Louis County Library, 4153 N. Highway 67, will reopen Nov. 12. Among the improvements made in the facility are an expanded children's area, a large teen space, and a business center. The computers are new as well. The library will also offer community meeting rooms and private study rooms to meet the needs of patrons and the community. Library hours will be 9 a.m. to 9 p.m. Monday through Thursday and 9 a.m. to 5 p.m. Friday and Saturday. The facility will be closed on Sundays.
Read more on Jamestown Bluffs Branch Reopens…
Christian Hospital Emergency Medical Services paramedics will deliver non-perishable food items donated by BJC HealthCare directors and senior leadership throughout the metro-St. Louis area in conjunction with a meeting held at Christian Hospital on Nov. 3. Meeting participants were asked to donate to the food collection to help keep area food pantries well supplied with the approaching holidays.
Read more on BJC and Christian Hospital EMS Join Urban League Food Pantry Collection…
« Previous Entries