BlackJack / Spanish Lake
« Previous Entries
Pallottine Renewal Center hosted its first Staycation and the attendees have given rave reviews about the experience. Pallottine, along with businesses and attractions in North County, presented a Staycation weekend July 21-23 that included guided tours of some local landmarks and food from some of the best restaurants in the area.
Read more on Participants Offer Rave Reviews on Pallottine's North County Staycation…
Story and photos By Nichole Richardson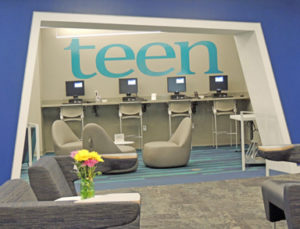 The newly renovated Florissant Valley branch of the St. Louis County library, located at 195 New Florissant Rd., is a gold mine of the unexpected. From the outside looking in, it appears not much has changed, but the moment you walk through the doors it's evident that a major transformation has taken place.
Read more on Revived Florissant Valley Branch Library More than Just Books…
MU experts talk of this rare opportunity
By Nichole Richardson
On Monday, Aug. 21, St. Louis area residents will get the thrill of witnessing the first total solar eclipse here since 1442. During this time the moon will come between the Earth and the Sun, thus creating a shadow, or umbra, 70 miles wide over the Earth.
Read more on St. Louis Area Offers Best Chances at Viewing Eclipse…
by Randy Gardner
School for almost all of our children is just around the corner, with some starting as early as this week.. With this comes the kids getting back into sporting activities.
Read more on School Starting, But Kids Seems Out of Shape…
The Helping Hands Food Pantry will hold their 2nd annual Jazz Reception and fund raiser Friday August 18, 2017 at 6pm at the Ann O. McDonald Banquet hall 11410 Old Halls Ferry Rd. Florissant, Mo. We will honor leaders of our community for their work in the areas of youth education, development and empowerment; healthcare outreach, and community action. Music will be provided by 3 Central.   Tickets are $35.00. Please call Sylvia Stevenson 314-750-1180 for tickets or tickets can be purchased at the door.
Read more on HELPING HANDS FOOD PANTRY JAZZ RECEPTION AUG. 18…
The City of Florissant and Florissant Fine Arts Council has three more concerts in August for the free Music Under the Stars The summer concerts are held at St. Ferdinand Park from 7-9 p.m.
Read more on 3 More St. Ferdinand Park Saturday Concerts…
« Previous Entries