BlackJack / Spanish Lake
« Previous Entries
Next Entries »
The City of Black Jack City Council recently passed Ordinance #1045, which allows residents to keep fowl on their property pursuant to certain regulations. The Mayor and City Council worked with the residents to amend a 10- year-old ordinance.
Read more on Black Jack Residents Cried Fowl, New Ordinance Will Allow Chicken…
The City of Black Jack teamed up with Jamestown Mall and the St. Louis County Police Department to bring the holidays to the Children of North County, as children visited the Holiday Celebration in Center Court at Jamestown Mall. Children enjoyed visiting with Santa and getting pictures taken. The highlight of the event was the drawing for 5 bicycles, 4 scooters, 2 tricycles, sporting equipment and much more, all personally donated by Mayor Norm McCourt and members of the Black Jack City Council. The event, which is held annually, continues to grow every year and is open to children of all residents of North County. Mayor Norm McCourt said" It is very gratifying to see the smiles on the children's faces as they receive a gift, this is what the season is all about and why we do this event." The next event for the City of Black Jack will be the Children's Eggstravaganza, visit www.cityofblackjack.com to learn more.
Read more on Black Jack Hosts Christmas Party…
Read more on Black Jack Officer is One of 9 County Officers of the Year…
The City of Black Jack has announced its tree limb pick-up dates and guidelines for Fall 2012.
Week One (Monday, Oct, 29): Arterial roads on both sides  (Old Halls Ferry, Old Jamestown & Parker) West of Old Halls Ferry Road
Read more on Black Jack Announces Fall Tree Limb Pick-up Schedule…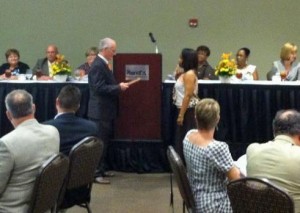 Black Jack Mayor Norm McCourt swears in City Clerk Karen Robinson as treasurer for the Missouri City Clerks and Finance Of?cers Association (Eastern Division). The association named Robinson as its Treasurer for 2012/13. Robinson will move up each year, becoming president of the association in four years. She stated, "I am excited about the new venture as it is a big responsibility and I look forward to the challenge." Robinson has been the City Clerk for the City of Black Jack for over 10 years.
Read more on Black Jack City Clerk Karen Robinson Installed as Treasurer of State-wide Organization…

In its 5th year, the North County Community Festival proved to be the biggest and best to date. The festival at Jamestown Mall had something for everyone, including a car show, free inflatable rides for the kids, St. Louis County Police and Black Jack Fire Department exhibits, live entertainment, Majic 104.9FM DJs broadcasting live, and prize giveaways all day long.
Read more on North County Community Festival at Jamestown Mall is Major Success…
« Previous Entries
Next Entries »