BlackJack / Spanish Lake
« Previous Entries
Next Entries »
The City of Black Jack has announced its tree limb pick-up dates and guidelines for Fall 2012.
Week One (Monday, Oct, 29): Arterial roads on both sides  (Old Halls Ferry, Old Jamestown & Parker) West of Old Halls Ferry Road
Read more on Black Jack Announces Fall Tree Limb Pick-up Schedule…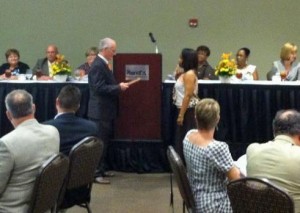 Black Jack Mayor Norm McCourt swears in City Clerk Karen Robinson as treasurer for the Missouri City Clerks and Finance Of?cers Association (Eastern Division). The association named Robinson as its Treasurer for 2012/13. Robinson will move up each year, becoming president of the association in four years. She stated, "I am excited about the new venture as it is a big responsibility and I look forward to the challenge." Robinson has been the City Clerk for the City of Black Jack for over 10 years.
Read more on Black Jack City Clerk Karen Robinson Installed as Treasurer of State-wide Organization…

In its 5th year, the North County Community Festival proved to be the biggest and best to date. The festival at Jamestown Mall had something for everyone, including a car show, free inflatable rides for the kids, St. Louis County Police and Black Jack Fire Department exhibits, live entertainment, Majic 104.9FM DJs broadcasting live, and prize giveaways all day long.
Read more on North County Community Festival at Jamestown Mall is Major Success…
North County Community
Festival at Jamestown Mall
The City of Black Jack, the St. Louis County Police Department, Cars 4 Kids, and Majic 104.9FM have teamed up to sponsor the North County Community Festival. The festival will be held at Jamestown Mall on Saturday, June 23, from 4-9 p.m., with fireworks at sunset.
Read more on Black Jack events-Festival at Jamestown Mall June 23…
In an effort to be proactive in these times of neglect and consideration for public property, the City Council of the City of Black Jack authorized the payment of a reward of $250.00 for the arrest and conviction of anyone found guilty of damaging public property.
Read more on Black Jack Offers Reward for Apprehension Of Vandals Caught Damaging Property…
The City of Black Jack is proud to announce that the community can keep up to date on meetings, events and important information regarding the City of Black Jack via Facebook and Twitter. Both sites are updated regularly and provide followers with the opportunity to receive notices regarding City Council agendas, Boards and Commission meetings and maintenance updates that affect city streets and parks.
Read more on Black Jack Goes Digital…
« Previous Entries
Next Entries »