BlackJack / Spanish Lake
« Previous Entries
Next Entries »
McCluer North Girls Track Barges to State Repeat; Central Girls win Sectional
By Jim Wieners
Throughout the 2015 Girls Track & Field Season McCluer North and Hazelwood Central teams battled each other in seven meets. In most of them Hazelwood Central fared one place better than McCluer North including the May 23 Class Five, Sectional Two at Mary Institute and Country Day School meet won by Hazelwood Central with McCluer North finishing second.
Read more on McCluer North Girls State Track & Field Winners…
NCI Award Honorees for 2015 Annual Leadership Breakfast. Most of the winners were present at the breakfast on May 29 at the Renaissance St. Louis Airport Hotel . Here's a list of the winners ;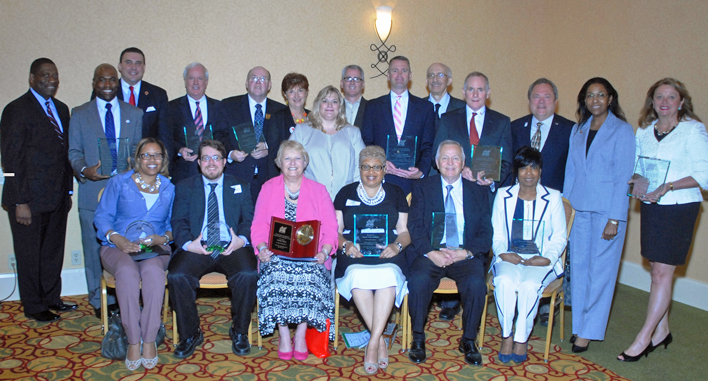 most are in this photo.
Read more on Group photo of North County Inc. 2015 honorees…
Hazelwood will host its 5th Annual Recycle Day on Saturday, June 6, at St. Louis Outlet Mall near the IceZone from 9 a.m. to 3 p.m. The event is open to both residents and nonresidents, with no drop-off charges. The theme for this year's event is "Make Recycling Part of Your Life." Members of Hazelwood's Green Committee hope to encourage the public to make recycling a daily habit. Helping citizens know what can and can't be recycled and urging them to take a "Pledge to Recycle" are designed to motivate them to recycle.
Read more on Hazelwood's Recycle Day at Outlet Mall June 6 Encourages Public to Clear Clutter…
Thursday, June 4
   Blood pressure clinic at St. Catherine Retirement Community, 3350 St. Catherine Street, at 10:15 a.m. RSVP by calling 314-838-3877.
Friday, June 5
   Bingo every Friday at Knights of Columbus Our Lady of Fatima Council #4429 1216 Teson Road, Hazelwood. Doors open at 4. Games start 6:45 p.m. For more information, call 314-731-9330.
New Aquatic Center at North County Rec Complex Open
The new $5 million aquatics center opened Memorial Day weekend at the North County Recreation Center at Veterans Park located off Redman Road. A sparse crowd was evident when these photos were taken on Memorial Day—perhaps because the weather was not real hot or a lot of folks weren't aware that it was open. A giant tubular water slide and a lazy river are the major components at the aquatic center, which was built on the site of the Olymphic size swimming pool that occupied the site since the late 1970s.                        Pat Lindsey photos
Read more on Water Park Opens at North County Recreation Complex…
   The annual Missouri State Society of the Daughters of the American Revolution (DAR) Memorial Day Service will be held Monday, May 25, at 10 a.m. at Cold Water Cemetery, 15290 Old Hall's Ferry Road. The service is open to the public and conducted by the DAR, Sons of the American Revolution, Children of the American Revolution, Living History Re-Enactors, Militia de San Carlos and the Boy Scouts of America.
Read more on DAR Memorial Day Event at Cold Water Cemetery…
« Previous Entries
Next Entries »