Columnists
« Previous Entries
Next Entries »
By Nichole Richardson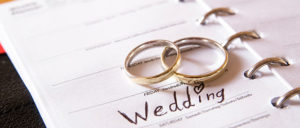 Planning a wedding isn't for the faint of heart. Often what starts off as a fun and relaxing experience quickly turns into a rabbit-hole of choices, commitments, and compromise. It's so important to keep an open and flexible mindset during the initial stages to avoid the frustration and disappointment of an ideal not reached.
Read more on Staying on Track When Planning A Wedding…
By Jim Wieners
With the Feb. 11 deadline for qualifying for the Missouri State High School Activities Association Girls Swimming and Diving Championships, Feb. 17-18 at the St. Peters' Rec-Plex, Incarnate Word Academy has added the 200-yard Freestyle Relay, freshman Ellie Wehrmann has added or updated event qualifying times and sophomore Emily Schroeder has updated her two qualifying times, as of Jan. 29.
Read more on Incarnate Word Academy Stokes Up For Girls Swimming in State…
By Jim Wieners
North, Chappel Passes 1,000 Points In a battle of Girls Basketball teams sharing 3-0 Suburban XII North records Hazelwood West, with a 1,000-point-plus player in senior Lakeita Chappel, hosts McCluer North Thursday, Feb. 2 at 7 p.m.
Read more on Hazelwood West Girls Host McCluer…

Brunch at Our Lady of the Shrine in Belleville
I always enjoy the first Dining Divas outing for a new year. Attendance is typically larger than normal because we gather together for Sunday brunch. Sharing the joy-filled holiday stories are so delightful and most of us are still in the happy, holiday mode.
And the fresh ideas for the upcoming year get everyone excited for what's to come. It's such a privilege to be a part of this dynamic group of considerate, creative, and crazy individuals.
This year's breakfast gathering took place at Our Lady of the Snow's Shrine in Belleville. Even though for some, you may "never get your money's worth" at any buffet, the Shrine does a great job with the variety of foods offered (both for breakfast and lunch) and the quality.
They have the typical "buffet" issues. Like I don't recommend going for the last spoonful of scalloped potatoes, much less the last spoonful of anything in a pan.
"They're not hot," said Mama Diva.
"If I had a dollar for every time I could tell you what she'd say before she even says it," said Daughter Diva. Maybe wait until they refill the pan.
And not everyone is going to like everything.
"The scrambled eggs were okay," said one Diva "I only tasted potatoes in that egg casserole," said the Opinionated Diva. "I loved my omelet," replied the Satisfied Diva.
If you go for an omelet, you can pick out all the ingredients, and they'll make it on the spot. As well, fresh Belgian waffles are available too.
"The Biscuits and Gravy were great!"
"There were scrambled eggs?"
Buffets are hard. You try to get to it all, and you're not going to like it all. A couple Divas weren't impressed. They liked the place and the setting but didn't love what they tried. The consensus in the group was that the Garlic Parmesan Chicken Wings were the favorite, and the Fried Chicken was juicy and flavorful too.
More than likely you're going to overindulge so when the Prodigal Diva complained that there weren't enough brown desserts offered on the buffet, it was probably a good thing.
We had plenty of room. We could hear each other. And everyone seemed to be in a great mood. What a way to kick off the New Year! The ladies came up with some exciting ideas for less fortunate Diva "sisters" so look for more to come on that in future Divas.
The Shrine is always a great place to visit no matter what the season or the reason and even with or without more brown desserts.
A great way to start the new Dining Divas year.
Read more on Dining Divas Dive Right into The New Year with New Ideas…
By Sandra Olmsted
Hot on the heels of Casey Afflect's award-winning role in Manchester by the Sea, Ben Affleck writes, produces, directs, and stars in Live by Night, a La La Land-style homage to Golden Age Hollywood's film noirs.
Read more on Live By Night: The Affleck Attack Continues…
By Jim Wieners
After starting the 2016-17 season with five losses in the first seven games McCluer North, defending two-time Suburban XII Conference North Division Champions, improved their season-starting record to 11-7 including a Jan. 16 midday 47-35 home win against Cardinal Ritter.
Read more on McCluer North Girls Basketball Starts Season 11-7, Wins EPR Classic…
« Previous Entries
Next Entries »