Entertainment / Travel
« Previous Entries
   Two free concerts in the 2015 Ferguson CityWalk series are scheduled for the second and fourth Fridays of August from 7 to 9 p.m. Both will be held at Plaza 501, 501 South Florissant Road. The Kevin Blichik Band will perform August 14 and Nitro on August 28.
Read more on August Ferguson CityWalk 501 Concerts Liven Up the Plaza…
70th Anniversary of 'Carousel' Fitting for Hawthorne Players
(Special to The Independent News)
When the curtain opens for Hawthorne Players' production of Rodgers and Hammerstein's musical Carousel at the Florissant Civic Center Theatre on July 31, it will mark the 70th anniversary of the show's debut in 1945, as well as the founding of Hawthorne Players in December of that same year.
Read more on Classic at Civic Center Opens July 31…
Returning to the Muny stage for 10 performances, Disney's Beauty and The Beast (July 29-Aug. 76) tells the magical story of a prince who is transformed into a hideous beast as punishment for his cruel and selfish ways, and an adventurous young woman named Belle whom he imprisons in his enchanted castle. In order to become human again, the Beast must earn Belle's love before it's too late. Based on the 1991 film of the same name, Beauty and The Beast features the music of the award-winning composing team of Alan Menken, Howard Ashman and Tim Rice.
Read more on 'Disney's Beauty and The Beast' Opens July 29 for 10 Performances…

Into the Woods continues through July 27
Stephen Sondheim and James Lapine's Into The Woods made its Muny premiere July 21 and continues through July 27 featuring an award winning cast of Broadway's brightest stars.
Read more on This Week and Next Week at the Muny…
by Sandra Olmsted
Directors Kyle Balda and Pierre Coffin head up giving the yellow creatures from Despicable Me (2010) and Despicable Me 2 (2013) a movie of their own. The fast paced opening scene, narrated by Geoffrey Rush, reveals that the immortal, indestructible Minions have been around since the beginning of time and always in need of an evil villain to follow; unfortunately, having the Minions as minions isn't exactly good luck for all those villains through the ages.
Read more on Minions: Musical Yellow Delights…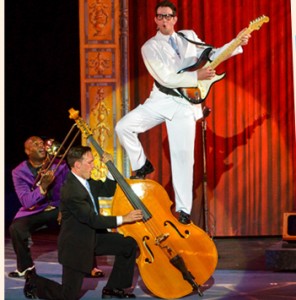 Crickets Sound Resound in Forest Park with Buddy Holly
By Bob Lindsey
I've been waiting for the   'Buddy – The Buddy Holly Story' musical to be play in St. Louis for a long time. When I read that the new musical was on the Muny schedule this summer I was thrilled and then curious to see how they will handle the famed Texas singer played by Andy Christopher, his outstanding rock-a-billy band and their evolving music. We weren't disappointed.
Read more on Rockin' Good time at the Muny though July 19…
« Previous Entries