Entertainment / Travel
« Previous Entries
Next Entries »
                     "Mamma Mia" Sizzles at The Muny This Week
by Pat Lindsey
Anyone who enjoys the music of the 1970s Swedish group, ABBA, is in for a treat this week at The Muny with its debut of the musical "Mamma Mia." Somehow, a collection of ABBA songs, including "Dancing Queen" and "Our Last Summer," have been woven together to create a story centered on a 20 year-old bride-to-be, Sophie Sheridan, who wants to find out who her father is before she marries.
Lane Closures on I-64, I-70 and Route 364 to Impact St. Charles County Motorists
Drivers heading in and out of St. Charles County need to be aware of some lane closures this weekend on I-64, I-70 and Route 364.
Read more on Lane Closures Through July 28…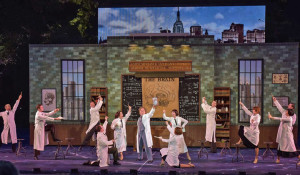 Young Frankenstein is a Brainy,
Zany Night of Comedy at the Muny
by Pat Lindsey
   In typical Mel Brooks style, "Young Frankenstein" debuted on The Muny stage this week with zany humor that's often silly, but always laughable. Rapid-fire jokes and sexual innuendos timely executed by an amazingly talented cast make this show a hit and one that will certainly return to The Muny in the future.
Read more on The Muny Show this week…
The Dog Days of Summer: 3
Films to Relief the Doldrums

By Sandra Olmsted
In the case of Mike and Dave Need Wedding Dates (Fox release), Mike (Adam Devine) and Dave (Zac Efron) are the high-fiving, chaos-causing dawgs of the Stangle family. At every family gathering, especially weddings, the brothers wreck the celebration, destroy things, and cause injuries. Now, they must bring nice girls as dates to their only sister's Hawaiian wedding or stay home.
"The Music Many" is Homemade Jelly,
Applie Pie and Sweet, Sweet Melodies
By Pat Lindsey
"The Music Man" chugged into our own River City Tuesday night with nary a trouble—that is until the townspeople got wise to Professor Harold Hill's lies and deceit. He promised to create a marching band in three weeks by using the "Think System," but no one who ordered a band uniform, instruction book, and instrument learned to play one note. The people of River City are so angry that a con artist has swindled them out of their money that they hunt down Professor Hill to tar and feather him, but Marian the librarian comes to his rescue and points out just how much value everyone has received from the man who has failed to produce his academic and musical credentials.
Read more on Music Man back in River City at the Muny…
Rainbow Sets Scene For Great
Opening Night at the Muny
By Pat Lindsey
As the summer downpour tapered to a drizzle on opening night at The Muny Monday, a rainbow appeared in the sky over Forest Park. It seemed like an omen of what was the come—an extraordinary opening night of "The Wizard of Oz" and The Muny's 98th season.
Read more on Wizard of Oz Opens Season on a High Note…
« Previous Entries
Next Entries »