Entertainment / Travel
« Previous Entries
Next Entries »
By Sandra Olmsted
In the twenty years since the last Power Rangers movie hit the big screens, the little fans have grown up and probably want to share their love of these iconic characters with their children. Unfortunately, director Dean Israelite's version may not be the Power Rangers film to introduce to a new generation of five-year-olds to these heroes because teen angst takes a front seat to the Rangers' heroism. In this iteration, the story of these new Rangers and the old ones is re-conceived with an intergalactic connection.
by Randy Gardner
There are two huge decisions over the next week or so that will affect St. Louis for many years to come. First is the vote on the downtown St. Louis MLS stadium. Without even guessing, you know which side I am on, but unfortunately I do not have a vote in the matter.
Read more on 2 Big Sports Issues: MSL Stadium and Yadi's Contract…
The Fabulous Fox Theatre has announced a season of St. Louis premiers and classic musicals in the 2017–2018 U.S. Bank Broadway Series. The six-show season ticket package includes Hamilton, The Bodyguard, On Your Feet!, Rodgers & Hammerstein's The King and I, School of Rock, and The Color Purple. The eight specials include The Book of Morman, and
Read more on 3 Weeks of 'Hamilton,' 'The Bodyguard' Highlight Fox Theatre 2017–18 Season…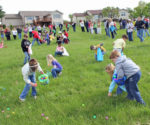 The City of Hazelwood is offering Easter egg fun for people of all ages. With the assistance of Valley Industries' workers, about 15,000 Easter Eggs are being stuffed with candy in preparation for two major events.
Read more on Hazelwood Offers Egg-cellent Easter Fun for Both Kids, Adults…
Read more on Dance St. Louis Goes Bollywood With 'Taj Express' at the Touhill this Weekend…
In a first for both the Hawthorne Players and the Civic Center, the audience for 'Love Letters' will be seated not in the auditorium but on the stage itself. This special production of presents A.R. Gurney's touching and entertaining play "Love Letters" will be presented at Florissant Civic Center Theatre, March 31 through April 9.
Read more on Hawthorne Players' 'Love Letters' at Civic Center will Have Audience on Stage…
« Previous Entries
Next Entries »