Entertainment / Travel
« Previous Entries
Next Entries »
Annual Festival in Florissant Promises a Weekend of Fun
Since 1963, the Valley of Flowers Festival celebration has been the "first festival of spring," featuring a variety of events, including a superb parade. Events included in this three-day celebration are a flower and plant sale, culturally diverse performances, baseball games, a classic car show, a vendor/craft fair, flea market, a pretty baby photo contest, children's activities and, of course, good food. Carnival games and exciting rides are featured at the Duchesne Knights of Columbus Fairgrounds.
Read more on 'Valley of Flowers Celebrates . . . The World of Entertainment'…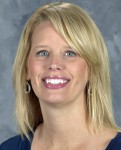 By Lisa Kampeter
For a person who is known as Rand McNally's daughter, I'm not sure why it's difficult for me to grasp locations in between 44 and 55 in south city. But I'm always confused, especially when I get on Gravois from the city. Our recent Dining Divas outing took me past Uncle Bills and lots of churches to the neighborhood of Princeton Heights. Who knew it even existed? But I'm glad I found it. Sitting on the corner of Gravois and Quincy Street is the Quincy Street Bistro, our Divas choice for the month.
Read more on Dining Divas Find Another South City Neighborhood Bar & Grill Worth the Trip…
Thursday, April 21
Spring Book Sale at Ferguson Library, 35 N. Florissant Rd. in Ferguson, April 21-23. Open 1-7:30 p.m. Thursday, 9 a.m.-5:30 Friday, and 9 a.m.-3 p.m. Saturday. Includes special interest military books and audio books. Sale held in Library auditorium. For more information, call 314-521-4663.
Read more on Mark Your Calendar…
Silver Dollar City's World-Fest Ending
22-Year Run, Going Out in Big Style
               By Bob Lindsey
The concept of entertainers from multi cultures and countries didn't seem quite fitting 22 years ago when Silver Dollar City first introduced park visitors to World-Fest. After 22 successful Spring seasons for World-Fest, the event still has two and half-more weeks before taking a final bow on May 1. Over the years, the event has been a successful addition.
Read more on Last Year for always popular event…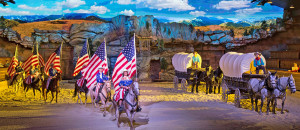 A huge LED screen at one end of the Dixie Stampede arena projects gorgeous scenery of the
Ozarks and America, always changing. This is the patriotic salute near the end of the show.
Read more on 2 of the best dinner shows in Branson…
Auditions April 10 For Musical 'Hairspray'
Hawthorne Players has announced auditions for the musical "Hairspray" at 2 p.m. on Sunday, April 10, at the Florissant Civic Center Theatre, 1 James J. Eagan Drive, 63033. Prepare a 1-minute comedic monologue and 32 measures of music. Please bring your music in the key you intend to sing. An accompanist will be provided. The audition will include cold readings, vocal audition, and choreography. For more information visit www.hawthorneplayers.info and complete and download the audition form.
Read more on Hawthorne Players:…
« Previous Entries
Next Entries »