Entertainment / Travel
« Previous Entries
Next Entries »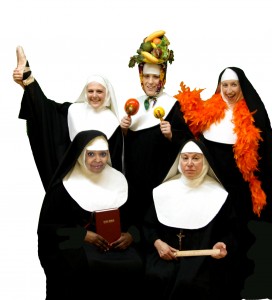 The Nun Fun Photo: Back L. to R.: Stefanie Kluba, Leah Milton, Tara Hoisington; Front L. to R. Kimmie Kidd, Marilyn Woods
Hawthorne Players' 'Nunsense'
At Civic Center Theatre
Hawthorne Players will present Dan Goggins' hit comedy Nunsense on Nov. 6, 7, 13, and 14 at 8 p.m. and on Nov. 15 at 2 p.m. in the Florissant Civic Center Theatre, Parker Road and Waterford Drive.  Tickets are $20 for adults and $18 for older adults and students and may be reserved by calling the box office at 314-921-5678 or online at www.florissantmo.com.  Call for information on special group rates.
Read more on Fall Comedy in Florissant…
Premiere of 'Florissant's
Historic Treasures' at
Civic Center on Oct. 28
The Florissant Landmark Historic District Commission will present a premiere showing of "Florissant's Historic Treasures" Wednesday, Oct. 28, at the James J. Eagan Center Theater. Doors open at 6:30 p.m. for a 7 p.m. showing. Refreshments will be available.
2 Holidays Shows in December
Eight outstanding and diverse performances are in the Applause/Applause series for 2015-2016. Season tickets can be purchased in a "menu" offering of 5 to 8 shows each.
Read more on 'Strange Life of Peggy Lee' Coming to Civic Center…
Sponsors, vendors and fairgoers are hoping for better weather this year for the Florissant Fall Festival than they had in 2014. Cool temperatures and rain didn't keep everyone away, but blue skies and warm temperatures would be welcome Sunday, Oct. 11 along rue St. Francois.
Read more on 2nd Sunday in Oct. is Fall Festival Time in Florissant…
Thursday, Sept. 24
   Blood Pressure Clinic  at St. Catherine Retirement Community 3350 St. Catherine Street at 10:15 a.m. RSVP by calling 314-838-3877.
Happy Hour & Trivia at DeSmet Retirement Community, 1425 N. New Florissant Road, beginning at 2:30 p.m. For information call 314-838-3811.
Do you ever just want a good burger? If your household is anything like my household, you feel that way about every other day. When the Dining Divas decided to check out a burger joint, "joint" was definitely not what we found, especially in Clayton.
Read more on Dining Divas Rate 5 Star Burger In Clayton with Mostly 5s…
« Previous Entries
Next Entries »