Entertainment / Travel
« Previous Entries
Next Entries »
Thursday, April 21
Spring Book Sale at Ferguson Library, 35 N. Florissant Rd. in Ferguson, April 21-23. Open 1-7:30 p.m. Thursday, 9 a.m.-5:30 Friday, and 9 a.m.-3 p.m. Saturday. Includes special interest military books and audio books. Sale held in Library auditorium. For more information, call 314-521-4663.
Read more on Mark Your Calendar…
Silver Dollar City's World-Fest Ending
22-Year Run, Going Out in Big Style
               By Bob Lindsey
The concept of entertainers from multi cultures and countries didn't seem quite fitting 22 years ago when Silver Dollar City first introduced park visitors to World-Fest. After 22 successful Spring seasons for World-Fest, the event still has two and half-more weeks before taking a final bow on May 1. Over the years, the event has been a successful addition.
Read more on Last Year for always popular event…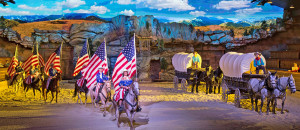 A huge LED screen at one end of the Dixie Stampede arena projects gorgeous scenery of the
Ozarks and America, always changing. This is the patriotic salute near the end of the show.
Read more on 2 of the best dinner shows in Branson…
Auditions April 10 For Musical 'Hairspray'
Hawthorne Players has announced auditions for the musical "Hairspray" at 2 p.m. on Sunday, April 10, at the Florissant Civic Center Theatre, 1 James J. Eagan Drive, 63033. Prepare a 1-minute comedic monologue and 32 measures of music. Please bring your music in the key you intend to sing. An accompanist will be provided. The audition will include cold readings, vocal audition, and choreography. For more information visit www.hawthorneplayers.info and complete and download the audition form.
Read more on Hawthorne Players:…
By Lisa Kampeter
I was a little hesitant about the latest restaurant of choice for the Dining Divas. First, they don't take reservations. Second, every time I've driven by, there's been a line outside the door. And finally, their specialty is fried chicken, and the last time we went to a place like that, I heard more complaints than compliments from the Divas. They couldn't seem to be able to accept the restaurant's chicken and sides' prices compared to a place like KFC!
Read more on No Doubt the Dining Divas Liked Gus' Chicken Fried…
by Sandra Olmsted
Director Dan Trachtenberg's 10 Cloverfield Lane, a sequel in name only and perhaps it being the same alien invasion, provides entirely different thrills and chills than the original Cloverfield. Huge fans of the original Cloverfield's handheld realism will be disappointed, but if handheld camera work causes queasiness, 10 Cloverfield Lane will delight — in a spine-chilling sort of way.
Read more on '10 Cloverfield Lane' is More Hitchcockian Thriller than SciFi…
« Previous Entries
Next Entries »