Events
« Previous Entries
3rd Annual 'Race to the Shrine' on Oct. 22
Mayor Schneider and Ward 3 Councilman Joe Eagan announced the 3rd Annual "Race to the Shrine" which will be held on Saturday, Oct. 22 at the Old St. Ferdinand Shrine beginning with the 1 mile Fun Run that starts at 3:30 p.m. and the 5k Race starts at 4 p.m. The "Race to the Shrine" benefits multiple programs with local area Florissant parishes.
Read more on 1 Mile Fun Run and 5K at Shrine…
J.J.Eagan Center Opens
Outdoor Ice Rink Oct. 24
The Florissant Parks and Recreation Department is announcing that the James J. Eagan Center's outdoor ice rink will be opening for the season on Monday, Oct. 24
Read more on Ice Rink Opening date in Florissant…
Fido Follies Still Remains a Fall Festival Crowd Favorite
Story and photos by Nichole Richardson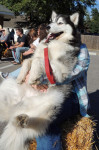 The much-anticipated Fido Follies Dog Show was held Sunday afternoon at the Government Center parking lot on rue St. Francois, and once again drew big crowds of canines and humans alike. As always, the show was hosted by Baronwood Kennels and emceed by owner, Terrie Bert.
Read more on Another Great Year for Fido Follies…
30 Outstanding Young Professionals
To be Honored by North County Inc.
       Making a Difference in the Community 
North County Incorporatedhas named this year's NCI Salutes 30 Leaders in their Thirties Leadership Award honorees. This group of up-and-coming professionals and volunteers, all of whom are making a significant difference in the North County area, will be recognized at the NCI Salutes 30 Leaders in their Thirties reception on Thursday, Oct. 27, at 11:30 a.m. at Christian Hospital's Atrium in the Paul F. Detrick Building. Tickets and sponsorship packages are currently available at www.NorthStLouisCounty.com or by calling 895-6241.The 2016 NCI Salutes 30 Leaders in Their Thirties Leadership Award honorees:
Read more on North County Inc. 30 Leaders in their 30s for 2016…
Florissant Old Town Partners Celebrates 20th Anniversary
   It started with just three determined ladies, Geri Debo, Rosemary Davidson, and Mary Kay Gladbach who wanted to increase the awareness of the historic district founded by the French and Spanish, and the importance of preservation.
Read more on Old Town Partners Done a Lot in Past 20 Years…
Hazelwood's Fall Food Truck Night Oct. 4
Charles Glenn,who sings the National Anthem at St. Louis Blues home games, will be the headline entertainer at Hazelwood's Fall Food Truck Night on Tuesday, October 4th, at Howdershell Park, 6810 Howdershell Road. Food can be purchased from 5 p.m. to 8 p.m. with entertainment starting at 6 p.m.
Read more on Oct. 4 Hazelwood Food Truck Night…
« Previous Entries