Events
« Previous Entries
Hazelwood's Fall Food Truck Night Oct. 4
Charles Glenn,who sings the National Anthem at St. Louis Blues home games, will be the headline entertainer at Hazelwood's Fall Food Truck Night on Tuesday, October 4th, at Howdershell Park, 6810 Howdershell Road. Food can be purchased from 5 p.m. to 8 p.m. with entertainment starting at 6 p.m.
Read more on Oct. 4 Hazelwood Food Truck Night…
Bittersweet Events on Art
Hill…Remembering 9-11
By Tom Anselm
As we walked onto the red, white and blue display on Art Hill in Forest Park, we heard a soft tinkling sound. It was as if tiny bells were chiming, randomly, constantly. American flags, 6,868 of them, were waving gently on this warm early-September morning. Each one symbolized a fallen member of the US Military, men and women from every branch who had given the ultimate sacrifice in wars since that fate-filled day of September 11, 2001.
Read more on A Boomer's Journal:…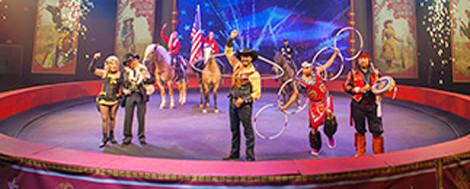 The performers at Silver Dollar City's Wild West, a must see show at this fall's National Harvest & Cowboy Festival
Cowboys, Hoop Dancer, Canines Will
Take You For a Few Lopes at Festival
Read more on Wild West Show big hit at National Harvest & Cowboy Festival…
New Miss Hazelwood Is Crowned
At Harvestfest's Coronation Event
The City of Hazelwood announced that Alyssa Hotze, age 16, a junior at Hazelwood West High School, is Miss Hazelwood 2016. She was crowned with this honor at the Miss Hazelwood Coronation held at the Hazelwood Harvestfest on Sept. 10 in Howdershell Park.
Read more on Alyssa Hofze-Miss Hazelwood…
Rotary Club Loses Bid to Manage
The Florissant License Office
The Rotary Club of Florissant has recently lost the bid to manage the driver's license and vehicle registration office located in Florissant. Rotary Club has managed the license office since 1994.
Read more on Residents urged to use the facility before Sept. 30…
Thursday, Sept. 8
   Modern Square Dancing at Florissant Valley Christian Church, 1325 N. Hwy 67, every Thursday for 10 weeks beginning at 7:15 p.m. Casual attire and $5 p/p per night. Registration and first class begins Sept. 8 Call (314) 839-2134 for info.
Read more on Florissant Sept. Calendar…
« Previous Entries