Events
« Previous Entries
Next Entries »
Hazelwood's White Birch Bay Hosting Second Teen Aquatic Night
The great turnout for Hazelwood's first "Bash at the Bay Teen Night" this summer at White Birch Bay Aquatic Center has caused event organizers to get the word out early for teenagers, ages 13 to 17, to pre-register for the next event on Friday, July 15, from 8 p.m. to 11 p.m. Those who pre-register by purchasing their tickets early will be guaranteed admission into the facility for this popular pool party.
Read more on Bash at the Bay Teen Night is Back…
SKF celebrates grand opening of new St. Louis facility
SKF this week celebrated the grand opening of its new facility in North County. This facility will serve as the North American headquarters for its Lubrication Business Unit. Located in NorthPark, near Lambert-St. Louis International Airport, the 310,000-square-foot facility includes engineering, manufacturing and testing operations, sales, marketing and administrative offices, as well as a state-of-the-art distribution center.
Read more on Located at NorthPark in North County…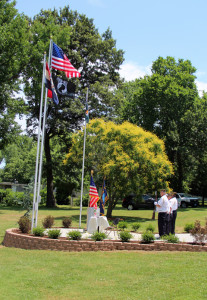 More than 100 persons showed up Sunday at St. Ferdinand Park for the dedication of the Korean War and Defense monument
with the color guard raising the flag  at the beginning of the dedication service on a hot afternoon.
Read more on New Korean Momument at St. Ferdinand Park…
Hazelwood's Annual Fireworks Display at White Birch Park July 4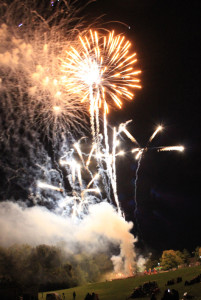 The City of Hazelwood is gearing up to present another spectacular pyro-musical fireworks display for residents and guests on Monday, July 4, at White Birch Park, 1186 Teson Road. The show is scheduled to begin at dusk, around 9:15 p.m. The event is free and open to the public.
Read more on Hazelwood Fireworks at White Birch Park…
KOREAN WAR AND DEFENSE VETERANS MEMORIAL TO BE DEDICATED
AT ST. FERDINAND PARK IN FLORISSANT

 The Korean War Veterans Association invites all veterans and the general public to attend the official dedication of the Korean War and Defense Veterans Memorial in St. Ferdinand Park in Florissant. The ceremony will commence at 1 p.m. on Sunday, June 26.   Master of ceremonies Sergeant Major Carl Hargus will begin the event, followed by the presentation of colors by the 12th District of the Veterans of Foreign Wars (VFW). Rev. Edward G. Robinson Sr. then will lead the invocation. The national anthem will be performed by the Scottish Rite Brass Band.
Read more on Memorial Dedication Sunday, Jun 26 at 1 p.m…
Thursday, June 23
St. Mark's Fashions for Food clothing sale, 315 Graham Road, 8:30-11 a.m. All proceeds go to local food pantries. Sale is held on the second Thursday of each month. Call 314-972-7838.
Read more on Summer 2016 Calendar of Events…
« Previous Entries
Next Entries »