Events
« Previous Entries
Next Entries »
2016 Valley of Flowers Queen and Court (L-R): Queen Katie Wissler (Winschel Carpet Service from Incarnate Word Academy. First runner up Ally Frey (Incarnate Word, Cannoli's), Special maids Rebecca Bazan (Lutheran High School North, Old Town Donuts), Jennifer Welch (McCluer North High School, Don Henefer Jewelers), Tori Turpin (Marquette Catholic High School, Dooley's Florist and Gifts)                                                   Nichole Richardson photo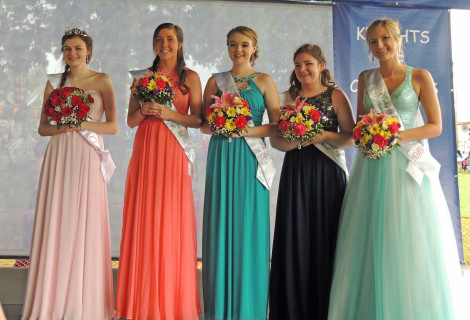 Read more on Valley of Flowers crowns 2016 Queen Katie Wissler…
Annual Festival in Florissant Promises a Weekend of Fun
Since 1963, the Valley of Flowers Festival celebration has been the "first festival of spring," featuring a variety of events, including a superb parade. Events included in this three-day celebration are a flower and plant sale, culturally diverse performances, baseball games, a classic car show, a vendor/craft fair, flea market, a pretty baby photo contest, children's activities and, of course, good food. Carnival games and exciting rides are featured at the Duchesne Knights of Columbus Fairgrounds.
Read more on 'Valley of Flowers Celebrates . . . The World of Entertainment'…
   Thursday, May 5
   Blood Pressure Clinic at St. Catherine Retirement Community, 3350 St. Catherine St., at 10:15 a.m. RSVP to 314-838-3877.
Friday, May 6
   Annual Spring Sale at St. Stephen Episcopal Church, 33 N. Clay in Ferguson (corner of Darst and Clay). Friday from 5 to 7:30 p.m. and Saturday May 7 from 8:30 a.m. to 1 p.m.! Clothes, books, collectibles, toys, shoes, small furniture, videos.
Read more on Mark Your Calendar…
Thursday, April 21
Spring Book Sale at Ferguson Library, 35 N. Florissant Rd. in Ferguson, April 21-23. Open 1-7:30 p.m. Thursday, 9 a.m.-5:30 Friday, and 9 a.m.-3 p.m. Saturday. Includes special interest military books and audio books. Sale held in Library auditorium. For more information, call 314-521-4663.
Read more on Mark Your Calendar…
Little Creek Nature Area, the Ferguson-Florissant School District's 97-acre nature preserve, will host an Earth Day celebration from 8 a.m. to noon. Saturday, April 23. The free event will be held at 2295 Dunn Road in Florissant and feature earth-friendly how-tos, hiking and outdoor family fun.
Read more on FFSD's Little Creek Nature Area to Host Earth Day Celebration April 23…
On Monday, April 25, at 7 p.m. the Florissant Police Department along with the National Council on Alcohol and Drug Addition (NCADA) St. Louis will host a town hall discussion on the heroin epidemic and prescription painkiller misuse that is affecting communities across the region. The event will be held at the James J. Eagan Civic Center Theatre, #1 Eagan Drive.
Read more on Florissant Town Hall Meeting On Heroin, Prescription Abuse…
« Previous Entries
Next Entries »