Events
« Previous Entries
Next Entries »
Ferguson Holds Northern Lights Parade and Holiday Festivities Sunday, Nov. 29
Ferguson kicks off the holiday season with a festive market for shopping and Lighted Parade each year the Sunday after Thanksgiving. This year the parade and market will be held Nov. 29 from 2 to 7 p.m. at Victorial Plaza.
Read more on Ferguson Gets Ready for the Holidays…
Sunday's Veterans Day parade throught Florissant makes Its final turn as it heads for the Civic Center for a program to honor  all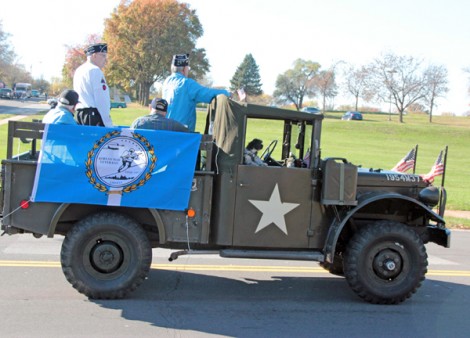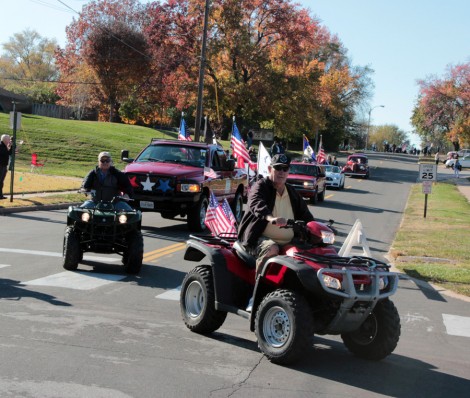 those who served
Veterans Parade Concludes
With Ceremony & Honors
Another great weather day for the Veterans' Parade was followed by a presentation of the Veteran of the Year award was held on Sunday, Nov. 8 The great weather help provided an enthusiastic turn-out to pay tribute to our veterans said Mayor Thomas P. Schneider.
by Sandra Olmsted
Each year the St. Louis International Film Festival (SLIFF) bring an amazing array of film to the St. Louis public including some first run movies that haven't opened yet, and some films which will never play in anywhere else in St. Louis. Because playing at SLIFF qualifies films for to be considered for a nomination by the Academy of Motion Picture Arts and Sciences, many of the international films are the "official selections" of their country of origin. Thus they are consideration as Best Foreign Language Film, of which five will be nominated for an Oscar.
Read more on There is Still Time to Enjoy The St. Louis Film Festival…
Friday, Oct. 30
Halloween Party at DeSmet Retirement Community, 1425 N. New Florissant Road, from noon to 2 p.m. Presented by Wendy Fritter. RSVP to 314-838-3811.
All you can eat chicken at Florissant Valley VFW Post 4105, 410 rue St. Francois from 5 to 8 p.m. Dine in only! All profits go to support veterans. Call 314-831-6121.
Read more on Calendar Oct. 29 – Dec. 12…
  Ferguson's annual holiday celebration offers a festive market in Victorian Plaza for shopping and a lighted parade the Sunday after Thanksgiving. This year the celebration falls on Sunday, Nov. 29 and will be open from from 2 p.m. to 7 p.m. In addition to the parade, there will be crafts and entertainment for the children.
Read more on Northern Lights Celebration In Ferguson Sunday, Nov. 29…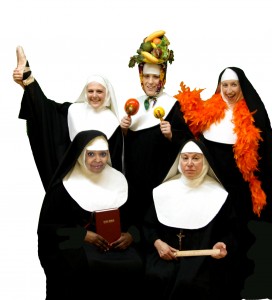 The Nun Fun Photo: Back L. to R.: Stefanie Kluba, Leah Milton, Tara Hoisington; Front L. to R. Kimmie Kidd, Marilyn Woods
Hawthorne Players' 'Nunsense'
At Civic Center Theatre
Hawthorne Players will present Dan Goggins' hit comedy Nunsense on Nov. 6, 7, 13, and 14 at 8 p.m. and on Nov. 15 at 2 p.m. in the Florissant Civic Center Theatre, Parker Road and Waterford Drive.  Tickets are $20 for adults and $18 for older adults and students and may be reserved by calling the box office at 314-921-5678 or online at www.florissantmo.com.  Call for information on special group rates.
Read more on Fall Comedy in Florissant…
« Previous Entries
Next Entries »