Events
« Previous Entries
Next Entries »
Areawide Ferguson Events Listed in Commemoration
of  the Death of Michael Brown Aug. 9, 2014
Friday . Aug 7
10 am – 1:30pm NVDA Training – Lisa Fithian and Deep Abiding Love @ Greater St. Mark Family Church
John B. Meyer's House on Auction Block
   The historic John B. House, built in 1867, and the Barn located behind the house will up for auction at noon on Wednesday, Aug. 19 at its location, 180 Dunn Road, Florissant.
Read more on Historic Florissant Home will have new Owner…
Celebrities Raise Donations for Crisis Nursery at West County Center Aug. 6
Have a light breakfast, opt-out of a pound-packing lunch, and join Saint Louis Crisis Nursery for dinner during the 25th Annual Celebrity Waiters Night on Thursday, Aug. 6, from 4 p.m. to 10 p.m. at West County Center. More than 100 national and local celebrities will engage supporters for donations to benefit Crisis Nursery's child abuse prevention programs.
Read more on Crisis Nursery Celebrity Waiters Night…
Thursday, July 30
   Blood Pressure Clinic at St. Catherine Retirement Community, 3350 St. Catherine Street, at 10:15 a.m. RSVP at 314-838-3877.
   Healing prayer service at Sacred Heart Catholic Church, 751 N. Jefferson Street, at 7 p.m. for victims of abuse. Archbishop Robert Carlson will preside. Open to all. Sponsored by the Office of Child and Youth Protection, the Safe Environment Program and the Office of Sacred Worship. For information, contact Carol Brescia, Assistance Coordinator, at 314-378-3627 or breshinmo@aol.com.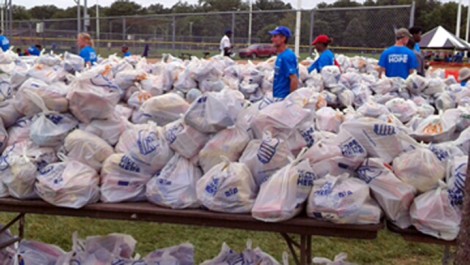 Hundreds of bags of food were piled high and each family in need got a bag full at the Ferguson 'Day of Hope event Saturday, July 25 at Ferguson's Forestwood Park.
Read more on Ferguson's Holds 'Day of Hope' event…

Into the Woods continues through July 27
Stephen Sondheim and James Lapine's Into The Woods made its Muny premiere July 21 and continues through July 27 featuring an award winning cast of Broadway's brightest stars.
Read more on This Week and Next Week at the Muny…
« Previous Entries
Next Entries »