Events
« Previous Entries
Next Entries »
Residents had an opportunity to talk directly with U.S. Army Corps of
Engineer employees about radiation conditions at Coldwater Creek
Big Crowd at Civic Center Meeting on Coldwater
Creek Cancer Concerns  Wanted to Learn More
Story and photo by Bob Lindsey
Missouri offers spectacular winter eagle watching opportunities between December and February each year. The first Eagle Days event this year is at Squaw Creek National Wildlife Refuge on Dec. 5. The Missouri Department of Conservation invites everyone to enjoy nature during the Eagle Days or simply go see the eagles on their own.
Read more on Department of Conservation Eagle Days Begin, will be at Chain of Rocks Jan. 16-17…
Community Gets Involved to Build Wheelchair Ramp
Photos and Text
By Pamela Lee
When Patricia Korte posted on Facebook asking for advice on getting a wheelchair ramp built for her brother-in-law Mike Korte, she had no idea the caring, giving people of Florissant would repay all the kindnesses Mike had done himself for others over the years.  Less than three weeks after her Facebook post the ramp is ready and waiting for Mike to come home.
Read more on Friends build ramp for Mike Korte…
Northern Lights Parade Returns To Ferguson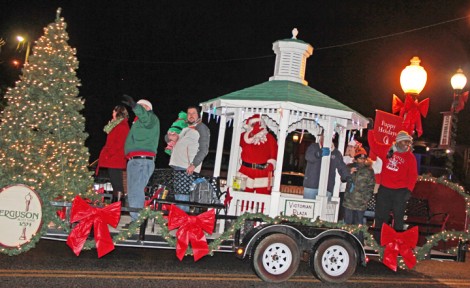 After postponing the annual Northern Lights Parade last year along S. Florissant Road in Ferguson, the parade was back in full holiday mode Sunday. A
Read more on Rain stops just in time for parade Sunday…
The Ferguson Twilight Christmas House Tour will be held on Dec. 6 from 3-7 p.m. This very popular Christmas event brings holiday visitors from all parts of Missouri and Illinois to view a nice selection of exceptional homes decked out for Christmas.
Read more on Twilight Christmas House Tour is Dec. 6…
Ferguson kicks off the holiday season with a festive market for shopping and Lighted Parade each year the Sunday after Thanksgiving. This year the parade and market will be held Nov. 29 from 2 to 7 p.m. at Victorial Plaza.
Read more on Ferguson Holds Northern Lights Parade And Holiday Festivities Sunday, Nov. 29…
« Previous Entries
Next Entries »