Events
« Previous Entries
Next Entries »
Read more on Valley of Flowers winners (photos by Bob Lindsey)…
Read more on Scenes from Valley of Flowers Parade May 3…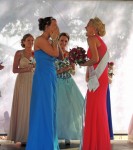 The 2014 Valley of Flowers Queen Alex Phifer
celebrating her last moments as queen by crowning
Courtney Neisler as the 2015 Queen.
Another Perfect May Day For Valley of Flowers and
Thursday, April 30
Beck Elder Law presents Protecting Your Retirement Plan at the Bridge at Florissant, 1101 Garden Plaza Drive, from 2 – 3:30 p.m. Free. RSVP to 314-831-0988
Friday, May 1
The Pretty Baby Photo Contest will be held at the James J Eagan Center May 1 and 2. Photos of pretty babies will be shown on the ice rink pavilion Friday, May 1, from noon until 8 p.m. and on Saturday, May 2, from 9 a.m. until 6 p.m. The public is invited to view them all and cast votes to help choose the winners. Babies must be age 2 years or younger and are judged in two categories: "Personality" as depicted in the photo and "Popularity" as demonstrated by donations from those who vote at the booth. Winners will receive a plaque and gift basket at the awards ceremony on Sunday, May 3, just before the queen and her court are crowned at the Knights of Columbus Pavilion.
Read more on Vote for Pretty Babies May 1-2, Winners Announced May 3…
Whether it's old-fashioned comfort food, American-style barbecued meats and side dishes, kettle corn, funnel cakes, chicken s trips, nachos, ice cream, Hispanic offerings, Asian delicacies such as egg rolls and crab rangoon, it will be available at the food court tent on the James J. Eagan grounds. Various beverages will also be for sale.
Read more on Multicultural Dishes Help Spice Up 2015 Food Court…
« Previous Entries
Next Entries »