Events
« Previous Entries
Next Entries »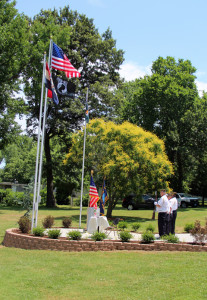 More than 100 persons showed up Sunday at St. Ferdinand Park for the dedication of the Korean War and Defense monument
with the color guard raising the flag  at the beginning of the dedication service on a hot afternoon.
Read more on New Korean Momument at St. Ferdinand Park…
Hazelwood's Annual Fireworks Display at White Birch Park July 4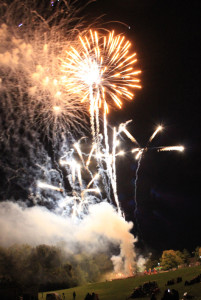 The City of Hazelwood is gearing up to present another spectacular pyro-musical fireworks display for residents and guests on Monday, July 4, at White Birch Park, 1186 Teson Road. The show is scheduled to begin at dusk, around 9:15 p.m. The event is free and open to the public.
Read more on Hazelwood Fireworks at White Birch Park…
KOREAN WAR AND DEFENSE VETERANS MEMORIAL TO BE DEDICATED
AT ST. FERDINAND PARK IN FLORISSANT

 The Korean War Veterans Association invites all veterans and the general public to attend the official dedication of the Korean War and Defense Veterans Memorial in St. Ferdinand Park in Florissant. The ceremony will commence at 1 p.m. on Sunday, June 26.   Master of ceremonies Sergeant Major Carl Hargus will begin the event, followed by the presentation of colors by the 12th District of the Veterans of Foreign Wars (VFW). Rev. Edward G. Robinson Sr. then will lead the invocation. The national anthem will be performed by the Scottish Rite Brass Band.
Read more on Memorial Dedication Sunday, Jun 26 at 1 p.m…
Thursday, June 23
St. Mark's Fashions for Food clothing sale, 315 Graham Road, 8:30-11 a.m. All proceeds go to local food pantries. Sale is held on the second Thursday of each month. Call 314-972-7838.
Read more on Summer 2016 Calendar of Events…
 Fiesta in Florissant Returns to Knights of Columbus Park June 25 and 26
Hispanic Festival, Inc. of Greater St. Louis will be presenting "Fiesta in Florissant" at the Knights of Columbus Park located near the corner of Lindbergh and Washington. The event will take place on Saturday, June 25 from 10 a.m. to 10 p.m. and 11 a.m. to 9 p.m. Sunday, June 26. The colorful and festive Welcoming Ceremony will begin on Saturday, June 25 with remarks from the City of Florissant Mayor Thomas Schneider.
Read more on Florissant Fiesta…
Rainbow Sets Scene For Great
Opening Night at the Muny
By Pat Lindsey
As the summer downpour tapered to a drizzle on opening night at The Muny Monday, a rainbow appeared in the sky over Forest Park. It seemed like an omen of what was the come—an extraordinary opening night of "The Wizard of Oz" and The Muny's 98th season.
Read more on Wizard of Oz Opens Season on a High Note…
« Previous Entries
Next Entries »