Events
« Previous Entries
Next Entries »
Hyatt-St. Louis Quarterly Brewhouse
Beer Dinners Brings New Experiences
                             by Pat Lindsey
It's not just beer and pretzels and bar food anymore at The Brewhouse Historical Sports Bar in the downtown St. Louis Hyatt. Get ready for quarterly gastronomical experiences as local craft breweries pair their creations with multi-course original meals prepared by Brewhouse Sous Chef John Zimmerly.
Read more on Hyatt Brewhouse Dinners May Start a Trend…
   The annual Missouri State Society of the Daughters of the American Revolution (DAR) Memorial Day Service will be held Monday, May 25, at 10 a.m. at Cold Water Cemetery, 15290 Old Hall's Ferry Road. The service is open to the public and conducted by the DAR, Sons of the American Revolution, Children of the American Revolution, Living History Re-Enactors, Militia de San Carlos and the Boy Scouts of America.
Read more on DAR Memorial Day Event at Cold Water Cemetery…
The Bridge at Florissant will have a special Memorial Day ceremony Monday, May 18. Retired U.S. Marine William Rupp, a resident of the Bridge at Florissant, will serve as the master of ceremonies. Rupp, a distinguished and decorated World War II veteran, was named the 2006 Veteran of the Year by the Pentagon and is one of nineteen veterans honored in a book titled Distinguished Veterans Who Made a Difference. As part of the ceremony, Rupp will present each Bridge at Florissant veteran with a medal of appreciation that he designed.
Read more on The Bridge at Florissant Honors Veterans May 18…
Read more on Valley of Flowers winners (photos by Bob Lindsey)…
Read more on Scenes from Valley of Flowers Parade May 3…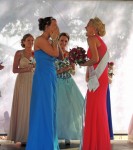 The 2014 Valley of Flowers Queen Alex Phifer
celebrating her last moments as queen by crowning
Courtney Neisler as the 2015 Queen.
Another Perfect May Day For Valley of Flowers and
« Previous Entries
Next Entries »