Events
« Previous Entries
Next Entries »
North County Incorporated Honors Community Leaders
Making a Difference in North St. Louis County

As part of the organization's 39th Annual Breakfast celebration, North County Incorporated (NCI) recognized several area leaders for making a significant positive impact in North County. At a sold-out event on Friday, May 13th, 2016 more than 600 business, civic and community leaders gathered to honor this year's award recipients.
Read more on North County Inc. honors leaders at annual Breakfast…
Queen Crowning is Always Highlight of Valley of Flowers  
         By Nichole Richardson
This year's 54th annual Valley of Flowers queen coronation was once again held at the St. Rose Philippine Duchesne Knights of Columbus Pavilion on Sunday afternoon. The 2016 theme was "Valley of Flowers Celebrates…The World of Entertainment."
Read more on Florissant Honors winners…
Pretty Baby Winners & Parade Units Honored
photos b Bob Lindsey

The 2016 Valley of Flowers Festival wrapped up with the announcement of the awards for the winners in the Pretty Baby contest as well as the parade units at the end of the parade Sunday, May 8.
Read more on Valley of Flowers winners…
2016 Valley of Flowers Queen and Court (L-R): Queen Katie Wissler (Winschel Carpet Service from Incarnate Word Academy. First runner up Ally Frey (Incarnate Word, Cannoli's), Special maids Rebecca Bazan (Lutheran High School North, Old Town Donuts), Jennifer Welch (McCluer North High School, Don Henefer Jewelers), Tori Turpin (Marquette Catholic High School, Dooley's Florist and Gifts)                                                   Nichole Richardson photo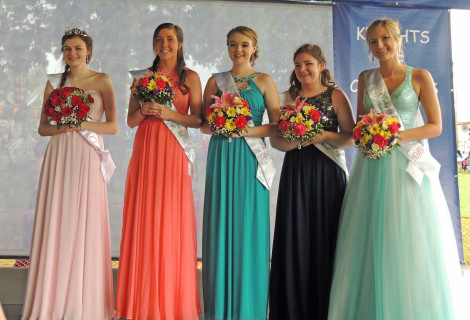 Read more on Valley of Flowers crowns 2016 Queen Katie Wissler…
Annual Festival in Florissant Promises a Weekend of Fun
Since 1963, the Valley of Flowers Festival celebration has been the "first festival of spring," featuring a variety of events, including a superb parade. Events included in this three-day celebration are a flower and plant sale, culturally diverse performances, baseball games, a classic car show, a vendor/craft fair, flea market, a pretty baby photo contest, children's activities and, of course, good food. Carnival games and exciting rides are featured at the Duchesne Knights of Columbus Fairgrounds.
Read more on 'Valley of Flowers Celebrates . . . The World of Entertainment'…
   Thursday, May 5
   Blood Pressure Clinic at St. Catherine Retirement Community, 3350 St. Catherine St., at 10:15 a.m. RSVP to 314-838-3877.
Friday, May 6
   Annual Spring Sale at St. Stephen Episcopal Church, 33 N. Clay in Ferguson (corner of Darst and Clay). Friday from 5 to 7:30 p.m. and Saturday May 7 from 8:30 a.m. to 1 p.m.! Clothes, books, collectibles, toys, shoes, small furniture, videos.
Read more on Mark Your Calendar…
« Previous Entries
Next Entries »