Events
« Previous Entries
Next Entries »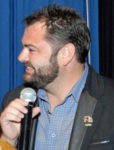 Greater North County Chamber of Commerce honored their 2017 Business Person of the year Kurtis Barks this week. The owner operator of Complete Auto Body and Repair and A2b Towing and Recovery, Barks has a long record of community and charitable giving in the metro area. The GNCC honored Barks at a luncheon on Wednesday, Jan. 18 at the Atrium at Christian Hospital attended by chamber members, family and friends.
Read more on GNCC Honors Kurtis Barks, Business Person of the Year…
North County Churches Uniting for Racial Harmony and Justice recently held its Annual Dr. Martin Luther King, Jr's Oratory Essay Contest at John Knox Presbyterian Church. President Rance Thomas said that "we truly have some outstanding winners this year and they include four students and one adult."
Read more on NCCU to Honor ML King Oratory Contest Winners…
City of Hazelwood's Community Enrichment Commission will be hosting its 15th Annual Tribute to Dr. Martin Luther King, Jr.,. on Sunday, Jan. 15. The event is going to be held at Civic Center East, 8969 Dunn Road. The starting time is 7 p.m.
Read more on Hazelwood Keeps Dr. King's Dream Alive with 15th Annual Tribute…
Story and photos By Nichole Fetters
Once again, the seniors of Florissant rang in the New Year at the James J Eagan Center with the annual City of Florissant Senior Citizen New Year's Eve Celebration from 10 until 2 on Dec. 31
Read more on Seniors 'Light up the Night' at the Daytime Senior Citizen New Year's Eve Party…
The Ms. Missouri Senior America Pageant is seeking contestants for next year's pageant to be held July 9. www.msmissourisenior.org
If you, or someone you know, will be at least 60 years old by June 9, 2017, you can participate in a rewarding and
Read more on Ms. Missouri Senior Pageant Seeking Contestants for 2017…
County Executive Steve Stenger and the County Council last week took another step into blighting the once vibrant Jamestown Mall. Conditions within the huge mall are deteriorating and it's being called a menace to public health and safety.
Read more on 2nd Hearing Planned in County On Future of Jamestown Mall…
« Previous Entries
Next Entries »