Features
« Previous Entries
Next Entries »
'Family Night' Wraps Up Summer Camp at Eagan Center
Story and photos by
Nichole Richardson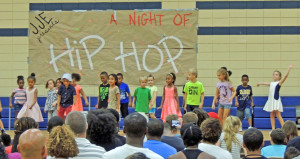 The James J. Eagan Center held its annual "Summer Camp Family Night" on Tuesday, July 12 to celebrate the ending of another successful camp year. Boys and girls danced to songs displaying this year's chosen theme of "A Night of Hip Hop."   The theme was voted on by counselors during the training week and introduced to campers the first week of camp. Presenters included Mayor Tom Schneider and assistant camp director Nick Stroot.
Read more on Hip Hop Family Night…
Generations Mold History,
and History Returns the Favor

A child is born in New Jersey, one minute after
midnight, January 1, 1946.
She is the first of what would be later referred to as a "Boomer".
Read more on A Boomer's Journal…
Rainbow Sets Scene For Great
Opening Night at the Muny
By Pat Lindsey
As the summer downpour tapered to a drizzle on opening night at The Muny Monday, a rainbow appeared in the sky over Forest Park. It seemed like an omen of what was the come—an extraordinary opening night of "The Wizard of Oz" and The Muny's 98th season.
Read more on Wizard of Oz Opens Season on a High Note…
      Seeks Volunteers,  Donations and Money

     Story and Photos by Nichole Richardson
Florissant's local food pantry, TEAM, of the Emergency Assistance Ministry, is celebrating its 30-year anniversary and looking for volunteers to help them serve the Florissant and Hazelwood.
Read more on TEAM Food Pantry Celebrates 30 Years…
Recalling North County CYC Baseball
"The one constant, through all the years, Ray, has been baseball."
So said James Earl Jones as Terrence Mann in the iconic film "Field of Dreams."
Read more on Remember the Fields of Dreams…
Mystery Trippers Discover Surprising
Treasures in Old Town, Florissant
   Story and photos by Pat Lindsey
A year ago, I invited a group of friends to go on a monthly mystery trip with me. I explained that these would be local day trips to places that were entertaining, educational, and inexpensive, if possible, and an outstanding place for lunch would be essential to every trip. To my astonishment, I received 12 positive replies, so the mystery trip group was formed and a tentative calendar was sent to each member.
To date, we've had two Illinois trips, one day in St. Charles, one day in Hermann, MO, a trip to West County, and several trips to various parts of St. Louis City. As I ran my daily errands around Florissant, it seemed only natural that one of our day trips should be the beautiful Valley of Flowers.
« Previous Entries
Next Entries »