Features
« Previous Entries
Next Entries »
Florissant Girl Beats All Odds of Survival; Throws Out First Pitch at Busch Stadium
By Nichole Richardson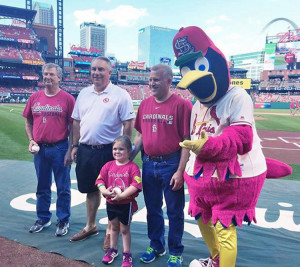 Eleni Scott, of Florissant, is getting ready to celebrate her fifth birthday on Aug. 26—a birthday she was never supposed to see, according to the grim medical statistics. Scott was diagnosed at eight months old with a fatal and extremely rare developmental disorder called alveolar capillary dysplasia with misalignment of pulmonary veins (ACD/MPV).

'Aida' Closes Muny's 98th Season
On a High Note of Love and Peace
by Pat Lindsey
The final show of The Muny season is always bittersweet because it signifies that the end of summer is near and we'll have to wait until next June to enjoy sitting beneath the stars and losing ourselves in the genius of Mike Isaacson again.
Comment Period Ends For MoDOT's TIP Plan; East-West Board to Consider New Projects
The comment period for MoDOT's Transportation Improvement Plan (TIP) ended on Aug. 10. There are 230 new projects to the TIP this year, including the $100M potential Design Build on Interstate-270.  Other new major projects of interest in North St. Louis City and County consist of interchange improvements at I-70 and Lucas-Hunt and resurfacing and ADA improvements along MO 180 (St. Charles Rock Road) from I-270 to St. Louis City Limits. The final TIP will be submitted to the East-West Gateway Board of Directors for their consideration at the Aug. 31, meeting at 10 a.m.
Read more on MoDot's TIP Plan…
Ferguson Voters OK 2%
Hike in City Utility Tax
5 Additional Officers can be hired
    Firehouse #2 Can Stay Open
Voters in the City of Ferguson approved a two percent business license utility tax increase on Tuesday, August 2, 2016. The utility tax increase is expected to generate nearly $700,000 in additional municipal revenues by increasing the current business license utility tax from 6 % to (8% including companies supplying light, electricity, power, gas, telephone and water.
Read more on August 2nd Primary results…
'Family Night' Wraps Up Summer Camp at Eagan Center
Story and photos by
Nichole Richardson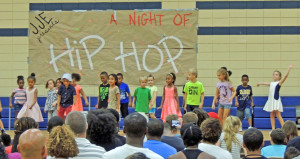 The James J. Eagan Center held its annual "Summer Camp Family Night" on Tuesday, July 12 to celebrate the ending of another successful camp year. Boys and girls danced to songs displaying this year's chosen theme of "A Night of Hip Hop."   The theme was voted on by counselors during the training week and introduced to campers the first week of camp. Presenters included Mayor Tom Schneider and assistant camp director Nick Stroot.
Read more on Hip Hop Family Night…
Generations Mold History,
and History Returns the Favor

A child is born in New Jersey, one minute after
midnight, January 1, 1946.
She is the first of what would be later referred to as a "Boomer".
Read more on A Boomer's Journal…
« Previous Entries
Next Entries »