Features
« Previous Entries
Next Entries »
Story and photos By Nichole Richardson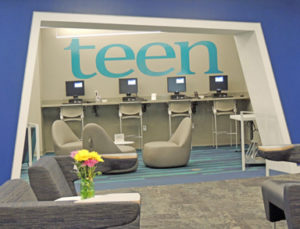 The newly renovated Florissant Valley branch of the St. Louis County library, located at 195 New Florissant Rd., is a gold mine of the unexpected. From the outside looking in, it appears not much has changed, but the moment you walk through the doors it's evident that a major transformation has taken place.
Read more on Revived Florissant Valley Branch Library More than Just Books…
MU experts talk of this rare opportunity
By Nichole Richardson
On Monday, Aug. 21, St. Louis area residents will get the thrill of witnessing the first total solar eclipse here since 1442. During this time the moon will come between the Earth and the Sun, thus creating a shadow, or umbra, 70 miles wide over the Earth.
Read more on St. Louis Area Offers Best Chances at Viewing Eclipse…
(Special to the Independent News)
Florissant resident, Andrew Harris, was visiting family in Illinois and attending a little league baseball game for his nephews when he noticed something sitting on a park bench. Looking closer, he saw it was a rock. But not just any rock, this one had been painted and had a message inscribed on the back including "Granite Rocks" and instructions to look on Facebook. What Andrew found were multiple thousands of people engaging in community, not just in Illinois, but all over the country through painting and hiding rocks for others to discover.
Read more on 'NoCo Rocks' Spreads Fun in North County…
   By Pat Lindsey
If Elvis had been in the house during The Muny's opening of All Shook Up, he would have enjoyed a hunk of burning nostalgia, because this show is definitely reminiscent of Presley's movies–a simple plot, song after song, and great gyrating dance numbers. Elvis fans will love it for its 27 Presley tunes packed into one show, but they should not expect to see an Elvis impersonator performing them.
Read more on All Shook Up is an Elvis-Flavored Jukebox Musical…
Florissant Rotary gives $113,829
In Service to Community Groups
The Florissant Rotary Club recently donated $113,829.72 to various community services such as CAP Grants, scholarships, cash donations, and building materials. They are now accepting donations through their relatively new 501c3.
Read more on Rotary Installs New Officers…
DELMAR GARDEN FAMILY HOSTS EXCLUSIVE COMPLIMENTARY
INDEPENDENCE DAY PUBLIC CELEBRATION
that concludes each evening with a grand Fireworks Display
Family Fun for the Fourth and….it's Free! The Delmar Gardens Family of skilled nursing and retirement communities will host their annual Independence Day celebrations at select locations beginning Sunday, June 25.
Read more on Independence Day Celebration June 26 at Delmar Gardens North/Garden Villas…
« Previous Entries
Next Entries »