Features
« Previous Entries
Next Entries »
By Elaine Steinborn
Unless you follow judo closely, you may not recognize the name Solomon Jackson yet, but this young man from Florissant is making a splash in judo competitions across the world.
Read more on Meet McCluer North's Solomon Jackson: #1 in World Cadet Judo in the U.S….
Beauty and the Beast is Pure Enchantment
There is no better place than The Muny to return to our fairy tale childhoods and experience an enchanting quest for happily ever after. This week's production of Beauty and the Beast is the ultimate fairy tale that makes the members of the audience glad to be their guest and grateful for a happy ending that sends them home humming.
Read more on Muny's Children's Show Plays until Aug. 7…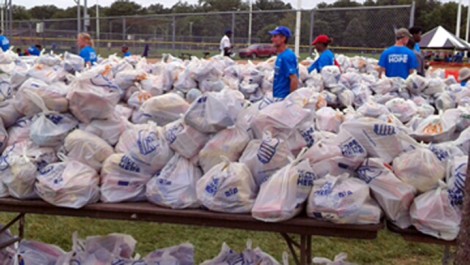 Hundreds of bags of food were piled high and each family in need got a bag full at the Ferguson 'Day of Hope event Saturday, July 25 at Ferguson's Forestwood Park.
Read more on Ferguson's Holds 'Day of Hope' event…
Adventures include The Ride, Clipper City Tall Ship, CityPASS booklet
Read more on 'Girls' Take a Bite Out the Big Apple…
New Aquatic Center at North County Rec Complex Open
The new $5 million aquatics center opened Memorial Day weekend at the North County Recreation Center at Veterans Park located off Redman Road. A sparse crowd was evident when these photos were taken on Memorial Day—perhaps because the weather was not real hot or a lot of folks weren't aware that it was open. A giant tubular water slide and a lazy river are the major components at the aquatic center, which was built on the site of the Olymphic size swimming pool that occupied the site since the late 1970s.                        Pat Lindsey photos
Read more on Water Park Opens at North County Recreation Complex…
Hyatt-St. Louis Quarterly Brewhouse
Beer Dinners Brings New Experiences
                             by Pat Lindsey
It's not just beer and pretzels and bar food anymore at The Brewhouse Historical Sports Bar in the downtown St. Louis Hyatt. Get ready for quarterly gastronomical experiences as local craft breweries pair their creations with multi-course original meals prepared by Brewhouse Sous Chef John Zimmerly.
Read more on Hyatt Brewhouse Dinners May Start a Trend…
« Previous Entries
Next Entries »