Features
« Previous Entries
Next Entries »
By Nichole Richardson
Valley Industries Sheltered Workshop celebrated their 50th anniversary Saturday, March 4 at the 10th Annual Mayors' Shamrock Ball fundraiser. Headlined by KSDK-TV, News Channel 5's chief meteorologist Craig Moeller, the nearly 500 guests all came to show their support while enjoying a night of great food, dancing, and prizes.
Read more on Valley Industries Celebrates 50 Years of Helping the Community…
By Carol Arnett
The Florissant City Council held two public hearings at its meeting Monday night. It also held the final readings and votes on bills that approve a new medical training center and a new banquet center at 407 Dunn Road, the former home of Yacovelli's.
Read more on Florissant OKs Medical Center, New Event Center At Yacovelli's Site; Mayor Proposes Merger Talks…
by Lisa Kampeter
Good vibes. That's what I had when I walked into 612 Kitchen and Cocktails with the Prodigal Diva and the Lifetime Diva. I had good vibes about this Kirkwood restaurant on Woodbine.   It helped when we first got there and two Happy Hour Divas were already enjoying a snack and drink at the bar. It was nice when a patron shared with us his recommendations before we even got to the table. And it was really cool when the friendly owner immediately gave us his personal attention.
Read more on Dining Divas Discover Another Neighborhood Gem in Kirkwood…
By Nichole Richardson
It's a sure bet that even if you don't use Facebook, you've heard of it. The social media giant has changed the way we communicate with one another; so much so that we never have to leave our homes or pick up a phone if we don't want to.
Read more on Nextdoor Website Helps People Meet Their Neighbors, Share Information…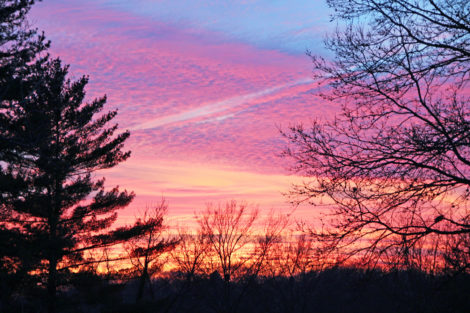 Back and forth weather this February has made for some outstanding sunsets like this one shot
in Florissant last week.             photo by Bob Lindsey
Singing the Winter Blues Ain't
All That Bad…Considering
By Tom Anselm
The financial results are in by virtue of the U.S Mail and various internet sources: Christmas is over. That-there goose that was getting fat a mere few weeks ago… well, he has been eaten. No more pennies going in that old man's hat. Now it is dollars they are wanting, and soon, or the interest kicks in at
Read more on A Boomer's Journal…
« Previous Entries
Next Entries »