Features
« Previous Entries
Next Entries »
Rainbow Sets Scene For Great
Opening Night at the Muny
By Pat Lindsey
As the summer downpour tapered to a drizzle on opening night at The Muny Monday, a rainbow appeared in the sky over Forest Park. It seemed like an omen of what was the come—an extraordinary opening night of "The Wizard of Oz" and The Muny's 98th season.
      Seeks Volunteers,  Donations and Money

     Story and Photos by Nichole Richardson
Florissant's local food pantry, TEAM, of the Emergency Assistance Ministry, is celebrating its 30-year anniversary and looking for volunteers to help them serve the Florissant and Hazelwood.
Recalling North County CYC Baseball
"The one constant, through all the years, Ray, has been baseball."
So said James Earl Jones as Terrence Mann in the iconic film "Field of Dreams."
Read more on Remember the Fields of Dreams…
Mystery Trippers Discover Surprising
Treasures in Old Town, Florissant
   Story and photos by Pat Lindsey
A year ago, I invited a group of friends to go on a monthly mystery trip with me. I explained that these would be local day trips to places that were entertaining, educational, and inexpensive, if possible, and an outstanding place for lunch would be essential to every trip. To my astonishment, I received 12 positive replies, so the mystery trip group was formed and a tentative calendar was sent to each member.
To date, we've had two Illinois trips, one day in St. Charles, one day in Hermann, MO, a trip to West County, and several trips to various parts of St. Louis City. As I ran my daily errands around Florissant, it seemed only natural that one of our day trips should be the beautiful Valley of Flowers.
T. R. Carr chaired one committee, served on another
By Tom Anselm
Over a year ago the St. Louis County Grand Jury announced that Ferguson Police Officer Darren Wilson would not be charged in the death of Michael Brown. In light of the resulting civil unrest and property damage in the Ferguson area and other parts of the St. Louis Metropolitan area, a commission was formed by Gov. Jay Nixon to address some of the issues that surfaced. It was called The Ferguson Commission and was made up of community leaders and regular citizens appointed by Nixon.
Read more on Ferguson Commission Member Reflects on Accomplishments, Effectiveness, Future Goals…
When is a Concussion Not Really A Concussion? Only in the Press Box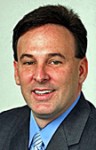 What amazes me the most in life is that the simpler the job, the more difficult someone can make it. For example, there is now a person on the sidelines or press box of every NFL football game and their only job is to look for someone who might get hit and have a concussion. That is their only job.
Read more on Randy Gardner column…
« Previous Entries
Next Entries »