Features
« Previous Entries
Next Entries »
Story and Photo
By Erica Van Buren
Over the past few years Washington Park Cemetery has seen its fair share of negative coverage regarding the deplorable conditions of the cemetery, yet not much has been done. Now there's a call for action to preserve this historical treasure.
A Late Summer Staycation Bids
Summer Farewell, But Welcomes Fall
               By Pat Lindsey
A well-planned St. Louis staycation in late August seems like a great way to say goodbye to summer and welcome fall. The many jewels of Forest Park and other popular attractions around the area are less crowded then because some of the children have already returned to school. And when my bachelor brother came for a visit during my son's scheduled vacation, we just happened to have a week of perfect weather.
Read more on Summer fun turns to Fall anticipation…
By Elaine Steinborn
Unless you follow judo closely, you may not recognize the name Solomon Jackson yet, but this young man from Florissant is making a splash in judo competitions across the world.
Read more on Meet McCluer North's Solomon Jackson: #1 in World Cadet Judo in the U.S….
Beauty and the Beast is Pure Enchantment
There is no better place than The Muny to return to our fairy tale childhoods and experience an enchanting quest for happily ever after. This week's production of Beauty and the Beast is the ultimate fairy tale that makes the members of the audience glad to be their guest and grateful for a happy ending that sends them home humming.
Read more on Muny's Children's Show Plays until Aug. 7…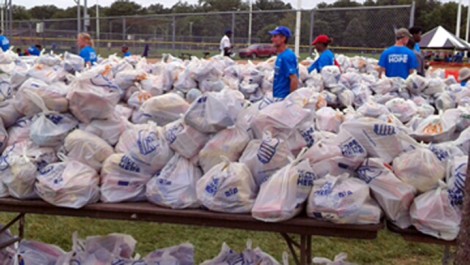 Hundreds of bags of food were piled high and each family in need got a bag full at the Ferguson 'Day of Hope event Saturday, July 25 at Ferguson's Forestwood Park.
Read more on Ferguson's Holds 'Day of Hope' event…
Adventures include The Ride, Clipper City Tall Ship, CityPASS booklet
Read more on 'Girls' Take a Bite Out the Big Apple…
« Previous Entries
Next Entries »