Features
« Previous Entries
Next Entries »
by Sandra Olmsted
Each year the St. Louis International Film Festival (SLIFF) bring an amazing array of film to the St. Louis public including some first run movies that haven't opened yet, and some films which will never play in anywhere else in St. Louis. Because playing at SLIFF qualifies films for to be considered for a nomination by the Academy of Motion Picture Arts and Sciences, many of the international films are the "official selections" of their country of origin. Thus they are consideration as Best Foreign Language Film, of which five will be nominated for an Oscar.
Read more on There is Still Time to Enjoy The St. Louis Film Festival…
Marygrove Expands Crisis Services,
Opens New Center this Week
Friday, Oct. 16, an official dedication and blessing was pronounced on the recently renovated building housing Marygrove's 24-hour shelter. Florissant Mayor, Thomas P. Schneider joined the celebration and toured the new center, which was blessed by the Rev. Edward M. Rice.
Story and Photos By Erica R. Van Buren
The 80-degree temperature was just what the doctor ordered to kick off this year's Fall Festival in Old Town Florissant on Sunday, Oct. 11. Crowds of community residents as well as non-residents came out with their families—including their four-legged family members—to enjoy the festivities. The fun started at 11 a.m., allowing enough time for the sun to come out and brighten up as well as warm up the day, a welcome change to the low temperatures over the last few days.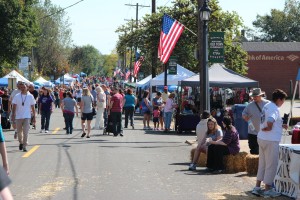 Read more on Perfect Weather, Usual Big Crowd At Florissant Old Town Fall Festival…
Thursday, Sept. 10
   Modern Square Dancing classes at Florissant Valley Christian Church, 1325 N. Hwy 67, beginning at 7:15 p.m. Ten weeks of class; casual attire. Registration Sept. 10 – 17 only. Fee: $5 per person per night. For more visit www.missouripromenaders.com or call 314-839-2134 or 314-837-4729.
Story and Photo
By Erica Van Buren
Over the past few years Washington Park Cemetery has seen its fair share of negative coverage regarding the deplorable conditions of the cemetery, yet not much has been done. Now there's a call for action to preserve this historical treasure.
A Late Summer Staycation Bids
Summer Farewell, But Welcomes Fall
               By Pat Lindsey
A well-planned St. Louis staycation in late August seems like a great way to say goodbye to summer and welcome fall. The many jewels of Forest Park and other popular attractions around the area are less crowded then because some of the children have already returned to school. And when my bachelor brother came for a visit during my son's scheduled vacation, we just happened to have a week of perfect weather.
Read more on Summer fun turns to Fall anticipation…
« Previous Entries
Next Entries »