Ferguson
« Previous Entries
Next Entries »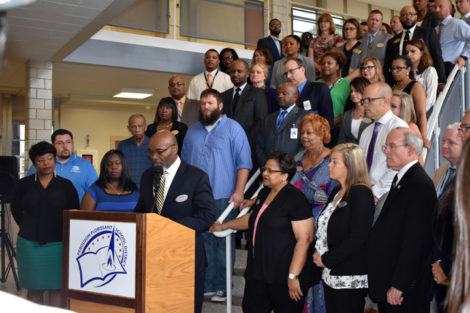 FLORISSANT MAYOR TOM SCHNEIDER AND FERGUSON MAYOR KNOWLES STAND WITH FERGUSON FLORISSANT SCHOOL BOARD, FACULTY AND STAFF DURING DR. DAVIS REMARKS TO ANNOUNCE HIS RETURN TO LEAD THE DISTRICT
 FFSD Superintendent Davis Returns;
Read more on Supt. Davis Welcomed Back…
by Ralph Schaffer
Hundreds of families and their furry friends strolled up and down rue St. Francois in Old Town Florissant this past Sunday to welcome fall. even though it was still summer-like, and enjoy the food, beverages, music, booths, and activities at the city's 20th annual Fall Festival.
Read more on Crowds Flock to rue St. Francois for 20th Annual Florissant Fall Festival…
by Sandra Olmsted
   My Little Pony: The Movie opens with Twilight Sparkle (voice of Tara Strong), the youngest the four pony princesses, planning Equestria's Friendship Festival and the concert by Pop star Songbird Serenade (voice of Sia).
Read more on 'My Little Pony: The Movie': Ideal Rainbow for Little Girls…
Read more on 'Stronger': Jake Gyllenhaal in Another Stellar Performance…
Under the direction of Larry Marsh, Northwinds Concert Band will present a "Sunday at the Pops" concert on Oct. 22, at 3 p.m. at the Florissant Civic Center Theatre. The "From Sea to Shining Sea" concert will celebrate the landscapes of America, both in time and place and promises thrills and a wild ride for the audience.
Read more on 'From Sea to Shining Sea' Concert by Northwinds Concert Band…
by Lisa Kampeter
I'm always excited about our Dining Divas nights, but I was super excited for our last gathering. The girls all came to my house for a pizza and palette painting party. Pizza from one of Florissant's finest long-time establishments and from one of Florissant's newest restaurants…BJ's and their neighbor in Old Town, Amore's Pizza.
Read more on Pizza, Painting, and More . . . The Dining Divas Stay and Play Locally…
« Previous Entries
Next Entries »