Ferguson
« Previous Entries
Next Entries »
A fun-filled night of trunk treat candy and a decorated walk through January Wabash Park will be held Saturday, Oct. 31, from 6 to 8 p.m. The Halloween Fest is for Ferguson children up to age 12 and their parents. Visitors will registration at First Baptist Ferguson, 333 New Florissant Road and enter at the glass doors facing Florissant Road. All children must be accompanied by an adult. Costumes are encouraged.
Read more on Ferguson Trunk Treat Night, Walk Through Wabash Park…
McCluer South-Berkeley's
Jay Boleach Honored
Jay Boleach, career and technical education coordinator at McCluer South-Berkeley High School, was chosen to receive two awards for outstanding service. The first, the Construction Forum STL Building Tomorrow Award, was presented Oct. 14 at the Building Tomorrow Awards program. Boleach will receive the second, the 2015-16 Outstanding Project Lead the Way (PLTW) Administrator, during the Missouri PLTW State Conference, Nov. 1-2 in Wentzville. Boleach is also McCluer South-Berkeley's A+ Coordinator.
The Ferguson-Florissant School District has awarded  educational technology grants to McCluer North High School, McCluer High School and the Little Creek Nature Area.  The district's Technology Services department sponsors the competitive grants. The three receiving schools were among 10 buildings that submitted proposals for funding.
Read more on FFSD Awards Educational Tech Grants…
Thursday, Oct. 8
   St. Mark's Fashions for Food clothing sale, 315 Graham Road, 8:30-11 a.m. All proceeds go to local food pantries. Sale is held on the second Thursday of each month. Call 314-972-7838.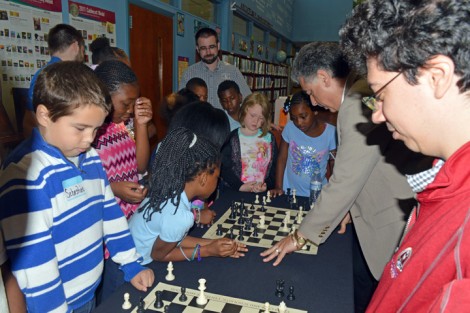 Walnut Grove Elementary students are challenged by Grandmasters (left to right) Alejandro Ramirez and Yasser Serawan.
F-F District, Ascension Health System
Launches After-school Chess Program
The elementary and middle school students in the Ferguson-Florissant School District (FFSD) have the opportunity to become chess grandmasters. Funded by Ascension, the nation's largest Catholic and non-profit health system, and administered by The Chess Club and Scholastic Center of St. Louis and Ascension, an after-school chess program led by certified instructors was launched Tuesday, Sept. 15, at Walnut Grove Elementary School.
   Consumers who "Shop Chamber First" during the month of October will be eligible for a chance to win a Flat Screen TV/DVD combo, Keurig Coffee Maker, RCA Tablet and other great prizes at a drawing that will be held on Wednesday, Nov. 18.   Eligible receipts include products or services purchased or provided by a member of the Greater North County Chamber.
Read more on 'Shop the Chamber First' In Oct. and You Can Win Prizes…
« Previous Entries
Next Entries »