Ferguson
« Previous Entries
Next Entries »
The Knights of Columbus Duchesne Council #2951 and the City of Florissant will be co-sponsoring a Food Truck Knight on Friday, April 21 from 5 to 9 p.m. on the lot near the Old St. Ferdinand Shrine located at 50 rue St. Francois. The trucks will serve until 8 and the band Stillwater will perform until 9. (some trucks may serve later)
Read more on Florissant and K of C Hosting 1st Food Truck Night of Year…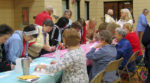 Over 350 Attended "Aging My Way Resource Fair" Mayor Thomas P. Schneider said the 3rd Annual "Aging My Way Resource Fair" for senior citizens held last week was a big success. Over 350 senior citizens attended the free resource fair and over 75 vendors were on hand Tuesday, April 4 at the James J. Eagan Center from 9 a.m. to noon. The City of Florissant partnered with Memory Care Home Solutions, St. Catherine Retirement Community, Bent-Wood Nursing & Rehabilitation, and Mercy Home Health & Hospice to provide senior citizens with information and resources.
Mark Schmidt Loses Council Seat
Incumbents won reelection in school board races in both Hazelwood and Ferguson-Florissant districts on Monday and Florissant will have a new councilmen, all based on unofficial results in the April 4 elections.
Read more on ELECTION RESULTS: Incumbents Win Reelection in FF, Hazelwood Board Races, Behlmann, McNeil, Ponder Elected…
By Jim Wieners
What is more known as the North County Baseball Classic, the McCluer High Classic is almost all North County with seven out of eight teams from North County, four of them are north of Interstate 270.
Read more on McCluer High Baseball Classic Is Almost Strictly North County…
By Jim Wieners
Coming off a 16-12 season in 2016 McCluer North Baseball opens the season 5-2 and that includes going 3-1 against the Parkway School District, 1-1 playing in Bethalto, Ill., and 1-0 at home prior to April 4.
Read more on McCluer North Baseball Starts 5-2; Hosts Hazelwood Central Thursday…
By Nichole Richardson
Valley Industries Sheltered Workshop celebrated their 50th anniversary Saturday, March 4 at the 10th Annual Mayors' Shamrock Ball fundraiser. Headlined by KSDK-TV, News Channel 5's chief meteorologist Craig Moeller, the nearly 500 guests all came to show their support while enjoying a night of great food, dancing, and prizes.
Read more on Valley Industries Celebrates 50 Years of Helping the Community…
« Previous Entries
Next Entries »