Ferguson
« Previous Entries
Next Entries »
Thursday, Dec. 10
   Artful Askers: A Workshop for Nonprofit Fundraising at Pallottine Renewal Center, 15270 Old Halls Ferry Road, from 9 a.m. to 4 p.m. Join nationally known fund development trainer Bob Vickers for a 1-day workshop on how to build relationships with funders, resources and donors to empower a faith-based or community organization. Cost is $75, including meal and materials. (Overnight accommodations available.)  For more information call 314-837-7100 or visit pallottinerenewal.org.
By Bob Lindsey
Efforts to get to the reasons for cancer causing factors that could exist at Coldwater Creek gained more traction again last week when the regional director of the Agency for Toxic Substances and Disease Register (ATSDR) told a meeting at Indian Trails Branch Library that the agency plans " to get an answer."
Read more on Agency, State, County Promising Answers on Coldwater Creek Cancer…
Ferguson native and author Carol Swartout Klein was awarded the inaugural Jerry Paul Youth Advocacy Award Nov. 6th at Art & Soul V for assisting and empowering children and youth in the St. Louis area.
Read more on Painting for Peace in Ferguson Author Awarded for Role in Youth Advocacy…
Missouri offers spectacular winter eagle watching opportunities between December and February each year. The first Eagle Days event this year is at Squaw Creek National Wildlife Refuge on Dec. 5. The Missouri Department of Conservation invites everyone to enjoy nature during the Eagle Days or simply go see the eagles on their own.
Read more on Department of Conservation Eagle Days Begin, will be at Chain of Rocks Jan. 16-17…
Northern Lights Parade Returns To Ferguson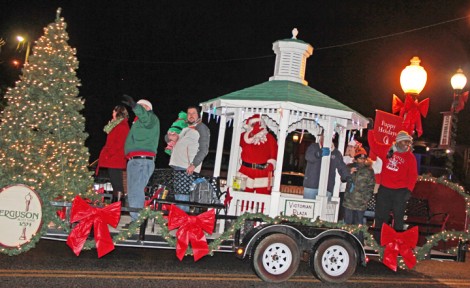 After postponing the annual Northern Lights Parade last year along S. Florissant Road in Ferguson, the parade was back in full holiday mode Sunday. A
Read more on Rain stops just in time for parade Sunday…
The Ferguson Twilight Christmas House Tour will be held on Dec. 6 from 3-7 p.m. This very popular Christmas event brings holiday visitors from all parts of Missouri and Illinois to view a nice selection of exceptional homes decked out for Christmas.
Read more on Twilight Christmas House Tour is Dec. 6…
« Previous Entries
Next Entries »