Ferguson
« Previous Entries
Next Entries »
The Ferguson Commission will hold its 12th full commission meeting on Monday, June 8, from 5:30 to 8:45 p.m. at St. Charles High School, 725 N. Kingshighway. The agenda for this meeting is to engage community members in discussing concerns and offering insights. An update of the progress in child well-being and educational equity, municipal courts and governance, citizen-law enforcement relations and economic inequity and opportunity will be shared. The evening will be hosted by St. Charles County Executive Steve Ehlmann and St. Charles Mayor Sally Faith.
Read more on Twelfth Ferguson Commission Meeting in St. Charles June 8…
NEW FLORISSANT ROAD AND NEW HALLS FERRY ROAD
TO BE CLOSED FOR I-270 REPAIRS BEGINNING JULY 6
FLORISSANT, MO, June 5, 2015 — New Florissant Road and New Halls Ferry Road in Florissant will be temporarily closed at I-270 for approximately one month beginning the week of July 6, 2015. The Missouri Department of Transportation (MODOT) at that time will make repairs to the I-270 bridges that span each of the two roads.
Read more on Major Highway Closing in North County in July….
 By Jim Wieners
For 47 years Vince Drake was coaching High School Soccer beginning at St. Thomas Aquinas High School in 1968 and will finish Saturday, June 6, for Trinity Catholic High School at Blue Springs High School.
Read more on Vince Drake Gets Last Chance at Trinity Catholic's First State Title…
McCluer North Girls Track Barges to State Repeat; Central Girls win Sectional
By Jim Wieners
Throughout the 2015 Girls Track & Field Season McCluer North and Hazelwood Central teams battled each other in seven meets. In most of them Hazelwood Central fared one place better than McCluer North including the May 23 Class Five, Sectional Two at Mary Institute and Country Day School meet won by Hazelwood Central with McCluer North finishing second.
Read more on McCluer North Girls State Track & Field Winners…
NCI Award Honorees for 2015 Annual Leadership Breakfast. Most of the winners were present at the breakfast on May 29 at the Renaissance St. Louis Airport Hotel . Here's a list of the winners ;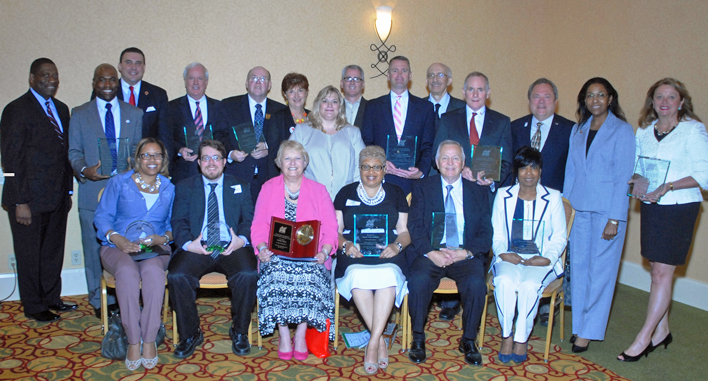 most are in this photo.
Read more on Group photo of North County Inc. 2015 honorees…
Hazelwood will host its 5th Annual Recycle Day on Saturday, June 6, at St. Louis Outlet Mall near the IceZone from 9 a.m. to 3 p.m. The event is open to both residents and nonresidents, with no drop-off charges. The theme for this year's event is "Make Recycling Part of Your Life." Members of Hazelwood's Green Committee hope to encourage the public to make recycling a daily habit. Helping citizens know what can and can't be recycled and urging them to take a "Pledge to Recycle" are designed to motivate them to recycle.
Read more on Hazelwood's Recycle Day at Outlet Mall June 6 Encourages Public to Clear Clutter…
« Previous Entries
Next Entries »