Ferguson
« Previous Entries
Next Entries »
Missouri offers spectacular winter eagle watching opportunities between December and February each year. The first Eagle Days event this year is at Squaw Creek National Wildlife Refuge on Dec. 5. The Missouri Department of Conservation invites everyone to enjoy nature during the Eagle Days or simply go see the eagles on their own.
Read more on Department of Conservation Eagle Days Begin, will be at Chain of Rocks Jan. 16-17…
Northern Lights Parade Returns To Ferguson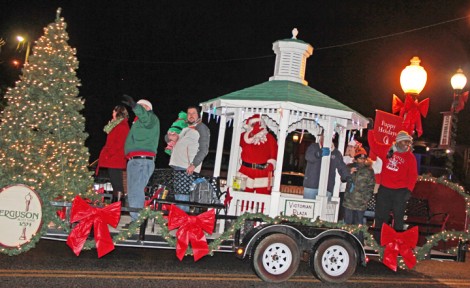 After postponing the annual Northern Lights Parade last year along S. Florissant Road in Ferguson, the parade was back in full holiday mode Sunday. A
Read more on Rain stops just in time for parade Sunday…
The Ferguson Twilight Christmas House Tour will be held on Dec. 6 from 3-7 p.m. This very popular Christmas event brings holiday visitors from all parts of Missouri and Illinois to view a nice selection of exceptional homes decked out for Christmas.
Read more on Twilight Christmas House Tour is Dec. 6…
Ferguson kicks off the holiday season with a festive market for shopping and Lighted Parade each year the Sunday after Thanksgiving. This year the parade and market will be held Nov. 29 from 2 to 7 p.m. at Victorial Plaza.
Read more on Ferguson Holds Northern Lights Parade And Holiday Festivities Sunday, Nov. 29…
Read more on What Will New Owners Bring to St. Louis Outlet Mall?…
The Hazelwood Police Department will again be conducting numerous high-visibility sobriety checkpoints during the upcoming holiday season. The first checkpoint is scheduled for the weekend of Nov. 27th and the checkpoints will be supplemented with saturation patrols.
Read more on Hazelwood Police to Step Up Drunk Driving Enforcement…
« Previous Entries
Next Entries »