Ferguson
« Previous Entries
Next Entries »
Thursday, July 30
   Blood Pressure Clinic at St. Catherine Retirement Community, 3350 St. Catherine Street, at 10:15 a.m. RSVP at 314-838-3877.
   Healing prayer service at Sacred Heart Catholic Church, 751 N. Jefferson Street, at 7 p.m. for victims of abuse. Archbishop Robert Carlson will preside. Open to all. Sponsored by the Office of Child and Youth Protection, the Safe Environment Program and the Office of Sacred Worship. For information, contact Carol Brescia, Assistance Coordinator, at 314-378-3627 or breshinmo@aol.com.
 By Jim Wieners
High School Sports for the 2015-16 school year begins Monday, Aug. 3, with the first day of fall practices and end Saturday, June 4, 2016, with state championship games for Baseball and Girls Soccer.
Read more on High School Sports '15-16 Practices Begin on Aug. 3…
   Two free concerts in the 2015 Ferguson CityWalk series are scheduled for the second and fourth Fridays of August from 7 to 9 p.m. Both will be held at Plaza 501, 501 South Florissant Road. The Kevin Blichik Band will perform August 14 and Nitro on August 28.
Read more on August Ferguson CityWalk 501 Concerts Liven Up the Plaza…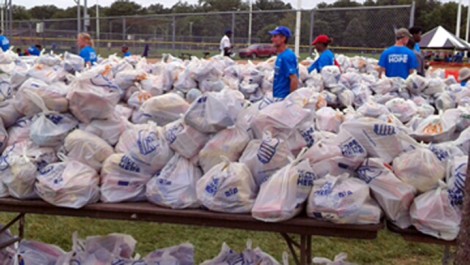 Hundreds of bags of food were piled high and each family in need got a bag full at the Ferguson 'Day of Hope event Saturday, July 25 at Ferguson's Forestwood Park.
Read more on Ferguson's Holds 'Day of Hope' event…
The Ferguson-Florissant School District is partnering with Head Start to offer residents five full day weekly preschool classes for 3- & 4-year-olds. Head Start income and employment based eligibility is necessary. Classes are held at McCluer South-Berkeley High School and Griffith Elementary School. Both programs are open 7:30 a.m. to 5:00 p.m. For additional information call 314-595-3910.
Read more on Ferguson-Florissant School District Offers Free Preschool, Head Start, Child Care Centers and Parents as Teachers…
Bellefontaine Neighbors Mayor Robert Doerr, and Bellefontaine Neighbors recently appointed Lt. Commander Jeremy Ihler to the position of Chief of Police for the city of Bellefontaine Neighbors. Ihler replaces Chief Robert Pruett, who retired   after 51 years in law enforcement.
Read more on Ihler Appointed Chief of Police For Bellefontaine Neighbors…
« Previous Entries
Next Entries »