Ferguson
« Previous Entries
Next Entries »
A 'Tea for TEAM' will feature mystery writer Elaine Viets on May 5 at John Knox Presbyterian Church, 13200 New Halls Ferry Road. Viets will be speaking and signing her newest Dead-End Job mystery, The Art of Murder. The event is sponsored, by Presbyterian Women of John Knox.
Read more on John Knox 'Tea for TEAM' Features Author Elaine Viets…
Ferguson City Voters Approve One of
Two Propositions on Tuesday, April 5
Ferguson City voters approved one of two Propositions on Tuesday, April 5. Proposition E, an Economic Development Sales Tax of a 1/2 cent received nearly 70% voter approval on Tuesday. Proposition E, received 68.99% voter approval which will generate $1,225,000 per year; of which $800,000 will be designated for general fund purposes, and $425,000 will be used for capital improvement purposes.
Read more on Budget Cuts Loom For City…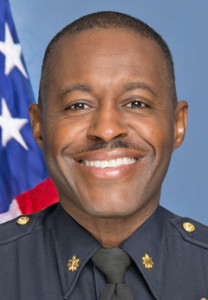 Ferguson Names Miami Police Dept.
Official as City's New Police Chief
Following a three month nationwide search, Major Delrish L. Moss of the Miami, Florida Police Department, has been named the new Police Chief for the Ferguson, Mo. Police Department. The announcement was made March 31 Moss, currently supervises the Miami Police Department's Public Information/Community Relations sections.
Read more on Delrish Moss is new Ferguson Police Chief…
As part of the organization's 39th Annual Leadership Breakfast celebration, North County Incorporated (NCI) will honor several area leaders for making a significant positive impact in North County. The event will be held Friday, May 13, from 7:30-9:30 a.m. at the Marriott St. Louis Airport, 10700 Pear Tree Lane. More than 600 business, civic and community leaders will gather to honor this year's award recipients.
Read more on North County Inc. Honors Community Leaders May 13…
Ferguson and Justice Dept Finalize
Agreement Resolving Lawsuit
On March 17 the Justice Department and the city of Ferguson jointly filed an agreement resolving the United States' pending lawsuit against Ferguson. The court-enforceable decree, filed in the U.S. District Court for the Eastern District of Missouri, aims to remedy the unconstitutional law enforcement conduct that the Justice Department found during its civil pattern-or-practice investigation into the Ferguson Police Department (FPD) and the Ferguson Municipal Court.  The department's findings were released in a public report issued March 4, 2015.
Read more on City Council had approved agreement…
Volunteers needed for annual cleanup of rivers and creeks
Great Rivers Greenway, the Metropolitan St. Louis Sewer District and Missouri American Water are sponsoring the 8th annual Confluence Trash Bash on Saturday, March 19, from 9 a.m. to 1 p.m. Area residents are invited to join cleanup efforts, helping to improve the condition of the waterways. To date, volunteers have removed more than 5,400 tires and about 100 tons of trash from area streams and rivers.
Read more on 8th Annual Confluence Trash Bash Scheduled for Saturday, March 19…
« Previous Entries
Next Entries »