Ferguson
« Previous Entries
Next Entries »
North County Inc. the Greater North County Chamber, the Maryland Heights Chamber and Northwest Chamber have announced their annual Legislative agenda for the North County region for 2012. Except of that agenda follow:
Read more on Area Chambers & NCI's 2012 North County Legislative Agenda…
Story and Photos by Tom Anselm
With obesity on the rise and belts fitting a little tighter after the holidays, Ferguson restaurants are making it easier for their diners to keep their New Year's resolutions to eat healthier. Eat Well Ferguson is a program created by the Live Well Ferguson initiative and local restaurants that works to offer healthier food choices. Participating restaurants identify the healthy meal choices on their menus and display an Eat Well Ferguson sticker on their front window to let diners know that they will have healthy options inside.
Read more on Eating Well Gets Easier In Ferguson…
Downtown Ferguson:
Holiday Shopping, Varied Restaurant Fare Await Visitors
The business community in Ferguson is in full gear for holiday shoppers and diners. Here is what a few business owners had to say:
Read more on Ferguson Celebrates Holidays and offers Twilight House tour…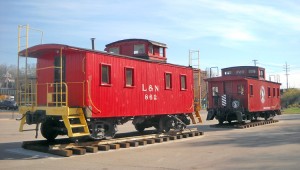 The Louisville & Nashville caboose has moved to a location at UMB Bank on S. Florissant Road in Ferguson. The location also includes a Great Northern Railroad caboose. The site change was dedicated last week. Polans call for refurbishing both cabooses and reopening them.
Read more on 2nd caboose now at Ferguson Bank location…
Ferguson's Northern Lights Holiday Event Offers Crafts, Music & Merriment
 Sunday, Nov. 27, 2-7 p.m.
 Victorian Plaza in Downtown Ferguson
    The City of Ferguson is sponsoring its annual Northern Lights holiday event on Sunday, Nov. 27, from 2-7 p.m. Activities will be held at Victorian Plaza, 20 S. Florissant Rd.
Read more on Ferguson's Northern Lights Event is Sunday, Nov. 27…
"It was the best of times, it was the worst of times."
That opening line from Charles Dickens's "Tale of Two Cities" could apply to the fortunes of downtown Ferguson since its early beginnings as a burgeoning suburb of shops and upscale homes after Charles Ferguson sold some of his farmland with the promise of locating a Wabash rail station in the early 1850s. The commercial and residential growth was steady until a fire in 1895 gutted the business district.
Read more on The Best of Times Returning For Downtown Ferguson…
« Previous Entries
Next Entries »