Florissant
« Previous Entries
The USDA's Summer Food Service Program (SFSP) will sponsor free breakfast and lunch for children age 18 and younger at seven sites in the Ferguson-Florissant School District this summer. The SFSP is designed to help children receive needed nutrition even when they are out of school. Meals are also available to persons with disabilities over age 18 who participate in school programs for the mentally or physically disabled.
Read more on Summer Meal Program Offered in Ferguson-Florissant School District…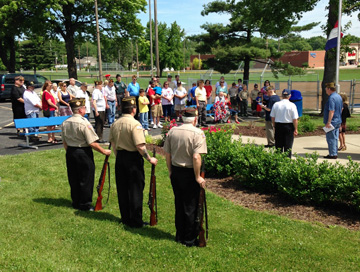 The annual Memorial Day Ceremony was held at the Vietnam Veterans Memorial Obelisk at the entrance to Koch Park on Memorial Day at 11 a.m. and was well attended.Mayor Tom  Schneider and Council members Tim Jones, Jeff Caputa, Keith Schildroth Jackie Pagano and Tommy Siam joined members of the VFW, Vietnam Veterans of America, Korean War Veterans, and American Legion were on hand to pay tribute to all who have been willing to go in harms way in military service to preserve and protect our beloved Nation.
Read more on Florissant Memorial Day event…
   On Friday, May 15, the Florissant Police Department investigated a motor vehicle crash at the intersection of Washington Street and St. Ferdinand Street. The non-injury accident involved Owen Tross who was intoxicated and driving a vehicle with a revoked driver's license.
Tross, age 61 years, has 12 DWIs prior to this incident. Warrants for Tross were issued Saturday, May 16, by the St. Louis County Prosecuting Attorney's Office on one count of Felony DWI and one count of Felony Driving Revoked.
Read more on Warrants Issued for Chronic DWI Offender…
                                        Hope MLS Commissioner Finds
                                        Our What We Already Now
Read more on Hope MSL Learns What we already know here…
   Hawthorne Players will  present "Cowboy Swing" a delightful evening of songs and comedy   " on Saturday, May 30 at 8 p.m. in the Florissant Civic Center Theatre.  Tickets are $15 and will benefit the Duckie DeMere Scholarship Fund.  Order before May 22 and purchase two tickets for only $20.  Call the Box Office at 314 921-5678. The performers are:
Read more on Cowboy Swing at Civic Center May 30…
   Hawthorne Players will "Cowboy Swing" a delightful evening of songs and comedy   " on Saturday, May 30 at 8 p.m. in the Florissant Civic Center Theatre.  Tickets are $15 and will benefit the Duckie DeMere Scholarship Fund.  Order before May 22 and purchase two tickets for only $20.  Call the Box Office at 314 921-5678. The performers are:
Read more on Cowboy Swing coming to Civic Center May 30…
« Previous Entries