Florissant
« Previous Entries
City Pit Bull Ban Still Protested;
Wal-Mart has Parking Lot Problem
By Carol Arnett
The Florissant City Council once again heard from several people who would like to see the city council overturn the city's ban on pit bulls. The breed specific legislation (BSL) has been criticized for punishing all pit bulls.
Read more on Florissant City Council meeting…
                     "Mamma Mia" Sizzles at The Muny This Week
by Pat Lindsey
Anyone who enjoys the music of the 1970s Swedish group, ABBA, is in for a treat this week at The Muny with its debut of the musical "Mamma Mia." Somehow, a collection of ABBA songs, including "Dancing Queen" and "Our Last Summer," have been woven together to create a story centered on a 20 year-old bride-to-be, Sophie Sheridan, who wants to find out who her father is before she marries.
Public Meeting July 26 On
Master Plan for Manion Park
The City of Florissant's Parks and Recreation Department, is seeking public input and discussion on the city's proposed master plan for Manion Park at 170 Manion Park Drive, Florissant..
Read more on Florissant Proposes Manion Park Plan…
16 Speak Out On City's Ban of Pit Bulls
Florissant Holds 2 Hearings
By Carol Arnett
The Florissant City Council held two public hearings at the council meeting on Monday, voted on several bills and heard more complaints about the pit bull ban in the city.
Read more on City Council Meeting; Pit Bull Ban, CVS sign…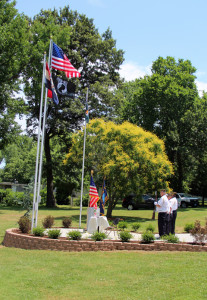 More than 100 persons showed up Sunday at St. Ferdinand Park for the dedication of the Korean War and Defense monument
with the color guard raising the flag  at the beginning of the dedication service on a hot afternoon.
Read more on New Korean Momument at St. Ferdinand Park…
Two Florissant Residents Given Highest Boy Scout Honors by Greater St. Louis Council
John Kavanaugh and Rance Thomas 
Dedicated Scouting volunteers John Kavanaugh and Dr. Rance Thomas of Florissant, Missouri were honored by the Greater St. Louis Area Council, Boy Scouts of America with the Silver Beaver Award, the highest recognition a Boy Scout council can award to volunteers. The Silver Beaver recognizes noteworthy service that impacts the lives of youth and outstanding contributions to the Scouting program. Just 24 Silver Beaver Awards were given in 2016 from a pool of nearly 12,000 Greater St. Louis Area Council volunteers.
Read more on Boy Scouts Honor Two Florissant Residents…
« Previous Entries