Florissant
« Previous Entries
3rd Annual 'Race to the Shrine' on Oct. 22
Mayor Schneider and Ward 3 Councilman Joe Eagan announced the 3rd Annual "Race to the Shrine" which will be held on Saturday, Oct. 22 at the Old St. Ferdinand Shrine beginning with the 1 mile Fun Run that starts at 3:30 p.m. and the 5k Race starts at 4 p.m. The "Race to the Shrine" benefits multiple programs with local area Florissant parishes.
Read more on 1 Mile Fun Run and 5K at Shrine…
Northwinds Concert Band's 'Sunday at the Pops' Oct. 23
Northwinds Concert Band, under the direction of Larry Marsh, will present a "Sunday at the Pops" concert on October 23, 2016 at 3:00 p.m. in the Florissant Civic Center Theatre. Tickets are $8, $6, and may be reserved by calling the box office at (314) 921-5678.
Read more on Northwinds at FCC Oct. 23…
Flo.Valley Branch Library
To Close For Renovations Oct. 29
St. Louis County Library is nearly finished with the first phase of the "Your Library Renewed" campaign. Eleven new or renovated branches will be completed by the end of September.
Read more on Library will be close for 6-12 months…
J.J.Eagan Center Opens
Outdoor Ice Rink Oct. 24
The Florissant Parks and Recreation Department is announcing that the James J. Eagan Center's outdoor ice rink will be opening for the season on Monday, Oct. 24
Read more on Ice Rink Opening date in Florissant…
Fido Follies Still Remains a Fall Festival Crowd Favorite
Story and photos by Nichole Richardson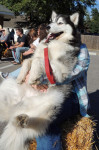 The much-anticipated Fido Follies Dog Show was held Sunday afternoon at the Government Center parking lot on rue St. Francois, and once again drew big crowds of canines and humans alike. As always, the show was hosted by Baronwood Kennels and emceed by owner, Terrie Bert.
Read more on Another Great Year for Fido Follies…
New Florissant Real Estate Rental
Rules Gets Council Approval and Comments
By Carol Arnett
The Florissant City Council Monday passed a bill that will change residential rental real estate regulations The bill will allow a rental license to be suspended or revoked if the tenant does not pay utility bills. It also requires tenants to have a federal or state issued ID, and makes criminal activity by the tenant or tenant's guest a reason for eviction.
Read more on FLORISSANT CITY COUNCIL…
« Previous Entries