Business News
« Previous Entries
St. Louis County Assessor Jake Zimmerman says that property values are increasing once again in Florissant as well as in Ferguson and other parts of North St. Louis County for the first time in four years. Final assessment of property values for all real estate located in St. Louis County is due by the end of March.
Read more on Property Values are on the Rise Again in Florissant and Ferguson…
Following a nationwide search, the SSM Health Board of Directors has selected Laura Kaiser as the health system's new President/Chief Executive Officer. Kaiser will begin with SSM Health on May 1 and replace William P. Thompson, who will retire at the end of April after 37 years of service with the organization.
Kaiser is an accomplished health care executive with more than 30 years of experience in improving clinical quality and patient satisfaction, fueling operational performance and growth, and successfully facilitating health care integration. She comes to SSM Health from Intermountain Healthcare, where she has served as Executive Vice President/Chief Operating Officer for the past five years.
Prior to Intermountain Healthcare, Kaiser spent 15 years at Ascension Health, serving in a number of leadership roles,
including Ministry Market Leader of the Gulf Coast/Florida region for Ascension and President/CEO at Sacred Heart Health System.
"Ms. Kaiser is a gifted and visionary leader with a proven track record of achieving extraordinary results," said David Cosby, Board Chair, SSM Health Board of Directors.
"As President/CEO of SSM Health, Kaiser will be responsible for leading all aspects of one of the largest integrated health care systems in the nation. She will be instrumental in guiding SSM Health's transition to a value-based model of care as it strives to improve the health of the community, further enhance the patient and member experience, and lower the overall cost of care.
"It is an honor and a privilege to join the wonderful SSM Health caregiver team and to lead this extraordinary faith-based health care system with an international reputation for quality," said Kaiser.
Kaiser, a Missouri native, earned a Bachelor of Science in Health Services Management from the University of Missouri-Columbia as well as a Master of Business Administration and Master in Healthcare Administration from Saint Louis University. She is also a Fellow of the American College of Healthcare Executives.
Read more on SSM Health Names Laura Kaiser as Next President, CEO Effective May 1…
The City of Florissant will conduct a public hearing beginning at 4 p.m. on Tuesday, Feb.28, at Florissant City Hall Council Chambers, 955 rue St. Francois.
The hearing will discuss the Fiscal Year 2016 Consolidated Annual Performance and Evaluation Report (CAPER) for the Florissant Community Development Block Grant (CDBG) Program. For more information, contact Community Development Director, Carol O'Mara at 314 839-7680 or email comara@florissantmo.com.
Read more on Hearing on Florissant Community Development Block Grant Feb. 28…
By Nichole Richardson
It's a sure bet that even if you don't use Facebook, you've heard of it. The social media giant has changed the way we communicate with one another; so much so that we never have to leave our homes or pick up a phone if we don't want to.
Read more on Nextdoor Website Helps People Meet Their Neighbors, Share Information…
Read more on 10th Annual Mayors' Shamrock Ball Marks A Decade of Local Support Coincides with Valley Industries' 50th…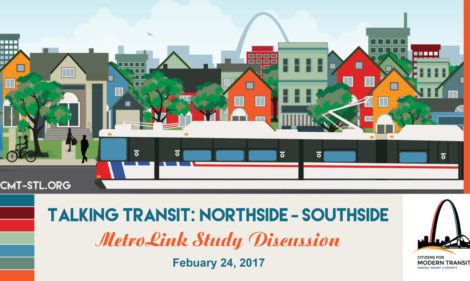 The public is invited to an informational discussion of MetroLink expansion study currently underway; however, there is a charge to attend the meeting. Citizens for Modern Transit and the St. Louis Regional Chamber will host the event at the St. Louis Regional Collaboration Center in downtown St. Louis on Feb. 24 at 9 a.m.
   Dan Meyers, project manager from AECOM, the consulting firm leading the study, will lead the discussion. Meyers will provide information on the background and scope of the study and answer questions from those in attendance. The18-month study examines a portion of the route known as the Northside/Southside.
Read more on Northside/Southside Metrolink Study Meeting Downtown Feb. 24…
« Previous Entries