Business News
« Previous Entries
Next Entries »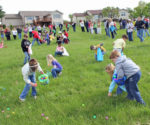 The City of Hazelwood is offering Easter egg fun for people of all ages. With the assistance of Valley Industries' workers, about 15,000 Easter Eggs are being stuffed with candy in preparation for two major events.
Read more on Hazelwood Offers Egg-cellent Easter Fun for Both Kids, Adults…
BALLOT
St. Louis County
Proposition P (Simple Majority Required)
Shall St. Louis County impose a one-half of one percent sales tax for the purpose of providing funds to improve police and public safety in St. Louis County and each of the municipalities within St. Louis County?
Read more on ST. LOUIS COUNTY GENERAL MUNICIPAL ELECTION TUESDAY, APRIL 4…
by Lisa Kampeter
It was déjà vu all over again. Last time the Dining Divas tried to go to Reeds American Table, illness, late cancellations, and general nervousness about the menu caused our generally large group to be more of an intimate gathering. And those that missed it this time around should be disappointed.
Read more on Dining Divas Enjoy Atypical 'Classic' American Maplewood Restaurant…
Christian Hospital will host its Initiatives & Opportunities special event on April 8 from 10 a.m.-1:30 p.m. in the Detrick Building Atrium. Complimentary lunch will be provided for all visitors. Please RSVP by calling 314-747-WELL (9355).
Read more on Christian Hospital Event April 8 Has Celebrity Chef Judson Todd Allen…
Rance Thomas, president of North County Churches Uniting for Racial Harmony and Justice, was recently elected Chairman of the Health Protection and Education Services Board.  This organization, located in University City, provides free health screenings and health education to detect and prevent diseases for the uninsured and underserved individuals in the St. Louis Area.
Read more on Rance Thomas Elected Chairman of Health Protection and Education Services…
Soroptimist International of Greater St. Louis (SIGSL) is hosting its 19th Annual Divot and Divas Ladies Charity Golf Tournament on Friday, May 19 at Eagle Springs Golf Course.
Individual entry fee is $90 for adults and $72 for high school and college players. After May 9, the registration fee increases $5.00. Registration includes 18 holes with cart, lunch, dinner, drink tickets, awards for longest drive and closest to the pin, and goodie bags.
Read more on Soroptimist Looking For Players and Sponsors for Women's Golf Charity May 19…
« Previous Entries
Next Entries »