Business News
« Previous Entries
Next Entries »
Pallottine Renewal Center, the only retreat center in St. Louis' North County, has named Marillyn Webb, M.A., N.H.A., as its new executive director. Webb, who replaces Cindy Costello in the position, assumed the role in April.
Read more on Pallottine Renewal Center Names New Executive Director…
NCI Award Honorees for 2015 Annual Leadership Breakfast. Most of the winners were present at the breakfast on May 29 at the Renaissance St. Louis Airport Hotel . Here's a list of the winners ;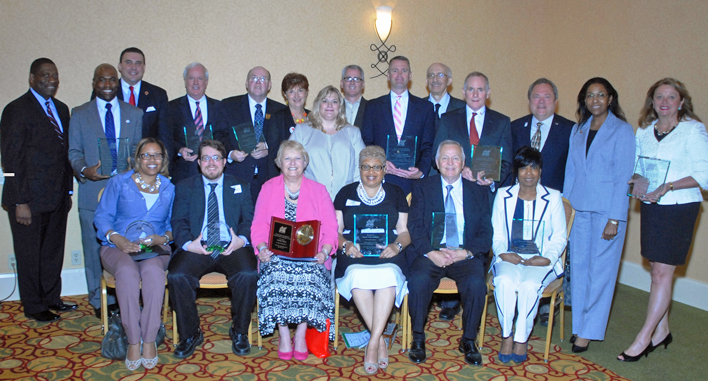 most are in this photo.
Read more on Group photo of North County Inc. 2015 honorees…
Citizens for Modern Transit, in partnership with Beyond Housing, Great Rivers Greenway and Metro, will host a Metro Market on Friday, June 5 from 5:30 to 7:30 p.m. at the Rock Road MetroLink Station, 7025 St. Charles Rock Road in Pagedale. The event, a part of Beyond Housing's First Friday series, is free and offers residents the opportunity to experience what "could be" in terms of shopping, eateries and entertainment at this and other MetroLink stations if the community invested in transit-oriented development.
Read more on Metro Market Coming June 5 to Rock Road MetroLink Station…
On Monday. May 11, the Florissant City Council approved funds for police motorcycles and approved expansion for Johnny Londoff and renovations for New York Grill.
The council passed a bill that would use $29,000 in asset forfeiture funds to purchase patrol motorcycles for the police department.
Read more on Florissant to Purchase Police Patrol Motorcycles…
By Carol Arnett
The Florissant City Council held two public hearings at the May 11th meeting. The first was a request by Sunrise Restaurant, doing business as Denny's Restaurants, to renovate the restaurant at 2924 N. Hwy. 67. The second was a request to amend a special use permit to expand Bent-Wood Nursing and Rehabilitation Center nursing home at 1501 Charbonier Rd. by 20 more beds.
Read more on Florissant Council Delays Denny's Remodeling Over Inside Paint Issue…
Labor Dept. Grants $5 Million For
North County Skills Training Program
Gov. Jay Nixon has announced a new $5 million grant that will help provide skills-training and employment to thousands of young people in low-income and minority communities in North St. Louis City and County.  Within the first year, the Career Pathways Bridge initiative has set a goal to connect 3,000 people in the area with employment, as well as engage 1,000 participants annually in skills training and 2,400 participants annually in work-readiness training. This latest effort builds on, and is in addition to, previously announced jobs initiatives in the greater St. Louis area.
Read more on Jobs Program for North County…
« Previous Entries
Next Entries »