Business News
« Previous Entries
Next Entries »
Greater North County Chamber Honors 4;
Installs New 2017 Board of Directors, Officers
At the installation luncheon Jan. 18 honoring Kurtis Barks as the Greater North County Business person-of-the-year, the chamber also honored other members with special awards and swore-in the new board of directors, chairman and officers. Barks is the owner and operator of Complete Auto Body & Repair. The event was held at The Atrium at Christian Hospital Northeast.
Read more on Greater North County Chamber of Commerce…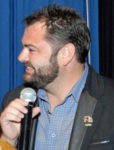 Greater North County Chamber of Commerce honored their 2017 Business Person of the year Kurtis Barks this week. The owner operator of Complete Auto Body and Repair and A2b Towing and Recovery, Barks has a long record of community and charitable giving in the metro area. The GNCC honored Barks at a luncheon on Wednesday, Jan. 18 at the Atrium at Christian Hospital attended by chamber members, family and friends.
Read more on GNCC Honors Kurtis Barks, Business Person of the Year…
Non-residents can also sign-up for workouts
Hazelwood residents now have a way to make their New Year's resolution of losing weight a reality in 2017. The City of Hazelwood recently installed over 16 new pieces of workout equipment at Civic Center East, 8969 Dunn Road, giving residents access to the same quality of workout machines found at other fitness facilities. This now meets the standard that most people expect to make their workout sessions more effective.
Read more on Hazelwood Installs New Workout Equipment Just in Time for New Year's Resolutions…
In 2016, the City of Hazelwood partnered with Habitat for Humanity St. Louis to form the Neighborhood Revitalization Program in 2016. The program with eventually provide 12 low-to-moderate income families the opportunity to purchase their own home.
Read more on Hazelwood Teams Up with Habitat For Humanity For Home Ownership Program…
St. Louis County held a public hearing at a special Committee of the Whole meeting of the St. Louis County Council on Tuesday Jan. 3. The recently completed blighting study was presented. "As we go through this process, public input is crucial," County Executive Steve Stenger said. "We want to hear from St. Louis County residents about their concerns while keeping everyone informed about our progress."
Read more on County Holds 2nd Public Hearing on Acquiring Jamestown Mall Land…
County Executive Steve Stenger and the County Council last week took another step into blighting the once vibrant Jamestown Mall. Conditions within the huge mall are deteriorating and it's being called a menace to public health and safety.
Read more on 2nd Hearing Planned in County On Future of Jamestown Mall…
« Previous Entries
Next Entries »