Church News
« Previous Entries
St. Ferdinand Shrine in Dire Need of Repairs;
Campaign Underway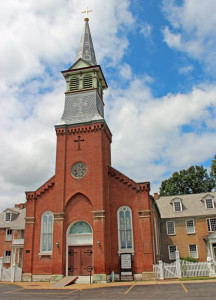 Old St. Ferdinand Shrine, a religious and historic jewel of Old Town Florissant, is in need of some major work and a "Save the Shrine" campaign will kick off Sept. 1 to raise much-needed funds for repairs and upgrades.
Read more on Old St. Ferdinand Shrine Needs Major Renovations…
 150th Anniversary of Being in Florissant
Over 750 parishioners, friends, family, and dignitaries came out to celebrate 150 years that the Sacred Heart Catholic Church has been in the beautiful city of Florissant. Archbishop Robert Carlson along with the current Pastor, Msgr. Mark Ullrich and Associate Rev. Paul Hamilton celebrated Mass. Many past Pastors and associates attended to help celebrate Mass and continue the celebration with dinner and fellowship afterwards.
Read more on Sacred Heart Catholic Church Celebrates…
Friday, May 27
   All You Can Eat Chicken Dinner at Florissant Valley VFW Post 4105, 410 rue St. Francois, from 4 to 7 p.m. Dine In only. Call 314-831-6121.
   Bingo every Friday at Knights of Columbus Our Lady of Fatima Council #4429 1216 Teson Road, Hazelwood. Doors open at 4. Games start 6:45 p.m. For more information, call 314-731-9330
Read more on Mark Your Calendar…
   Thursday, May 5
   Blood Pressure Clinic at St. Catherine Retirement Community, 3350 St. Catherine St., at 10:15 a.m. RSVP to 314-838-3877.
Friday, May 6
   Annual Spring Sale at St. Stephen Episcopal Church, 33 N. Clay in Ferguson (corner of Darst and Clay). Friday from 5 to 7:30 p.m. and Saturday May 7 from 8:30 a.m. to 1 p.m.! Clothes, books, collectibles, toys, shoes, small furniture, videos.
Read more on Mark Your Calendar…
Thursday, April 21
Spring Book Sale at Ferguson Library, 35 N. Florissant Rd. in Ferguson, April 21-23. Open 1-7:30 p.m. Thursday, 9 a.m.-5:30 Friday, and 9 a.m.-3 p.m. Saturday. Includes special interest military books and audio books. Sale held in Library auditorium. For more information, call 314-521-4663.
Read more on Mark Your Calendar…
Alex Nsengimana, who long ago was a recipient of an Operation Christmas Child (OCC) shoebox, will speak at First Baptist Church – Ferguson, 333 N. Florissant Road, April 23 from 2 to 4 p.m. Nsengimana grew up in Rwanda and experienced first-hand the horrors of his nation's genocide. In 1994 he witnessed the murder of his grandmother and uncle. He escaped to an orphanage, where he received a shoebox gift from OCC. He recalls being so excited to have something of his very own.
Read more on Operation Christmas Child Hosts Survivor of Rwandan Genocide…
« Previous Entries