Church News
« Previous Entries
Next Entries »
All the Catholic Schools in the Northeast Deanery of the St. Louis of the St. Louis Archdiocese will hold open houses on Sunday, Jan. 29. The Open House are in order to promote Catholic education and increase enrollment in the deanery's elementary schools. The push for increasing enrollment comes as the Archdiocese examines ways to combine and close school across the region. The Archdiocese had announced that all schools in the Northeast Deanery of St. Louis will remain open in 2017-18
Read more on Open Houses at North County Schools Jan. 29 Kicks Off Catholic Schools Week…
North County Churches Uniting for Racial Harmony and Justice recently held its Annual Dr. Martin Luther King, Jr's Oratory Essay Contest at John Knox Presbyterian Church. President Rance Thomas said that "we truly have some outstanding winners this year and they include four students and one adult."
Read more on NCCU to Honor ML King Oratory Contest Winners…
At its recent Annual Awards Dinner North County Churches Uniting for Racial Harmony and Justice presented awards to a number of outstanding individuals. A major recipient was Michael McMillan, president/CEO of the Urban League of Metropolitan St. Louis who received the Human Relations Award for his outstanding acheivement in bringing individuals and organizations together to deal with many problems that exist within the area including Ferguson.
Read more on North County Inc. Honors Area Leaders…
St. Ferdinand Shrine in Dire Need of Repairs;
Campaign Underway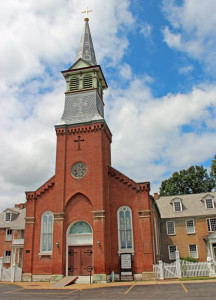 Old St. Ferdinand Shrine, a religious and historic jewel of Old Town Florissant, is in need of some major work and a "Save the Shrine" campaign will kick off Sept. 1 to raise much-needed funds for repairs and upgrades.
Read more on Old St. Ferdinand Shrine Needs Major Renovations…
 150th Anniversary of Being in Florissant
Over 750 parishioners, friends, family, and dignitaries came out to celebrate 150 years that the Sacred Heart Catholic Church has been in the beautiful city of Florissant. Archbishop Robert Carlson along with the current Pastor, Msgr. Mark Ullrich and Associate Rev. Paul Hamilton celebrated Mass. Many past Pastors and associates attended to help celebrate Mass and continue the celebration with dinner and fellowship afterwards.
Read more on Sacred Heart Catholic Church Celebrates…
Friday, May 27
   All You Can Eat Chicken Dinner at Florissant Valley VFW Post 4105, 410 rue St. Francois, from 4 to 7 p.m. Dine In only. Call 314-831-6121.
   Bingo every Friday at Knights of Columbus Our Lady of Fatima Council #4429 1216 Teson Road, Hazelwood. Doors open at 4. Games start 6:45 p.m. For more information, call 314-731-9330
Read more on Mark Your Calendar…
« Previous Entries
Next Entries »