Church News
« Previous Entries
Next Entries »
North County Churches Uniting for Racial Harmony and Justice (NCCU) will hold will its 12th Annual General Covenant Renewal Ceremony on Sunday, Nov. 17  at 3 p.m. at St. Ferdinand Catholic Church, at 1765 Charbonier Rd., Florissant.
Read more on Archbischop Carlson is Keynote Speaker at NCCU Covenant Renewal…
A dedication ceremony for the new expanded gathering area and a totally new front entrance to St. Ferdinand Catholic  Church  was held earlier this month. This is the oldest parish in St. Louis County dating back to 1788.
Read more on St. Ferdinand Parish Adds New Front Gathering Place at County's Oldest Parish…
by Nichole Richardson
Many people came out to the St. Ferdinand Shrine Sunday night to celebrate and rejoice in the Christmas season together. The Shrine wrapped up an entire day of Florissant Christmas festivities which included Mrs. Clause at the Gittemeier House and Taille de Noyer on McCluer's campus earlier in the afternoon, and ended with the annual Christmas concert and a first time novena.
Read more on Annual Ecumenical Christmas Concert at Shrine is a Tradition…
Rance Thomas, professor Emeritus of Sociology/Criminal Justice and president of North County Churches Uniting for Racial Harmony and Justice, was recently awarded the Human Rights Award and the Lifetime Achievement Award.
Read more on North County Churches United President Earns Lifetime Award…
It's that time of year, when volunteers work to fill empty shoe boxes with school supplies, toys, hygiene items and notes of encouragement for needy kids overseas.
The boxes are delivered by Operation Christmas Child in the world's largest Christmas project.   In 2012, Operation Christmas Child expects to reach a milestone—collecting and delivering shoe boxes to more than 100 million children since 1993.
Read more on Parker Road Church Collecting For Operation Christmas Child…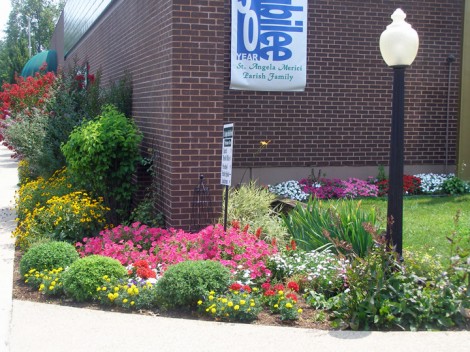 St. Angela Merici Church started a garden about eight years ago to beautify the church and school grounds. By all accounts, the garden has been a great success.
A team of volunteers puts in about 20 hours a week to maintain the garden. Watering in extreme heat takes at least an hour. In the spring, they put in extra hours to get everything planted. In the fall, they put in more hours to get the garden ready for winter. Some tropical plants are dug up to spend the winter in volunteers' homes.
Read more on Volunteers Make St. Angela Merici's Garden Grow…
« Previous Entries
Next Entries »