Church News
« Previous Entries
Next Entries »

   The 2017 Veterans' Parade will be held on Sunday, Nov. 12 beginning at 1 p.m. Parade participants will assemble and start the parade at Bangert Park and precede north on Florissant Rd. and then turn left on St. Francois. The parade ends at the VFW Post where a ceremony will honor the 2017 Veteran of the Year.
Read more on Florissant Veterans' Parade Nov. 12 in City…
By Jim Wieners
McCluer senior Drew Tallent and Hazelwood West seniors Spencer Campbell and Rami Hanin take home Swimming medals Nov. 3-4 at the St. Peters Rec-Plex.
Tallent finished fifth in Class One in the 100-yard Butterfly by swimming in 53.81 seconds. He qualified for the championship finals and a state medal by swimming the preliminaries in 54.74 seconds. Tallent missed another medal in the 100-yard Backstroke, finishing ninth-55.54 seconds after qualifying for the consolation finals in 57.48 seconds.
Read more on Tallent, Campbell, Ranin Get State Swim Medals At St. Peters Rec-Plex…
By Jim Wieners
Too bad that about 5,000 fans according to media reports, including power-five conference college scouts, at Lutheran North's Bill Lamothe Football Field were not watching a Class Two State Semifinal game.
Read more on Lutheran North Stops Trinity; Hazelwood Central, East Fall…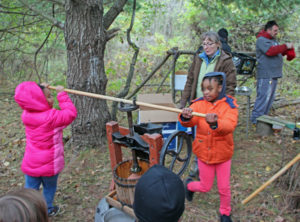 Ferguson Florissant School District's Little Creek Nature Area kicked off its year-round 2018 50th Anniversary celebration on Saturday, Oct. 28 at its annual homecoming at 2295 Dunn Rd. The 50th anniversary date has been set for Saturday, Oct. 20, 2018.
Read more on Little Creek Nature Area Previews 2018 50th Anniversary Celebration…
By Jim Wieners
In the Sept. 21 edition of   The Independent News, the Sports Headline mentioned that Trinity Catholic High and Lutheran High North are on a Friday, Nov. 3 Football "Collision Course."
Read more on Trinity-Lutheran North Meet Nov. 3; Hazelwood Central-CBC Showdown…
« Previous Entries
Next Entries »