Church News
« Previous Entries
Next Entries »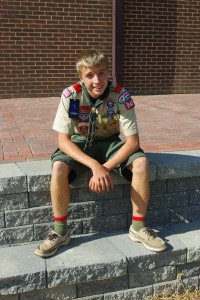 Austin Smith sits on his Eagle Scout project at St. Angela Merici.
St. Louis University High School sophomore, Austin Smith, recently completed an Eagle Scout project for his parish, St. Angela Merici in Florissant.
Read more on St. Angela Merici Eagle Scout Gives Back to His Parish…
Members of Sacred Heart Parish have set Sunday, Sept. 4 as the date to celebrate the 145th founding of the Parish. Started in 1866 by 47 families who petitioned the Bishop to allow them to build a church where they could worship in their native German language, the Parish has continued to grow and prosper. Today, Sacred Heart has 1678 registered families amounting to over 4500 members.  The elementary school has 329 students registered  and the  preschool and kindergarten have an enrollment of 135 for the coming year..
Read more on Sacred Heart Parish to celebrate 145th anniversary…
By Jeremy Thomas
History was made at Bethel-Providence Christian Church, 14700 New Halls Ferry, in Florissant on Sunday June 26. After weeks of planning and getting approval  from the two different churches, the all white congregation of Bethel and the all black congregation of Providence have joined together to form Missouri's very first merged all white and all black congregations.
Read more on A Missouri First: All White, All Black Churches Merge To be Bethel-Providence Christian…
North County Churches Uniting for Racial Harmony and Justice (NCCU) will honor a number of  outstanding leaders in the community and the Metropolitan St. Louis Area at its 7th Annual Awards Dinner on April 10 at SSM DePaul Health Center in the May Center
Read more on North County Churches Uniting to Honor Mayor Lowery, Chief Wolf and Educators…
With the start of a new year, we are looking for more community participation in our newspaper and website.  Continue to send local news to: independentnws@aol.com.
This year, we plan to run more local photos of events from the Florissant Valley community. What might not appear in our print version, may appear be on our website: flovalleynews.com.
Read more on Send Us Your Community Photos For Print & Website…
North County Churches Uniting for Racial Harmony and Justice (NCCU) honored the winners of the Dr. Martin Luther King Jr., Pratory Essay Contest last Sunday at a  MLK Celebration at St. Louis Community College at Florissant Valley.
Read more on North County Churches Uniting for Racial Harmony and Justice (NCCU) Essay Winners…
« Previous Entries
Next Entries »