Church News
« Previous Entries
Next Entries »
Rance Thomas, professor Emeritus of Sociology/Criminal Justice and president of North County Churches Uniting for Racial Harmony and Justice, was recently awarded the Human Rights Award and the Lifetime Achievement Award.
Read more on North County Churches United President Earns Lifetime Award…
It's that time of year, when volunteers work to fill empty shoe boxes with school supplies, toys, hygiene items and notes of encouragement for needy kids overseas.
The boxes are delivered by Operation Christmas Child in the world's largest Christmas project.   In 2012, Operation Christmas Child expects to reach a milestone—collecting and delivering shoe boxes to more than 100 million children since 1993.
Read more on Parker Road Church Collecting For Operation Christmas Child…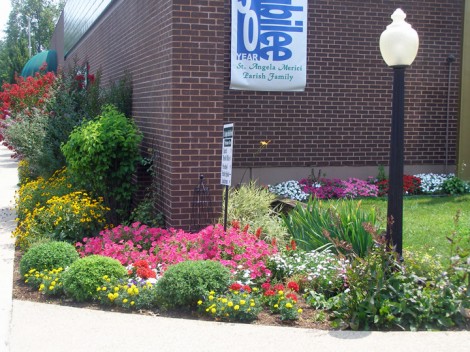 St. Angela Merici Church started a garden about eight years ago to beautify the church and school grounds. By all accounts, the garden has been a great success.
A team of volunteers puts in about 20 hours a week to maintain the garden. Watering in extreme heat takes at least an hour. In the spring, they put in extra hours to get everything planted. In the fall, they put in more hours to get the garden ready for winter. Some tropical plants are dug up to spend the winter in volunteers' homes.
Read more on Volunteers Make St. Angela Merici's Garden Grow…
The eight Catholic elementary schools located in the Northeast Deanery of the Archdiocese of St. Louis will host a Community Open House on Sunday, Jan. 28.  Each school location will be open during the hours of 1-3. Some schools may choose to remain open longer; contact the individual schools for more information.
Read more on Catholic Schools Invite Community To Open Houses at North County Schools…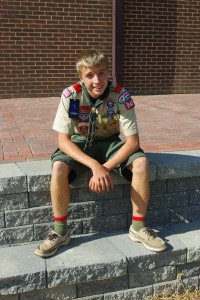 Austin Smith sits on his Eagle Scout project at St. Angela Merici.
St. Louis University High School sophomore, Austin Smith, recently completed an Eagle Scout project for his parish, St. Angela Merici in Florissant.
Read more on St. Angela Merici Eagle Scout Gives Back to His Parish…
Members of Sacred Heart Parish have set Sunday, Sept. 4 as the date to celebrate the 145th founding of the Parish. Started in 1866 by 47 families who petitioned the Bishop to allow them to build a church where they could worship in their native German language, the Parish has continued to grow and prosper. Today, Sacred Heart has 1678 registered families amounting to over 4500 members.  The elementary school has 329 students registered  and the  preschool and kindergarten have an enrollment of 135 for the coming year..
Read more on Sacred Heart Parish to celebrate 145th anniversary…
« Previous Entries
Next Entries »