Church News
« Previous Entries
Next Entries »
By Carol Arnett
For 30 years, Sacred Heart Catholic Church and Atonement Lutheran have celebrated Thanksgiving with an ecumenical service the night before, on Wednesday. Three years ago, St Mark's United Methodist Church began participating.
Read more on Sacred Heart Catholic, Atonement Lutheran, and St. Mark's United Methodist Celebrate Joint Thanksgiving Service…
St. Andrew's Methodist Church, 3975 N. Highway 67, in Florissant, known for its diversity, celebrated its 45th anniversary over the weekend with several events.
On Saturday, a  pot luck dinner was held followed by a musical review. On Sunday, a special service was held and a new renovated worship area was dedicated.
Read more on St. Andrew's Methodist Celebrates 45th Anniversary…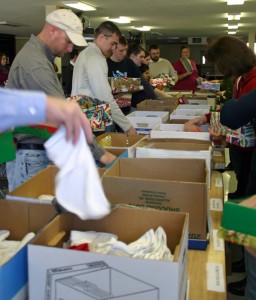 Getting the boxes packed for delivery are these volunteers at Parker Road Baptist Church.
This week hundreds of North County kids, families, businesses and churches are joining thousands of volunteers across America to make a difference in the lives of 8 million hurting children this Christmas.
Read more on North County Collecting Hope This Week, Packing, Wrapping Simple Shoe Box Gifts…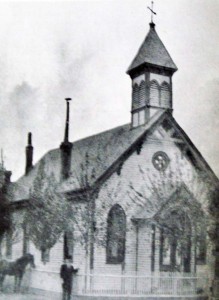 The original church was opened at Shreve and Margaretta Avenues in 1885.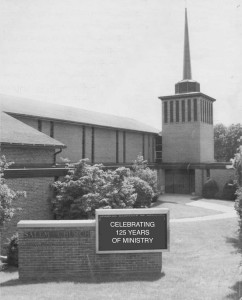 Salem Evangelical Church today.
Current and past members and friends of Salem Evangelical Church of Florissant will celebrate the congregation's 125th anniversary at a worship service and luncheon on Sunday Nov. 7.  The celebration will feature former Pastors, hosted by Jeff Schultz, the congregation's current Pastor.
Read more on Salem Evangelical Church of Florissant Celebrates 125th Anniversary on Nov. 7…
The Twelfth Annual Ecumenical Thanksgiving Dinner, Nov. 25 will be the  fifth year serving from St. Ferdinand Catholic Church, located at 1765 Charbonier Road. Dinner is from 11:30 until 3. Thanks to the generous support of local businesses and individuals, this meal is being provided to anyone who wants to attend free of charge!
Read more on Annual Ecumenical Thanksgiving Dinner With 6 Participating Churches…
North County Churches Uniting for Racial Harmony and Justice (NCCU) is holding its third annual Youth Appreciation Awards Banquet in the May Center of DePaul Health Center on Oct. 17 at 4 p.m.
Read more on North County Churches Organization Honors Area Students…
« Previous Entries
Next Entries »