Florissant
« Previous Entries
Next Entries »

By Jim Wieners
Hazelwood Central Football won their 19th consecutive Suburban XII Conference North Division Game Oct. 7 as the Hawks won 32-10 at Hazelwood West and won Hazelwood School District bragging rights for the sixth consecutive year..
Read more on Hazelwood Central Football Goes For Conference 6-Sweep Saturday…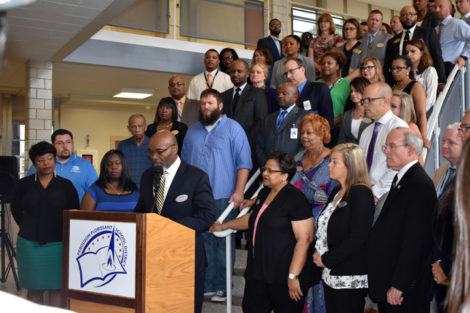 FLORISSANT MAYOR TOM SCHNEIDER AND FERGUSON MAYOR KNOWLES STAND WITH FERGUSON FLORISSANT SCHOOL BOARD, FACULTY AND STAFF DURING DR. DAVIS REMARKS TO ANNOUNCE HIS RETURN TO LEAD THE DISTRICT
 FFSD Superintendent Davis Returns;
Read more on Supt. Davis Welcomed Back…
Council Has No Legal Recourse on Mayor's

 Dispute with Dorsey on Municipal Court

                             By Carol Arnett
The Florissant City Council addressed issues surrounding Mayor Tom Schneider and the Municipal Court judges at the meeting Monday night. Council President Jackie Pagano read a message from the council. She said the council had received a letter from Mary Elizabeth Dorsey regarding the handling of the Paul Schneider case. They also received a letter from David Naumann, Schneider's attorney. Paul Schneider is the mayor's son.
Read more on City Council meeting…
by Ralph Schaffer
Hundreds of families and their furry friends strolled up and down rue St. Francois in Old Town Florissant this past Sunday to welcome fall. even though it was still summer-like, and enjoy the food, beverages, music, booths, and activities at the city's 20th annual Fall Festival.
Read more on Crowds Flock to rue St. Francois for 20th Annual Florissant Fall Festival…
by Sandra Olmsted
   My Little Pony: The Movie opens with Twilight Sparkle (voice of Tara Strong), the youngest the four pony princesses, planning Equestria's Friendship Festival and the concert by Pop star Songbird Serenade (voice of Sia).
Read more on 'My Little Pony: The Movie': Ideal Rainbow for Little Girls…
Read more on 'Stronger': Jake Gyllenhaal in Another Stellar Performance…
« Previous Entries
Next Entries »