Florissant
« Previous Entries
Next Entries »
Soroptimist Live Your Dream Award Deadline Nov. 15
   Women who serve as the primary wage earners for their families and seek financial assistance to continue their education or receive training can now apply for the Soroptimist Live Your Dream: Education and Training Awards for Women. Applications are available online at www.soroptimist.org/awards/apply.  The application deadline is Nov. 15.
Read more on Live Your Dream Award for Breadwinning Women…
Florissant Police to Participate in 2016 National Night Out Oct. 4
The Florissant Police Dept. will participate in the 32nd Annual National Night Out" (NNO) campaign has been scheduled 
for Tuesday, Oct, 4.
National Night Out is designed to:
Read more on 32nd annual National Night Out…
KMOV 'Great Day St. Louis' Hosting Entire Week of Oct. 3 From Florissant
Co-hosts Claire Kellett, meteorologists Matt Chambers and Kent Ehrhardt, of Great Day St. Louis, are coming back to Florissant on Friday, Oct. 7 to do a live show on the front lawn of Florissant's City Hall. Great Day St. Louis is promoting the 19th Annual Fall Festival, the biggest and best block party in the state.
Read more on 'Great Day St. Louis' in Florissant Week of Oct. 3…
'Save the Shrine' Campaign Begins For Restoration and Preservation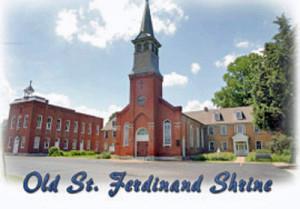 The Friends of Old St. Ferdinand, a non-profit organization dedicated to caring for the historic St. Ferdinand Shrine in Florissant, is now in its second month of a campaign to raise funds to restore and preserve several buildings on the grounds of the shrine.
Read more on St. Ferdinand Shrine Needs Renovations…
Florissant Old Town Partners Celebrates 20th Anniversary
   It started with just three determined ladies, Geri Debo, Rosemary Davidson, and Mary Kay Gladbach who wanted to increase the awareness of the historic district founded by the French and Spanish, and the importance of preservation.
Read more on Old Town Partners Done a Lot in Past 20 Years…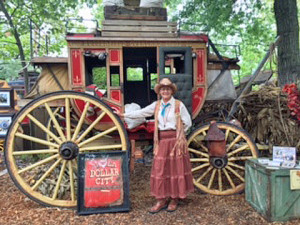 Arkansas Bev Hambry (left) and her husband
donated this 1880s stagecoach to Silver Dollar City
'Journey' Stagecoach Finds Its Way
Back Home to Silver Dollar City
         Text and photo by Pat Lindsey
Back in the early days of Branson's Silver Dollar City, the Herschend family purchased an authentic 1880 stagecoach for their Butterfield Stage Line in their theme park. Throughout the 1960s and 70s, children enjoyed taking stagecoach rides through Silver Dollar City, but the coach was eventually retired and presumed lost.
Read more on National Harvest & Cowboy Festival…
« Previous Entries
Next Entries »