Florissant
« Previous Entries
Next Entries »
Shoeboxes Are Packed For Kids Around the World
Florissant families, churches and groups are not waiting until Thanksgiving Day to express gratitude. Instead, they are giving back by lovingly packing gifts of joy for children around the world living in extreme poverty or affected by war, disease and natural disaster. For many of these children, it will be the first gift they have ever received.
Read more on Operation Christmas Child Shoebox Campaign Begins in Florissant Next Week…
This December senior citizens in Florissant will have the opportunity to attend a private concert by Lindenwood University's Acapella Choir and to eat at Lombardo's, one of St. Louis' finest restaurants. Tickets for these trips are now on sale.
Read more on Concerts and Italian Food on the Docket For Florissant Senior Citizens in December…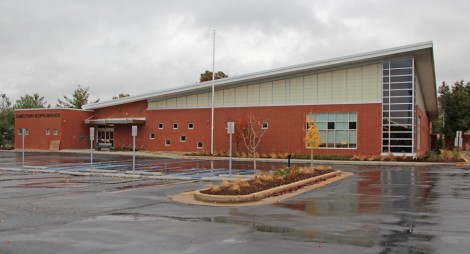 The newly renovated Jamestown Bluffs Branch of the St. Louis County Library, 4153 N. Highway 67, will reopen Nov. 12. Among the improvements made in the facility are an expanded children's area, a large teen space, and a business center. The computers are new as well. The library will also offer community meeting rooms and private study rooms to meet the needs of patrons and the community. Library hours will be 9 a.m. to 9 p.m. Monday through Thursday and 9 a.m. to 5 p.m. Friday and Saturday. The facility will be closed on Sundays.
Read more on Jamestown Bluffs Branch Reopens…
The premiere of the video of "Florissant's Historic Treasures" was held Oct. 27 and 28 at the James J. Eagan Civic Center Theater. The five-part documentary series produced by the Florissant television station FCTV was edited to produce the hour-long feature video seen by over 400 citizens, who gave it a standing ovation.
Read more on Documentary 'Florissant's Historic Treasures' Well-Received at Its October Premiere…
Christian Hospital Emergency Medical Services paramedics will deliver non-perishable food items donated by BJC HealthCare directors and senior leadership throughout the metro-St. Louis area in conjunction with a meeting held at Christian Hospital on Nov. 3. Meeting participants were asked to donate to the food collection to help keep area food pantries well supplied with the approaching holidays.
Read more on BJC and Christian Hospital EMS Join Urban League Food Pantry Collection…
By Carol Arnett
The Florissant City Council opened and quickly continued a public hearing at the council meeting Monday night. The hearing dealt with a request for a special use permit to Amigo Food LLC, doing business as Rubio's Fresh Mexican Grill to allow for a restaurant/ grocery store at 758 St. New Florissant Rd.
Read more on Florissant Delays Restaurant Vote; Seeks Inclusive Playground at Park…
« Previous Entries
Next Entries »