Florissant
« Previous Entries
Next Entries »
Friday, May 8
Annual Spring Sale at St. Stephen Church, 33 N. Clay, Ferguson, will be 5 to 7:30 p.m. Friday, May 8, and 8:30 a.m. to 1 p.m. Saturday, May 9. Clothes, books, collectibles, toys, shoes, small furniture, video at reasonable prices.
The Bridge at Florissant will have a special Memorial Day ceremony Monday, May 18. Retired U.S. Marine William Rupp, a resident of the Bridge at Florissant, will serve as the master of ceremonies. Rupp, a distinguished and decorated World War II veteran, was named the 2006 Veteran of the Year by the Pentagon and is one of nineteen veterans honored in a book titled Distinguished Veterans Who Made a Difference. As part of the ceremony, Rupp will present each Bridge at Florissant veteran with a medal of appreciation that he designed.
Read more on The Bridge at Florissant Honors Veterans May 18…
North County Churches Uniting (NCCU)
Taking Action to Address Social Problems
North County Churches Uniting for Racial Harmony and Justice's "Discussion and Solutions Committee" reports progress in bringing the police and African-American community together.  This group, organized to address the protests and violence after Michael Brown's death in August, has focused on healing the long-standing problems and mistrust between police, city officials, and the public. NCCU wants to move beyond the discussion stage and take action.
Read more on Information from NCCU Leader…
Read more on Valley of Flowers winners (photos by Bob Lindsey)…
Read more on Scenes from Valley of Flowers Parade May 3…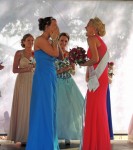 The 2014 Valley of Flowers Queen Alex Phifer
celebrating her last moments as queen by crowning
Courtney Neisler as the 2015 Queen.
Another Perfect May Day For Valley of Flowers and
« Previous Entries
Next Entries »