Florissant
« Previous Entries
Next Entries »
16 Speak Out On City's Ban of Pit Bulls
Florissant Holds 2 Hearings
By Carol Arnett
The Florissant City Council held two public hearings at the council meeting on Monday, voted on several bills and heard more complaints about the pit bull ban in the city.
Read more on City Council Meeting; Pit Bull Ban, CVS sign…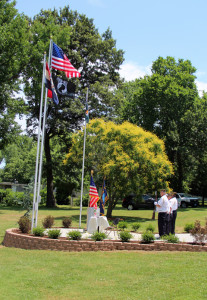 More than 100 persons showed up Sunday at St. Ferdinand Park for the dedication of the Korean War and Defense monument
with the color guard raising the flag  at the beginning of the dedication service on a hot afternoon.
Read more on New Korean Momument at St. Ferdinand Park…
Two Florissant Residents Given Highest Boy Scout Honors by Greater St. Louis Council
John Kavanaugh and Rance Thomas 
Dedicated Scouting volunteers John Kavanaugh and Dr. Rance Thomas of Florissant, Missouri were honored by the Greater St. Louis Area Council, Boy Scouts of America with the Silver Beaver Award, the highest recognition a Boy Scout council can award to volunteers. The Silver Beaver recognizes noteworthy service that impacts the lives of youth and outstanding contributions to the Scouting program. Just 24 Silver Beaver Awards were given in 2016 from a pool of nearly 12,000 Greater St. Louis Area Council volunteers.
Read more on Boy Scouts Honor Two Florissant Residents…
Walk Through History Program Honors The
Late Paul J. Kohnen
   Over 100 family and friends gathered in front of 411 rue St. Francois to unveil the 26th Walk Through History plaque in honor of the late Paul J. Kohnen. Family came from all over the country to be able to be a part of this special event and Mayor Tom Schneider, Chief Tim Lowery and Ward 6 Councilman Henke applauded Florissant's biggest family and Monsignor Ullrich, pastor of Sacred Heart Church blessed the occasion.
Read more on Florissant Dedicates Plaque to Paul Kohnen…
KOREAN WAR AND DEFENSE VETERANS MEMORIAL TO BE DEDICATED
AT ST. FERDINAND PARK IN FLORISSANT

 The Korean War Veterans Association invites all veterans and the general public to attend the official dedication of the Korean War and Defense Veterans Memorial in St. Ferdinand Park in Florissant. The ceremony will commence at 1 p.m. on Sunday, June 26.   Master of ceremonies Sergeant Major Carl Hargus will begin the event, followed by the presentation of colors by the 12th District of the Veterans of Foreign Wars (VFW). Rev. Edward G. Robinson Sr. then will lead the invocation. The national anthem will be performed by the Scottish Rite Brass Band.
Read more on Memorial Dedication Sunday, Jun 26 at 1 p.m…
Thursday, June 23
St. Mark's Fashions for Food clothing sale, 315 Graham Road, 8:30-11 a.m. All proceeds go to local food pantries. Sale is held on the second Thursday of each month. Call 314-972-7838.
Read more on Summer 2016 Calendar of Events…
« Previous Entries
Next Entries »