Florissant
« Previous Entries
Next Entries »
Citizens for Modern Transit's (CMT)
Try & Ride program Has Doubled
Citizens for Modern Transit's (CMT) Try & Ride program has been on a fast-track to success since it launched in mid-June of 2014. In a mere 16 months, the transit advocacy organization doubled its two-year goal of helping 1,500 area residents "test drive" MetroLink and MetroBus to experience, first-hand, how easy and advantageous the system can be for the workday commute. To date, CMT has assisted 3,000 area residents through this program and shows no signs of slowing down.
Florissant Residents
Approve 1/4-cent
Sales Tax For Streets
By better than a two-to-one majority Florissant residents Tuesday approved Prop S, the 1/4-cent sales tax increase that will be used to maintain city streets. The vote was 2473 "for" to 1172 "against."
Read more on Tuesday Prop S vote…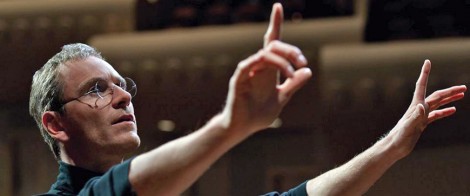 Michael Fassbender plays Steve Jobs in the film about his life and Apple.
         by Sandra Olmsted
While the three act play structure of director Danny Boyle and screenwriter Aaron Sorkin makes the film drag, it is also one of the films most fascinating elements. Steve Jobs, the film, visits Steve Jobs (Michael Fassbender), the man, at three critical moments in his work life –the launches of three of his major products: the Macintosh in 1984, the NeXT "Cube" in 1988 and the iMac in 1998.
Read more on Steve Jobs: Uneven Life, Uneven Film…
Friday, Oct. 30
Halloween Party at DeSmet Retirement Community, 1425 N. New Florissant Road, from noon to 2 p.m. Presented by Wendy Fritter. RSVP to 314-838-3811.
All you can eat chicken at Florissant Valley VFW Post 4105, 410 rue St. Francois from 5 to 8 p.m. Dine in only! All profits go to support veterans. Call 314-831-6121.
Read more on Calendar Oct. 29 – Dec. 12…
   Results from the 2015 Missouri Annual Performance Report (APR) for the Ferguson-Florissant School District show an increase in the District's overall score. Ferguson-Florissant received 97.5 points out of a possible 140 points on the state's annual assessment, or 69.6%. This represents a 3.9% increase from last year-s score of 65.7%.
Read more on Ferguson-Florissant Test Scores Increase from Last Year's Marks…
Street Repair and Maintenance is the
Sole Purpose for Nov. 3 Vote on Prop S
The City of Florissant is seeking a 1/4-cent increase in the city sales tax on next Tuesday's (Nov. 3) off-year ballot to maintain city streets, which are starting to take on some age. The average age of Florissant streets is about 56 years old, but some are as many as 75 years old. It costs between $730,000 and $1 million to replace a mile of street, proponents of Prop S state. The sales tax increase is expected to raise about $1.3 to $1.6 million in additional revenues. The Florissant City Council confirmed in a resolution Oct. 12th that these funds are strictly for street maintenance and repair and will not be mixed with general funds.
Read more on Florissant Election on Nov. 3…
« Previous Entries
Next Entries »