Florissant
« Previous Entries
Next Entries »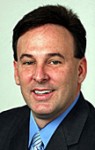 By Randy Gardner
As we approach the NFL draft, it looks like the number one prospect for the Rams will be a quarterback. Who would have thought that after paying $50 million to quarterback Sam Bradford just a few years ago, that the franchise would be looking to dole out another wad of cash to another QB.
Read more on Perhaps Rams Should Be Looking at 2 Quarterbacks…
By Jeremy Thomas
A popular trend in the restaurant industry known as "Dinner Lab" wants to establish a home base in Florissant which will be able to cater to the entire St. Louis area. This was one of three restaurant proposals presented and discussed at the Florissant City Council meeting Monday, February 9.
Read more on New Restaurant Idea Coming to Florissant, 2 BBQs also Opening…
 By Bob Lindsey
The Ferguson-Florissant School District Board of Education last week introduced Dr. Joseph Davis as the new superintendent, effective July 1.
The board unanimously approved Davis' appointment on Jan. 30 and directed the negotiation of his contract. The contract, signed on Feb. 6 and ratified by the Board on Feb. 10, will run July 1, 2015 through June 30, 2018. Davis will receive an initial annual salary of $200,000.
Read more on Ferguson-Florissant District Names Joseph Davis New Superintendent…
The Friends of Old St. Ferdinand will host a luncheon on Valentine's Day, Saturday, Feb. 14, at noon at the Old St. Ferdinand Shrine. Reservations are currently being accepted. Meal price of $15 includes drinks, lunch and dessert and will be served in the 125 year-old schoolhouse.
Read more on St. Valentine's Feast Day Mass, Lunch at The Shrine…
The Florissant City Council Executive session last week provided updates to several area projects, including upgrading the ballfield lighting at St. Ferdinand Park.
City workers will be upgrading the lighting on Ballfields 1 and 2, which they estimate will be completed by spring in time for league games. Work will begin on Ballfields 3 and 7 after this, but won't be completed until sometime next year, depending on available budget funds.
Read more on Council Updates on Ball Field Lighting, New Security Cameras…
By Jeremy Thomas
A popular Ferguson barbecue place that was forced out of business on West Florissant Ave. is planning a move to Florissant. It's one of two barbecue restaurants that made presentations to the Florissant City Council meeting on Monday night Jan. 26. Red's barbecue will look to make a new home at 8471 North Lindbergh, with a spring opening targeted.
Read more on Reds Barbecue Moving From Ferguson; One of 2 New BBQ Places Coming to Florissant…
« Previous Entries
Next Entries »