Florissant
« Previous Entries
Next Entries »
Photos by
Bob Lindsey
Florissant Passes Some Funding Bills
By Carol Arnett
The Florissant City Council had a light agenda at Monday's meeting, with no public hearings scheduled. However, they did spend quite a bit of time in the 'hearing from citizens' portion of the meeting, as several residents and non-residents spoke against the city's pit bull ban. Several people also sent letters and emails to the council requesting the repeal of the ban.
Read more on Aug. 22 Florissant City Council…
St. Ferdinand Shrine in Dire Need of Repairs;
Campaign Underway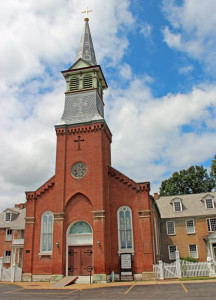 Old St. Ferdinand Shrine, a religious and historic jewel of Old Town Florissant, is in need of some major work and a "Save the Shrine" campaign will kick off Sept. 1 to raise much-needed funds for repairs and upgrades.
Read more on Old St. Ferdinand Shrine Needs Major Renovations…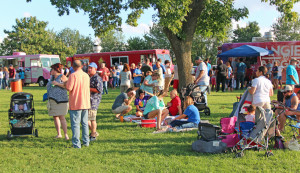 FOOD TRUCK KNIGHT: Florissant co-sponsored another successful "Food Truck Knight" on Friday, Aug.19 on the Knights of Columbus lot near the Old St. Ferdinand Shrine. Several more trucks served until 8 p.m. and with live music until 9 p.m. The truck line up for the evening included : Zia's "On The Hill", Slice of the Hill, The Meltdown, My Big Fat GreekTruck, Destination Desserts, Angie Burger, Sarah's Cake Stop, Completely Sauced, Cha Cha Chow, 2 Girls 4 Wheels, Steak Louie, Wayno's International Cuisine, The Southerner -StL,Andrew's Bayou Ribs, Kona Ice, and Smokin Monkey. Proceeds benefited local non-for-profit charities including the TEAM Food Pantry. The next "Food Truck Knight" will be Oct. 14.
Read more on Florissant Holds Another Successful "Food Truck Knight."…
Florissant to Request Release of Community
Development Block Grant Funds on Sept. 2
The City of Florissant will request the release of 2016 CDBG funds from the U.S. Department of Housing and Urban Development (HUD) on Sept. 2, following a two-week period in which the public will have the opportunity to comment on the slated use of the funds.
Read more on Florissant CDBG Annual Action Plan…
Parks Dept. Server Down Until Aug. 29
On Friday, Aug. 12, the Parks and Recreation Department's network server experienced a hardware failure, which caused the Department's reservation, registration, and membership processing system to become inoperative.
Read more on Parks and Recreation Dept. Having Server Problems…
« Previous Entries
Next Entries »