Florissant
« Previous Entries
Next Entries »
The annual July Flea and Farmers Market will be held at the Knights of Columbus Grounds and Pavilion Saturday, July 25, from 8 a.m. to 1 p.m. The Farmers Market features produce from J. Goeke Produce.
Read more on Florissant Old Town Hosts Flea And Farmers Market July 25…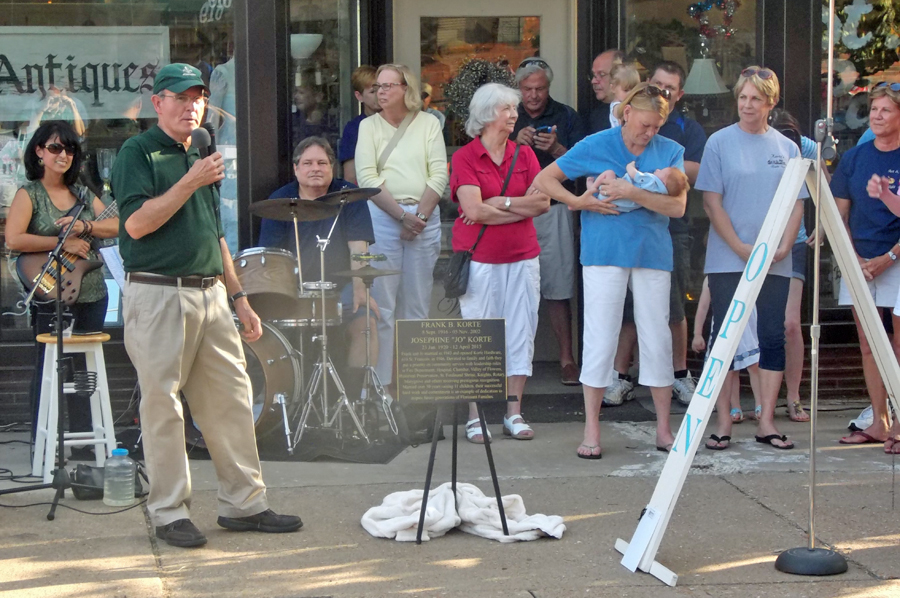 KORTES HONORED: Florissant Mayor Thomas P. Schneider and the City along with Old Town Partners hosted a dedication ceremony to unveil a plaque honoring the late Frank and Josephine Korte. This was the 22nd Walk through History plaque and the first to have two people (husband and wife) honored on the same plaque   Both have made a valuable contribution to the City of Florissant. The ceremony was held on Wednesday, June on the sidewalk in front of Kortes Custom Framing & Antiques at 610 rue St. Francois, before the start of the first Wednesday Night Out festivities
Florissant Police Department Cracking Down on Drunk Drivers
The Florissant Police will be joining efforts with statewide law enforcement July 3-5, 2015 for an aggressive "Drive Sober or Get Pulled Over" crackdown which will include high-visibility enforcement throughout the St. Louis area.
Florissant Council Honors 2 Police Officers, 1 ex-Officer
By Carol Arnett


The Florissant City Council issued commendations to two police officers, recognized a long-term supporter of the police department, and gave out the beautiful home awards. (See the article and the winning homes in print edition Thursday July 2 on page 16 for  the Beautiful Home Awards.)
Read more on Florisant Honors Sherry Opich For Food Collection Last August…
Friday, July 3
   Tai Chi classes at The Bridge at Florissant and Life Care Center, 1201 Garden Plaza Drive off Parker Road every Friday at 2 p.m.  Call Morgan or Mary to RSVP at 314-831-0988. Class size is limited.
The Alpha Players' 57th season mixes classic theatre and new works filled with music and comedy. In addition to announcing the upcoming season's shows, The Alpha Players have also announced that their evening performances will begin at 7:30 p.m. Janet Maneikis, President of The Alpha Players, explained, "We have seen a lot of groups going to the earlier start time and it seems to make sense for our audience and actors." The earlier start time will allow most people to be home by 10 p.m.
Read more on Alpha Players' 57th Season Opens September 25 with 'Oliver Twist'…
« Previous Entries
Next Entries »