Florissant
« Previous Entries
Next Entries »
Alex Nsengimana, who long ago was a recipient of an Operation Christmas Child (OCC) shoebox, will speak at First Baptist Church – Ferguson, 333 N. Florissant Road, April 23 from 2 to 4 p.m. Nsengimana grew up in Rwanda and experienced first-hand the horrors of his nation's genocide. In 1994 he witnessed the murder of his grandmother and uncle. He escaped to an orphanage, where he received a shoebox gift from OCC. He recalls being so excited to have something of his very own.
Read more on Operation Christmas Child Hosts Survivor of Rwandan Genocide…
Read more on Mary Kay Gladbach Receives Community Service Award…
The City of Florissant hosted the 2nd Annual Aging My Way Resource Fair for Seniors and it was a success. Over 450 seniors attended the 2016 Aging My Way Resource Fair that was held on Wednesday, A at the James J. Eagan.   Mayor Tom Schneider was pleased with the turnout that had 75 booths of senior citizen information.
Read more on 2nd Annual Senior Resource Fair Attracted More than 450 Seniors…
Hazelwood School District Board
Names New Superintendent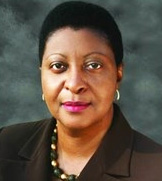 The Hazelwood School District Board of Education announced Monday morning the appointment of Nettie Collins-Hart as superintendent, effective July 1, 2016. Collins-Hart will replace Ingrid Clark-Jackson, interim superintendent, who will retire on June 30, 2016.
Read more on Nettie Collins-Hart new HSD Superintendent…
Thursday, April 7
   Blood Pressure Clinic at St. Catherine Retirement Community, 3350 St. Catherine St., at 10:15 a.m. RSVP to 314-838-3877.
Friday, April 8
   Tai Chi for Seniors at St. Catherine Retirement Community, 3350 St. Catherine St., at 10 a.m. Free. Reduce stress, strengthen joints and develop balance and coordination. RSVP to 314-838-3877.
Read more on Mark Your Calendar…
A 'Tea for TEAM' will feature mystery writer Elaine Viets on May 5 at John Knox Presbyterian Church, 13200 New Halls Ferry Road. Viets will be speaking and signing her newest Dead-End Job mystery, The Art of Murder. The event is sponsored, by Presbyterian Women of John Knox.
Read more on John Knox 'Tea for TEAM' Features Author Elaine Viets…
« Previous Entries
Next Entries »