FloValley Sports
« Previous Entries
By Jim Wieners  
High School Boys Basketball opens the 2015-16 season with tournaments and shootouts, some of which begins this Thanksgiving week, which also closes the Football season with State Championship games.
Read more on Tourneys Tip Off Boys Basketball…
By Jim Wieners
While there were no Missouri State High School Activities Association trophies or medals for North St. Louis County high schools Hazelwood Central and Hazelwood West each won two Suburban XII (12) Conference North Division titles.
Read more on Hazelwoods Central, West Each Win 2 Fall Conference Titles…
When is a Concussion Not Really A Concussion? Only in the Press Box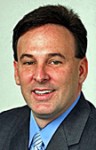 What amazes me the most in life is that the simpler the job, the more difficult someone can make it. For example, there is now a person on the sidelines or press box of every NFL football game and their only job is to look for someone who might get hit and have a concussion. That is their only job.
Read more on Randy Gardner column…
The Hazelwood School District acknowledged four seniors from Hazelwood Central High School who signed letters of intent to play college sports while completing their academic careers. The signings took place Wed., Nov. 11, in Hazelwood Central's library, 15875 New Halls Ferry Road.
Read more on Hazelwood Central Scholar-Athletes Sign Letters of Intent…
By Randy Gardner
I can't believe the feedback that I have received on my column over the past few weeks about cheating. I don't know if it is the aspect of cheating or the aspect of teaching my kids honesty and integrity, but it has really struck a nerve. I have had several people stop me and tell me about their personal stories, some going back 20 and 30 years ago.
Read more on Cheating in Youth Sports Prompts Lots of Feedback…
By Jim Wieners
While area high school football teams saw their seasons end as late as last weekend (see related article on Hazelwood Central) Lutheran High School North and Cardinal Ritter College Prep remain alive in Class Two.
Read more on Lutheran North, Cardinal Ritter In Class 2 Football Quarterfinals…
« Previous Entries