FloValley Sports
« Previous Entries
Next Entries »
Hazelwood Central, Trinity Football Rolling To 5-0 Starts
By Jim Wieners
Starting the High School Football season 5-0 is nothing new for Hazelwood Central as the Hawks have been doing that very often since Hazelwood High became Hazelwood Central in the fall of 1974.
Read more on High School Football Update…
There were Many 'Closet'
Fans Watching the Rams
By Randy Gardner
I know you might not want to hear about it but I am going to write about it anyway. That was a big win for the LA Rams. Don't say you didn't watch it, I know many here did., more than the tv ratings showed.
McCluer North Boys Soccer, Girls
Softball Opens With Tournaments
By Jim Wieners
Tournaments will open the 2016 Fall season for McCluer North Boys Soccer and Girls Softball teams.
McCluer North Boys Soccer will be in the Fort Zumwalt North Tournament to begin 2016. The Stars will play in Pool A and the first two games will take place at Fort Zumwalt East, beginning Aug. 20 with an 11 a.m. game against Fort Zumwalt West then return Aug. 23 with a 6 p.m. game against Zumwalt East. McCluer North wraps up the tournament Pool A play Aug. 24, 5 p.m. at Lutheran-St. Charles County.
Read more on HS Softball and Soccer Openers…
Hazelwood Central, East, McCluer
North Have Repeat Football Openers
By Jim Wieners
It seems very familiar for Hazelwood Central, Hazelwood East and McCluer North to open the 2016 High School Football season with the same opponent they opened with in 2014 and 2015.
Read more on 2016 High School Football Season Openers…
Stress, Everday Events
Can be Life-Changing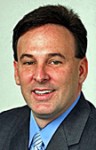 By Randy Gardner
Have you ever been so stressed out that you feel like you can't breathe. That seems to be my life lately. With work, 3 kids and a wife and 3 soccer teams to run. The line is being walked. I hear people say quit frequently that they are stressed but now I totally understand it.
Read more on On Life, Baseball and NASCAR…
American National 16-Under Baseball Leads SLABA North
By Jim Wieners
American National Eagle Baseball's 16 and Under team entered the regular season finale by leading the St. Louis Amateur Baseball Association 16 and Under North Division prior to July 11.
Read more on American National Eagle Baseball…
« Previous Entries
Next Entries »