FloValley Sports
« Previous Entries
Next Entries »
By Randy Gardner
I can't believe the feedback that I have received on my column over the past few weeks about cheating. I don't know if it is the aspect of cheating or the aspect of teaching my kids honesty and integrity, but it has really struck a nerve. I have had several people stop me and tell me about their personal stories, some going back 20 and 30 years ago.
Read more on Cheating in Youth Sports Prompts Lots of Feedback…
By Jim Wieners
While area high school football teams saw their seasons end as late as last weekend (see related article on Hazelwood Central) Lutheran High School North and Cardinal Ritter College Prep remain alive in Class Two.
Read more on Lutheran North, Cardinal Ritter In Class 2 Football Quarterfinals…
By Jim Wieners
For the third time in the last four Football meetings including the last two Class Six, District Two Finals (a.k.a. Quarterfinals) Christian Brothers College High School sent home visting Hazelwood Central without the Hawks scoring a point and ending their season in the process.
Read more on CBC Shuts-out Hazelwood Central Again, On 26-Game Winning Streak…
Hazelwood Central, CBC Play
In 3rd Straight District 2 Final
                 By Jim Wieners
For the third straight year Hazelwood Central and Christian Brothers College High (CBC) will be playing for the Class Six, District Two title and a berth in the Nov. 14 State Semifinal. but this time CBC is the defending State Champion.

This will be one of the easiest columns I've ever written. Every week I talk about the St. Louis Rams and either how good they are or how bad they played. I was fortunate enough to get some free tickets to Sunday's game against the San Francisco 49ers.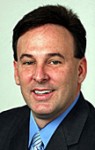 By Randy Gardner
I just cannot figure out the St. Louis Rams football team. They win and then they lose, they look good and then they look bad, there is no rhyme or reason. Right now the Rams are 3-3, two back of Arizona.
Read more on What's Next Step For Our 3-3 Rams?…
« Previous Entries
Next Entries »