Hazelwood
« Previous Entries
The 2nd Hazelwood Food Truck Night Aug. 2 at Howdershell Park
Bring out the flip-flops, Hawaiian shirts and leis for the tropical-themed party at Howdershell Park, 6810 Howdershell Road, for the next Food Truck Night on Tuesday, August 2. Sponsored by the Hazelwood Parks and Recreation Division, this event is a great way for local residents to meet up with family, friends or neighbors for a delicious outdoor dinner in a scenic park setting.
Read more on Hazelwood Food Truck Aug. 2…
Hazelwood's White Birch Bay Hosting Second Teen Aquatic Night
The great turnout for Hazelwood's first "Bash at the Bay Teen Night" this summer at White Birch Bay Aquatic Center has caused event organizers to get the word out early for teenagers, ages 13 to 17, to pre-register for the next event on Friday, July 15, from 8 p.m. to 11 p.m. Those who pre-register by purchasing their tickets early will be guaranteed admission into the facility for this popular pool party.
Read more on Bash at the Bay Teen Night is Back…
Hazelwood's Annual Fireworks Display at White Birch Park July 4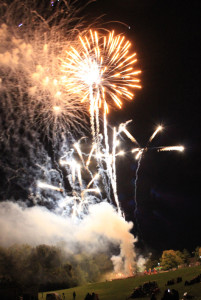 The City of Hazelwood is gearing up to present another spectacular pyro-musical fireworks display for residents and guests on Monday, July 4, at White Birch Park, 1186 Teson Road. The show is scheduled to begin at dusk, around 9:15 p.m. The event is free and open to the public.
Read more on Hazelwood Fireworks at White Birch Park…
Thursday, June 23
St. Mark's Fashions for Food clothing sale, 315 Graham Road, 8:30-11 a.m. All proceeds go to local food pantries. Sale is held on the second Thursday of each month. Call 314-972-7838.
Read more on Summer 2016 Calendar of Events…
Bommarito Ford's Grand Opening Honors Hazelwood,
1st Responders
Text and photos by Bob Lindsey
As part of the The Bommarito Automotive Group grand opening June 17 at the all-new redesigned Bommarito Ford "superstore" on Dunn Road, the dealership showed its continued support to Hazelwood by giving the city two new Ford vehicles, one for the Dare program, the other for Hazelwood Police's Citizen Patrol. Bommarito officials and several from Ford's corporate headquarters in Detroit came for the gala opening of the new dealership and building that once was the site of Valley Ford.
Read more on Bommarito New Dealership on Dunn Road…
Hazelwood West Teams Win
Five District Titles In 2015-16
By Jim Wiener
Hazelwood West High School Sports teams took home five District Championship Plaques while another team qualified for Sectionals.
Soccer was one sport that Hazelwood West swept. The Wildcats won Class Four, District Five Boys and Class Four, District Four Girls. Both teams fell in the sectionals including Hazelwood West Boys Soccer falling to eventual Class Four State Champion Francis Howell.
« Previous Entries