Hazelwood
« Previous Entries
The first of several high-visibility sobriety checkpoints to be conducted by the Hazelwood Police Department this summer is scheduled for the weekend of May 22. In addition, saturation patrols will supplement these checkpoints. Funding for the effort is supplied by a grant from the Missouri Department of Transportation's Highway Safety Division.
Read more on Hazelwood Police Conduct Sobriety Checkpoints in May…
Hazelwood Issues Building,
Public Works Proclamations
May Is Building Safety Month
At a recent City Council meeting, Mayor Matthew Robinson presented Hazelwood's Code Administrator Pat McSheehy, Building Inspector Travis Ham, and Code Enforcement Officer David Clemens with a proclamation designating May as "Building Safety Month" in Hazelwood. The proclamation urges all citizens to work with code officials to ensure new structures or home add-ons are built to code standards, and residences are maintained. These actions will help improve property values and make neighborhoods attractive.
Read more on Hazelwood proclamations…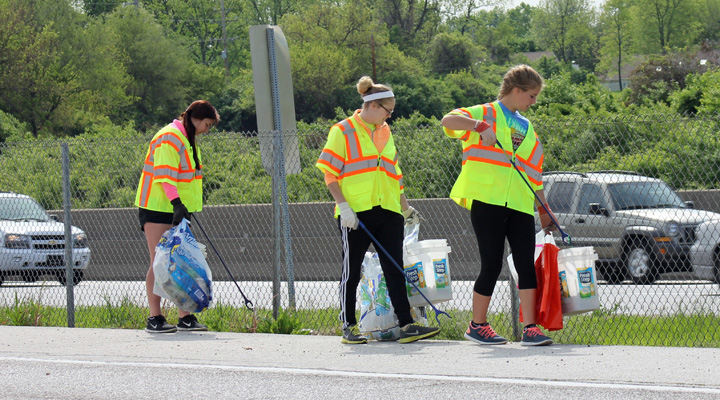 Briana Barr, 2014 Miss Hazelwood, leads other Hazelwood West classmates and parents in picking up litter and trash in Hazelwood.
Miss Hazelwood, City Green Committee, West High School Students Team Up Against Litter
Read more on City, Hazelwood West Students team up against Litter…
   The annual Missouri State Society of the Daughters of the American Revolution (DAR) Memorial Day Service will be held Monday, May 25, at 10 a.m. at Cold Water Cemetery, 15290 Old Hall's Ferry Road. The service is open to the public and conducted by the DAR, Sons of the American Revolution, Children of the American Revolution, Living History Re-Enactors, Militia de San Carlos and the Boy Scouts of America.
Read more on DAR Memorial Day Event at Cold Water Cemetery…
Students from Hazelwood West and East High schools brought smiles to the faces of competitors when the two schools hosted Special Olympics track and field events recently. One hundred sixty athletes from 10 different schools, including Hazelwood East High, Riverview, Pattonville, and Marquette high schools, plus several Vocational Skills Programs (VSPs) participated. VSPs are job training programs for Special School District (SSD) students age 18 to 22 years. Among the VSPs represented were VSP Missouri Veteran Home, VSP Garden Villas North and VSP Lambert Airport. All athletes received a ribbon for their efforts.
Read more on Hazelwood East and West High Schools Host Special Olympics…
Ferguson Commission Urges Nixon
To Sign Municipal Court Reform Bill
Rev. Starsky Wilson and Rich McClure, Co-Chairs of the Ferguson Commission, have issued a statement urging Governor Nixon to sign Senate Bill 5, which deals with municipal court reform. The reforms in the bill are in response to public outcry against what has been seen as systemic injustices in municipal court practices. They also reflect the findings of the Commission's working group on municipal courts and governance, which is co-chaired by Commissioner Traci deVon Blackmon and Commissioner T.R. Carr, Jr. The bill specifically addresses court actions regarding outstanding warrants, excessive fines and confinement for minor non-traffic related municipal ordinance violations.
Read more on Co-Chairs of Ferguson Commission Support Municipal Court Reform Bill…
« Previous Entries