Hazelwood
« Previous Entries
Next Entries »
Hazelwood Police Introduce 'Safe Trade Zone'
For Buying and Selling
To minimize risk and vulnerabilities
With more people using Facebook groups and Craigslist to buy, sell, and trade property online, the Hazelwood Police Department has introduced the availability of a Safe Trade Zone in a video posted on Facebook.com/HazelwoodPD.
Read more on Hazelwood Gets New 'Safe Trade Zone' for Residents…
O'Mara Loses to Rochelle Walton Gray in
2nd District Democratic County Council Race;
   State Rep. Primary Winners include Alan Green, Jay Mosley, Gretchen Bangert, Alan Grey, Courtney Curtis
A shift in the Council Council Democratic power base occurred Tuesday night when former state representive Rochelle Walton Gray of Black Jack beat 16-year incumbent Mike O'Mara of Florissant who is the current St. Louis County Council chairman. Gray, who will face Republican Curtis Falkner and Libertarian Jeff Coleman on Nov. 8. In unofficial results, Gray beat O'Mara 61% to 39 % in unofficial results in a campaign that lacked personal attack ads by either side.
Read more on August Primary Results…
The 2nd Hazelwood Food Truck Night Aug. 2 at Howdershell Park
Bring out the flip-flops, Hawaiian shirts and leis for the tropical-themed party at Howdershell Park, 6810 Howdershell Road, for the next Food Truck Night on Tuesday, August 2. Sponsored by the Hazelwood Parks and Recreation Division, this event is a great way for local residents to meet up with family, friends or neighbors for a delicious outdoor dinner in a scenic park setting.
Read more on Hazelwood Food Truck Aug. 2…
Hazelwood's White Birch Bay Hosting Second Teen Aquatic Night
The great turnout for Hazelwood's first "Bash at the Bay Teen Night" this summer at White Birch Bay Aquatic Center has caused event organizers to get the word out early for teenagers, ages 13 to 17, to pre-register for the next event on Friday, July 15, from 8 p.m. to 11 p.m. Those who pre-register by purchasing their tickets early will be guaranteed admission into the facility for this popular pool party.
Read more on Bash at the Bay Teen Night is Back…
Hazelwood's Annual Fireworks Display at White Birch Park July 4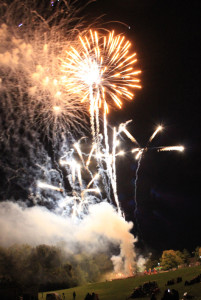 The City of Hazelwood is gearing up to present another spectacular pyro-musical fireworks display for residents and guests on Monday, July 4, at White Birch Park, 1186 Teson Road. The show is scheduled to begin at dusk, around 9:15 p.m. The event is free and open to the public.
Read more on Hazelwood Fireworks at White Birch Park…
Thursday, June 23
St. Mark's Fashions for Food clothing sale, 315 Graham Road, 8:30-11 a.m. All proceeds go to local food pantries. Sale is held on the second Thursday of each month. Call 314-972-7838.
Read more on Summer 2016 Calendar of Events…
« Previous Entries
Next Entries »