Hazelwood
« Previous Entries
Next Entries »
Read more on Mary Kay Gladbach Receives Community Service Award…
Hazelwood School District Board
Names New Superintendent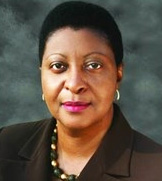 The Hazelwood School District Board of Education announced Monday morning the appointment of Nettie Collins-Hart as superintendent, effective July 1, 2016. Collins-Hart will replace Ingrid Clark-Jackson, interim superintendent, who will retire on June 30, 2016.
Read more on Nettie Collins-Hart new HSD Superintendent…
Thursday, April 7
   Blood Pressure Clinic at St. Catherine Retirement Community, 3350 St. Catherine St., at 10:15 a.m. RSVP to 314-838-3877.
Friday, April 8
   Tai Chi for Seniors at St. Catherine Retirement Community, 3350 St. Catherine St., at 10 a.m. Free. Reduce stress, strengthen joints and develop balance and coordination. RSVP to 314-838-3877.
Read more on Mark Your Calendar…
A 'Tea for TEAM' will feature mystery writer Elaine Viets on May 5 at John Knox Presbyterian Church, 13200 New Halls Ferry Road. Viets will be speaking and signing her newest Dead-End Job mystery, The Art of Murder. The event is sponsored, by Presbyterian Women of John Knox.
Read more on John Knox 'Tea for TEAM' Features Author Elaine Viets…
Residents of Hazelwood can pick up a copy of the new brochure prepared by the Hazelwood Police Department (HPD) on the responsibilities of animal ownership in the city. Titled, "A Guide to Hazelwood Animal Ordinances," the publication helps educate residents on how to be more courteous and respectful neighbors with respect to pets, reminds them of the leash laws in the city, and points out the importance of cleaning up animal waste and preventing pets from disturbing the peace.
Read more on Hazelwood Police Department Issues New Brochure on Animal Ordinances…
After 6 months the Hazelwood School District's (HSD's) search for a new superintendent is in its final phase. Desiree Whitlock, president of the HSD Board of Education, said that the final selection should be announced the week of April 11.
Read more on New HSD Superintendent to be Announced Week of April 11…
« Previous Entries
Next Entries »