Health / Seniors
« Previous Entries
Next Entries »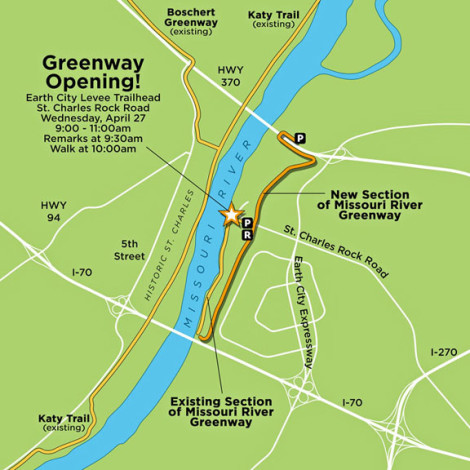 Wednesday, April 27, Great Rivers Greenway will celebrate a new greenway trail during 'Good Morning Greenway,' a ribbon-cutting and fitness walk at the trailhead in Riverwoods Park in Bridgeton from 9 – 11 a.m. A 3.15-mile extension of the Missouri Greenway provides a new place for walking, running or riding a bike along the Missouri River. Completed last year, almost 5 miles of paved greenway loops through Riverwoods Park and parallels the Earth City Levee to Highway 370.
Read more on 'Good Morning Greenway' Fitness Walk on Expanded Trail, April 27…
Thursday, March 17
   Blood Pressure Clinic at St. Catherine Retirement Community, 3350 St. Catherine St., at 10:15 a.m. RSVP to 314-838-3877.
   Flower Valley Quilting Guild meets the third Thursday of each month at 7 p.m. at Zion Lutheran Church, 123 Carson Road, Ferguson.
Read more on Mark Your Calendar…
Residents in the Florissant area can learn about their risk for heart disease, osteoporosis, diabetes and other conditions with affordable screenings by Life Line Screening. John Knox Presbyterian Church, 13200 New Halls Ferry, will host this community event on April 6.
Read more on John Knox Hosts Life Line Health Screenings April 6…
Arthur Williams Jr. has been named director of marketing for The Valley, 6768 North. Hwy. 67, a Stone Bridge senior living community. Williams has over twelve years of experience in long-term care, including assisted living but primarily in skilled rehabilitation centers.
Read more on Director of Marketing Named for The Valley…
The St. Louis County Department of Public Health (DPH) has released a report that details drug-poisoning deaths in St. Louis County from 2010 through 2014. The report shows that the highest rate of heroin deaths is found among young men age 25 to 44 years, who have a heroin death rate more than twice the county average.
Read more on Health Department Releases Report on County's Heroin-Related Deaths…
Friday, Feb. 26
Fish Fry all through Lent at Florissant Valley VFW Post 4105, 410 St. Francois from 3-7. All profits go to support Veterans. Call 314- 831-6121.
Fish Fry at Florissant Elks Lodge 2316, 16400 New Halls Ferry Rd, 4 to 8 p.m. every Friday until March 25. Serving cod, jack salmon, shrimp, homemade desserts. For information call 314-921-2316.
« Previous Entries
Next Entries »