Health / Seniors
« Previous Entries
Next Entries »

A Christmas Tale Today of an Event More than 2,000 Years Ago
By Tom Anselm
(Editors note: This weeks column is a reprise of a past year's Christmas offering. We do not usually do this, but this story warrants retelling. Merry Christmas!)
Read more on A Boomer's Journal…
Read more on Annual Christmas Luncheon Held at Taille de Noyer…
2nd North County Siteman Center
To Open in 2019 at Christian Campus
By Carol Arnett
Christian Hospital Northwest is expanding, with a new Siteman Cancer Center building planned for the campus on Graham Rd. The hospital presented the plan for the new building to the Florissant City Council during a public hearing at the council's last meeting. This will be the second Siteman Center in North County. The first one is at Christian Hospital at I-270 and Highway 367.
Read more on Florissant Council News…
My First trip to Florida in a VW Bug; No Phone, No Credit Card, Just Triptik
by Tom Anselm
I recently read in USA Today about two 68-year-old guys from Springfield, MO, who repeated a 1967 road trip they had taken in a Volkswagen of the same age. Sam and Dave (no, not the "Soul Man" singers) went over 1400 miles right after their senior year in high school, tooling along I-70 in a bright yellow Beetle with $50 bucks between them and the only plan being to point the blunt little nose of that iconic Bug in a westerly direction. They drove up Pikes Peak and then turned around and went home. They recreated this just last year, same car, refurbished. Fun times.
Read more on A BOOMER'S JOURNAL:…
Good Company and Good Pasta Were Just What the Doctor Ordered
by Lisa Kampeter
When I think of restaurants on the Hill, I think of family. Large gatherings. Hanging out. Taking your time enjoying your food. And constant talking . . . loudly. It's quite the process. But it's the Hill, and it's Italian, after all.
Read more on DINING DIVAS ON THE HILL…
Large Turnout At Open House
on Future of Site at Jamestown Mall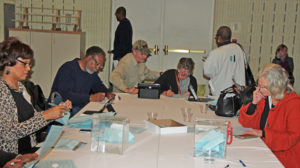 The curious came out in large numbers Monday night at the Informational Open House regarding the future of the Jamestown Mall site held at Christian Hospital's Northeast Campus. This meeting was aimed at allowing residents to get the latest news on the project, share their thoughts about the mall property and learn about next steps.
Read more on Meeting on Jamestown Mall Redevelopment…
« Previous Entries
Next Entries »