Health / Seniors
« Previous Entries
Next Entries »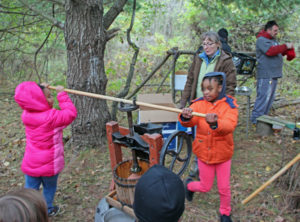 Ferguson Florissant School District's Little Creek Nature Area kicked off its year-round 2018 50th Anniversary celebration on Saturday, Oct. 28 at its annual homecoming at 2295 Dunn Rd. The 50th anniversary date has been set for Saturday, Oct. 20, 2018.
Read more on Little Creek Nature Area Previews 2018 50th Anniversary Celebration…

   The cold didn't deter Hazelwood residents and others from attending Howdershell Park's Food Truck or Treat on Oct. 27, nor did a robbery stop one of the food vendors from coming.
Read more on Taco Truck Shows up at Hazelwood Food Truck 'Trunk for Treat' Despite Robbery…
by Randy Gardner
Hopefully you have been able to watch the World Series as it has been spectacular. By the time you read this it will be over but Game number 5 was a game that will go down in history. For me, I thought it was even better and more theatrical than the Cardinals come back win with David Freese home run to win Game 6 in the 2011 series. I wasn't sure how the ratings would be leading into the series but from recent news it seems to be a ratings bonanza.
Read more on One of the Best World Series, It Rivals 2011…
Read more on Thank You for Your Service: An Interview with Director Jason Hall…
Read more on The Florida Project: Impoverished Childhood in the Land of Magic Castles…
by Tom Anselm
Some people really get into Halloween. Now, to be clear at the outset, I am not judging here. But I have to confess, it may be my least favorite holiday when you consider Thanksgiving and Christmas, Fourth of July and St. Patrick's Day, Easter and, well, my birthday. Just kidding on that last one, although at my age, I should be doing the happy dance for every one.
Read more on Halloween . . . Not My Favorite, But the Jokes Are Always Fun…
« Previous Entries
Next Entries »