Movie Reviews
« Previous Entries
Next Entries »
by Sandra Olmsted
The retelling of the Arthurian legend, or at least the origin story, has a first delights for effects fans, but little else. Revising the legend with color-blind casting might assure this expensive epic an international audience, but it might also get history buffs questioning the inclusion of an African resistance leader and a Chinese kung fu master in Arthur band of friends.
Read more on King Arthur: Legend of the Sword: Revisionist Legend…
by Sandra Olmsted
In Theaters Now
FREE FIRE (A24 release) Although billed as crime comedy in the vein of Lock, Stock and Two Smoking Barrels (1998) or Snatch (2000), Free Fire lacks the dark humor, or much humor at all, just a brutal shootout played out in real or extended time. R for strong violence, pervasive language, sexual references and drug use and runs an excruciating 90m.
Read more on April Films Recapped; May Films Previewed…
by Sandra Olmsted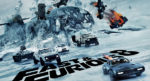 The eighth installment in the Fast and Furious franchise varies vastly from an exciting and stimulating race and sometimes the movie drags, yet it does offer escapism. In terms of comparison to other movies in the series, it is by far not the worse, having benefited from improvements in special effects over the years and from F. Gary Gray's direction.
Read more on The Fate of the Furious: Drag, Race…
by Sandra Olmsted
Director Marc Webb's Gifted tugs on the heartstrings at many turns, yet it also has humor and purveys a sense of redemption. Unabashedly manipulative, the tear jerk moments, especially a cat rescue, will make cat lovers swoon for the male lead, Chris Evans, even more. On the other hand, Gifted shares the indie film qualities of small-scale filmmaking and being driven by solid performances and strong, sparking dialogue, similar to Little Miss Sunshine and Juno. Gifted also has an old Hollywood feel because of the range of emotions plucked at, like Old Yeller or Pollyanna, with a sprinkling of The Trouble with Angels.
Read more on 'Gifted': Cliched But Moving and Funny…
Read more on "Going in Style": Age Old Fun…
By Sandra Olmsted
In the twenty years since the last Power Rangers movie hit the big screens, the little fans have grown up and probably want to share their love of these iconic characters with their children. Unfortunately, director Dean Israelite's version may not be the Power Rangers film to introduce to a new generation of five-year-olds to these heroes because teen angst takes a front seat to the Rangers' heroism. In this iteration, the story of these new Rangers and the old ones is re-conceived with an intergalactic connection.
Read more on Power Rangers: Rebooted for Teenagers…
« Previous Entries
Next Entries »