Movie Reviews
« Previous Entries
Next Entries »

 Katherine Heigl and Sofia Vergara are two of the many stars who appear in Gary Marshall's new film New Year's Eve.
By Maggie Scott
Gary Marshall Fails Again with This Stinker, New Year's Eve
  For director Garry Marshall, the year 2011 will end on a low note, even as he looks forward with certainty for his new film, New Year's Eve, to capture awards on the order of The Golden Turkey and worst picture Razzie. 
I predict critic Roger Ebert will want to include it in his new edition of "Your Movie Sucks," and reviewers will unanimously file opinions on the order of Andrew Barker of Variety: "…like being crushed under an avalanche of throw pillows."
Read more on Movie review: New Year's Eve…

Arthur is the second-born son of Santa in the PG Animated film Arthur Christmas
BY MAGGIE SCOTT
 It is a most welcome development that most animated films worth their salt currently are entertaining endeavors not just for children, but, almost more specifically for adults.  In my estimation, they're even more worth their salt if their ability to delight and astound does not rely on them being in the current lamentable fad of 3-D. 
Read more on Movie review: Arthur Christmas…
 Happy Feet 2 is now in theaters, just in time for the holiday season.
'Happy Feet 2″ Has All the Right Moves, Music For Quality Sequel
By Maggie Scott
    An oceanic invertebrate ponders the vicissitudes of a very unique segment of Antarctica's avian population when it asks, "Does their dancing bring relief from the existential terrors of the world?" in director George Miller's continuation of the story of the feathered citizens of Emperor Land—Happy Feet 2.
Read more on Movie review: Happy Feet 2…
Director Chris Miller's extravaganza delivers spectacle, laughs, excitement, and beauty, but, like a clandestine rendezvous of Puss in Boots, the film's story lacks a warm heart and happy ending, which Disney has conditioned the audience to expect in animated films.  Fortunately or unfortunately, DreamWorks provides a different take on the children's film formula but are working out the bugs.
Read more on Movie review: Puss in Boots…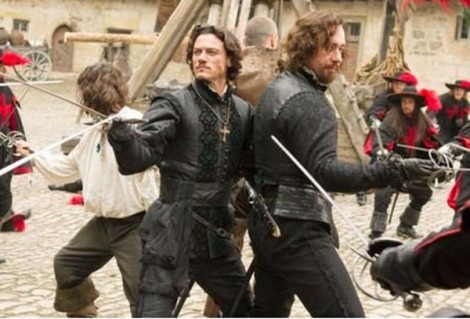 The Three Musketeers are back again with colorful costumes and swashbuckling action in this film
Lavish Costumes, Fisticuffs, Annoying Slapstick All Make Up New '3 Musketeers'
By Maggie Scott
   What does the latest version (when do we see the musical?) of Alexandre Dumas' 1844 literary classic, The Three Musketeers, have to offer? A horse named Buttercup and Leonardo Da Vinci's War Machine.
Read more on Movie review: The Three Musketeers…
 Julianne Hough and Ken Wormald star in the newest version of Footloose, still a high-energy dance movie
New 'Footloose' Takes Rousing Dance Scenes, Heartfelt Message to New Era
By Maggie Scott
In this rapidly politicizing year, it's possible some might see the remake of Footloose as a rallying cry against conservatives.  While much more subtle in its depiction of fervent religious sanctions on the baser proclivities of youth than the original. This version retains the high-spirited resistance most vividly evoked in such lyrics of the famous title song as, "please, Louise, pull me off of my knees" (as in, praying) and "kick off your Sunday shoes."
Read more on Movie review: Footloose…
« Previous Entries
Next Entries »