School News
« Previous Entries
Anthony Smith, eighth-grader at Hazelwood North Middle School, received the Redbird Rookies Saigh Scholarship from the St. Louis Cardinals.
Redbird Rookies is a children's baseball league sponsored by Cardinals Care, the charitable organization of the St. Louis Cardinals.
Read more on Hazelwood Middle School Student Receives College Scholarship from The St. Louis Cardinals…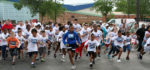 The Hazelwood Parent Teacher Association (PTA) Council invites students, families, and the entire community to participate in the 36th Annual Hazelwood PTA Scholarship Run/Walk event on Saturday, May 13.
Registration begins at 7 a.m. and the first race begins at 8:30 a.m.
Read more on Hazelwood PTA Council Hosts 36th Annual Run/Walk Scholarship Fundraiser…
Kindergarten Round-up is an opportunity for parents of new kindergarten students in the Hazelwood School District (HSD) to register children for school. Your child must be 5 years old before August 1 to register for kindergarten in HSD.
Read more on HSD Kindergarteners Prepare for Enrollment…
By Jim Wieners
For the third straight year in the Suburban XII (12) Conference, North Division McCluer North took first place, going 5-0, in Girls Basketball.
McCluer North ended their season with a 21-9 overall record and was a Class Five Sectional Qualifier. The Stars finished the season March 8 at Lindenwood University in St. Charles with a 56-51 loss to St. Joseph's Academy, which ended the Stars season in 2015-16 in a district final at St. Joe.
Read more on McCluer North Girls Hoops Wins 3rd Straight Suburban 12 North Title…
By Jim Wieners
Lutheran High School North Girls Basketball's first-ever journey to the Missouri State High School Activities Association Class Three championships was an down and up affair on the University of Missouri campus.
Read more on Lutheran North Girls Hoops Finishes Third; IWA Seeks Eighth State Title…
Hazelwood School District Superintendent Nettie Collins-Hart was the guest speaker during the Spanish Lake Town Hall Meeting on March 6. She had an opportunity to share the State of the District, answer questions, and listen to comments made by residents.
Read more on Hazelwood's Superintendent Speaks AT Spanish Lake Town Hall Meeting…
« Previous Entries