School News
« Previous Entries
Next Entries »
Friday, Oct. 30
Halloween Party at DeSmet Retirement Community, 1425 N. New Florissant Road, from noon to 2 p.m. Presented by Wendy Fritter. RSVP to 314-838-3811.
All you can eat chicken at Florissant Valley VFW Post 4105, 410 rue St. Francois from 5 to 8 p.m. Dine in only! All profits go to support veterans. Call 314-831-6121.
Read more on Calendar Oct. 29 – Dec. 12…
   Results from the 2015 Missouri Annual Performance Report (APR) for the Ferguson-Florissant School District show an increase in the District's overall score. Ferguson-Florissant received 97.5 points out of a possible 140 points on the state's annual assessment, or 69.6%. This represents a 3.9% increase from last year-s score of 65.7%.
Read more on Ferguson-Florissant Test Scores Increase from Last Year's Marks…
McCluer South-Berkeley's
Jay Boleach Honored
Jay Boleach, career and technical education coordinator at McCluer South-Berkeley High School, was chosen to receive two awards for outstanding service. The first, the Construction Forum STL Building Tomorrow Award, was presented Oct. 14 at the Building Tomorrow Awards program. Boleach will receive the second, the 2015-16 Outstanding Project Lead the Way (PLTW) Administrator, during the Missouri PLTW State Conference, Nov. 1-2 in Wentzville. Boleach is also McCluer South-Berkeley's A+ Coordinator.
The Ferguson-Florissant School District has awarded  educational technology grants to McCluer North High School, McCluer High School and the Little Creek Nature Area.  The district's Technology Services department sponsors the competitive grants. The three receiving schools were among 10 buildings that submitted proposals for funding.
Read more on FFSD Awards Educational Tech Grants…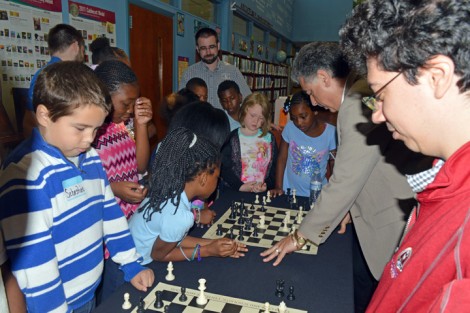 Walnut Grove Elementary students are challenged by Grandmasters (left to right) Alejandro Ramirez and Yasser Serawan.
F-F District, Ascension Health System
Launches After-school Chess Program
The elementary and middle school students in the Ferguson-Florissant School District (FFSD) have the opportunity to become chess grandmasters. Funded by Ascension, the nation's largest Catholic and non-profit health system, and administered by The Chess Club and Scholastic Center of St. Louis and Ascension, an after-school chess program led by certified instructors was launched Tuesday, Sept. 15, at Walnut Grove Elementary School.
   An extension grant from Gateway Greening will allow for eight new garden beds at Halls Ferry Elementary School to expand its Falcon Garden. The original August 2014 grant provided for eight initial garden beds. The garden beds are used to teach students about food growth and its correlation to various subject areas.
Read more on Grant Allows Halls Ferry Elementary Students to Expand Falcon Garden…
« Previous Entries
Next Entries »